After a suburban secession movement is defeated in Georgia, a community takes stock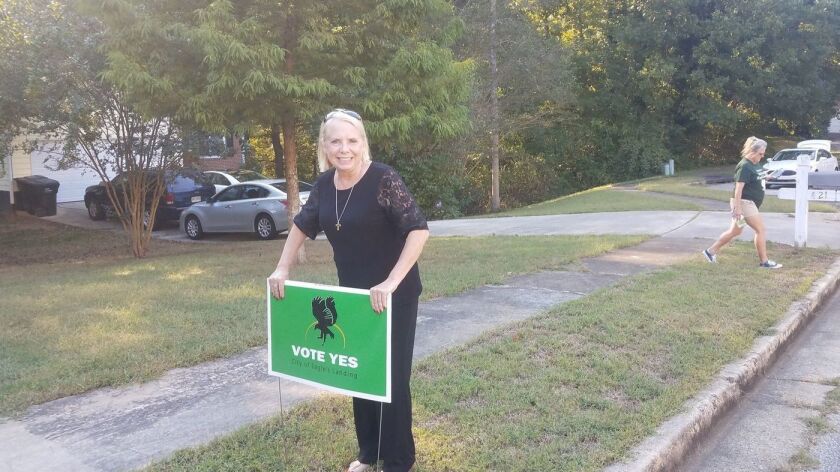 Reporting from ATLANTA —
Residents of an affluent suburb south of Atlanta went to the polls this week to vote on a plan to secede from their neighbors and create a new city, Eagle's Landing. After bitter debates about economic development and race, 57% of residents in the proposed city area who cast ballots voted no.
The proposal to carve out Eagle's Landing was contentious because it would have seized the most upscale residential pockets of the existing city of Stockbridge, as well as its main commercial corridor that brings in about half of the city's $9 million in annual revenue. Those who would have been left behind in Stockbridge did not have the opportunity to vote.
Vikki Consiglio, who led the effort to create Eagle's Landing, said she accepted the majority vote against the new city. Still, she hoped Stockbridge leaders would listen to the thousands of residents who voted in favor of change, many arguing they wanted to attract more high-end amenities and businesses to the rapidly developing area that surrounds their gated communities.
"There are thousands of residents who want something different," said Consiglio, chairwoman of the Eagle's Landing Educational Research Committee. "You say that we're your tax base, but we have nothing. When is that going to change? That's still the question that's up in the air."
Leaders of Stockbridge, which has a population of 29,000 and is predominantly black, filed multiple lawsuits in an effort to stop the referendum from taking place. They argued that the creation of a new city — one that would have had a median household income of about $128,000, more than double that of existing Stockbridge — would devastate their city and force them to impose a new property tax on remaining residents.
"I'm relieved that the citizens of Stockbridge did not want to split the city," said Anthony Ford, Stockbridge's first African American mayor. "Now I have the task of mending the fences and putting this community back together."
The proposal to form a new city sparked heated conversations in Henry County, a once rural, predominantly white community 20 miles southeast of Atlanta that has seen an influx of minority residents over the last few decades as its population has exploded.
Critics of the proposed city accused its leaders — who bypassed black Democratic lawmakers representing the area and worked with white Republican lawmakers elsewhere to pass legislation approving the referendum — of working to consolidate the power of wealthy, white residents.
Proponents of Eagle's Landing countered that they were motivated by economic development, not race. Minorities would still have formed a majority in the proposed city, they noted, with the racial makeup of the new city about 47% black, 39% white, 8% Asian and 6% Latino.
Consiglio describes the area outside her gated country club community as "jinky-janky." She said she feared Stockbridge's leaders did not have the vision to lure more high-end retail, like a Whole Foods, a Capital Grille or a Cheesecake Factory.
"All I heard was 'Let's keep Stockbridge together,'" she said after the referendum. "OK, you won on that ticket. Now what?
"It's like, if we didn't do it yesterday, what makes me think we're going to do it tomorrow?" she added. "We don't even have a hotel with room service. You know, where's that vision? We're going to have the same fast-food restaurants, the same low-end retail. Is that your vision, then? Just the same old, same old?"
Ultimately, Consiglio said, if local officials did not work to bring more upmarket retail and businesses to the area, she would have little option but to get in her car, hit the interstate and "go take my money to another county and let them prosper."
Ford said he planned to reach out to those who supported Eagle's Landing and organize town hall meetings on economic development. With the referendum behind them, the mayor said he was confident the city could spark development on a new mixed-use project with high-end condos and upscale restaurants in the southern portion of the city.
"What we as a city need to do is try to resolve issues and conflicts," he said. "We need to do that quickly. We have to have conversations to make sure we are doing the best we can to satisfy our citizens."
Within the proposed Eagle's Landing area, many residents expressed relief.
"I'm just glad it's over," said Reggie Sylvain, a resident of the Eagle's Landing Country Club who was opposed to the creation of Eagle's Landing. "Hopefully, we can just move forward from here. We just want to start the healing process."
Some who campaigned against Eagle's Landing said they thought a majority of residents within the areas gated communities had been persuaded that the plan and the process of pushing it through the Legislature were unfair.
"To get down to it, it's just immoral," said Arthur Christian, 49, a financial project manager who runs the ballot committee Citizens to Keep Stockbridge Together. "What would have happened to those 18,000 residents left over in Stockbridge? It would immediately mean a new municipal tax, which currently we don't have. But more than that, it could mean personal bankruptcy for those on a meager fixed income and, ultimately, it could have resulted in the city of Stockbridge going insolvent."
While the defeat of Eagle's Landing was a "great first step," Christian said, the issue was not over. Georgia law, he said, needed to be changed to stop residents of Eagle's Landing — or any other community in Georgia — from attempting to de-annex and wrestle political and economic power from existing cities.
Still, two lawsuits are pending, one in the Georgia Supreme Court and one in federal court. Attorneys for Stockbridge claimed the de-annexation and formation of a new city would not only prevent Stockbridge from paying back millions of dollars of debt it took on to build a new City Hall, but violate the Voting Rights Act of 1965 and the equal protection clause of the 14th Amendment.
Those who campaigned against Eagle's Landing hope legislators will adopt a policy proposed by the Georgia Municipal Assn., a nonprofit organization that represents municipal governments across the state, that would ban the formation of any new city by de-annexing an existing city.
"That policy needs to be put into law to avoid chaos across the state," Christian said.
jenny.jarvie@latimes.com
@jennyjarvie
---
Must-read stories from the L.A. Times
Get all the day's most vital news with our Today's Headlines newsletter, sent every weekday morning.
You may occasionally receive promotional content from the Los Angeles Times.