Aircraft carrier Gerald R. Ford -- complete with bronze statue -- is dedicated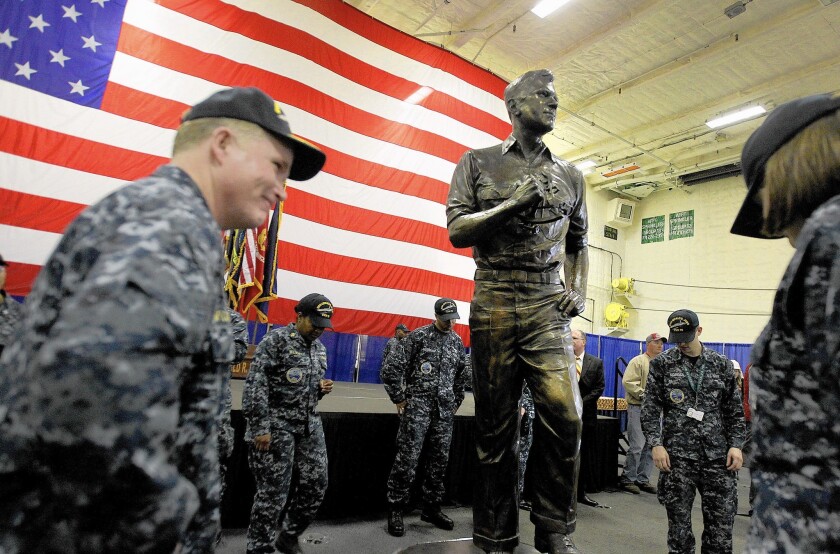 Reporting from NEWPORT NEWS, Va. —
America's newest aircraft carrier packs 50,278 tons of steel, much of it in glorious Navy gray, but all eyes last week turned toward the 1,200-pound piece of bronze under wraps in Hangar Bay 2.
The aircraft carrier Gerald R. Ford now has a statue of its namesake to accompany its crew to sea. The sculpture was unveiled in an emotional ceremony April 7 that, in some ways, was more than a simple dedication.
It marked the turning of a page.
There was Capt. John F. Meier, the Ford's first commander whose tenure ended the next day. Although he will never lead the ship to open water, Meier's legacy is clear: Sailor by sailor, he built a crew to operate a ship that will mark a generational change in naval warfare.
There was Susan Ford Bales, the president's daughter and ship's sponsor. She spoke after Meier as the statue was still shrouded in dark cloth. At one moment, she turned to a group of hard-hatted shipbuilders who had gathered to watch the ceremony.
"My fellow shipbuilders ..."
She paused as emotion filled her voice.
"Let me say this again, because I'm proud to say it. My fellow shipbuilders: Today is a day filled with happiness. But it's also a day filled with some sadness, because it's the last time I'll speak publicly to you here in the shipyard."
The term "fellow shipbuilder" was more than phrase of affection. Ford Bales' fingerprints will be on the aircraft carrier as it heads to sea trials this summer, followed by delivery to the Navy this year. Over the last 10 years, she worked on the ship during her many visits to the Newport News shipyard.
Navy tradition dictates that a ship's sponsor participates in noteworthy events, such as breaking a bottle across the bow during christening. In her case, that was not enough.
"Along the way, I've turned wrenches with you," she said. "I've punched holes. I've pulled cable. I strung telephone wires. I worked up in the big blue crane. I tested weapons elevators. Calibrated dual band radar. Turned on the pumps to flood the dry dock."
Matt Mulherin, president of Newport News Shipbuilding, said there is no model on how to be a ship's sponsor, and she "certainly set the far extreme of how involved a ship's sponsor can be."
After the speeches came the big unveiling. The cover was pulled away and the statue came into full view amid raucous applause.
There stood Navy Lt. Cmdr. Gerald Ford as he appeared in World War II aboard the light aircraft carrier Monterey. The bronze figure is 7 feet tall — a full foot taller than the real-life president. His right hand holds a navigational sextant. He gazes toward the horizon, one foot resting on the ship's scupper rail.
There's a story behind that scupper.
As Meier described it, Ford was aboard the Monterey in December 1944 when it was hit by Typhoon Cobra. A fire broke out, and the commanding officer directed Ford to lead the firefighting effort. As he headed toward the flames, the ship listed 25 degrees. Blue water crashed over the deck.
Lt. Cmdr. Ford was nearly washed over the side, but he grabbed a scupper at the last second. It saved his life.
Lessig writes for the Daily Press.
ALSO
Beverly Hills' renovated Electric Fountain makes a splash
Hastert paid to hide sex abuse, then lied about it, federal filing alleges
New defense in Russian's hacking case requests another delay to go through piles of evidence
---
Must-read stories from the L.A. Times
Get all the day's most vital news with our Today's Headlines newsletter, sent every weekday morning.
You may occasionally receive promotional content from the Los Angeles Times.