Hastert paid to hide sex abuse, then lied about it, federal filing alleges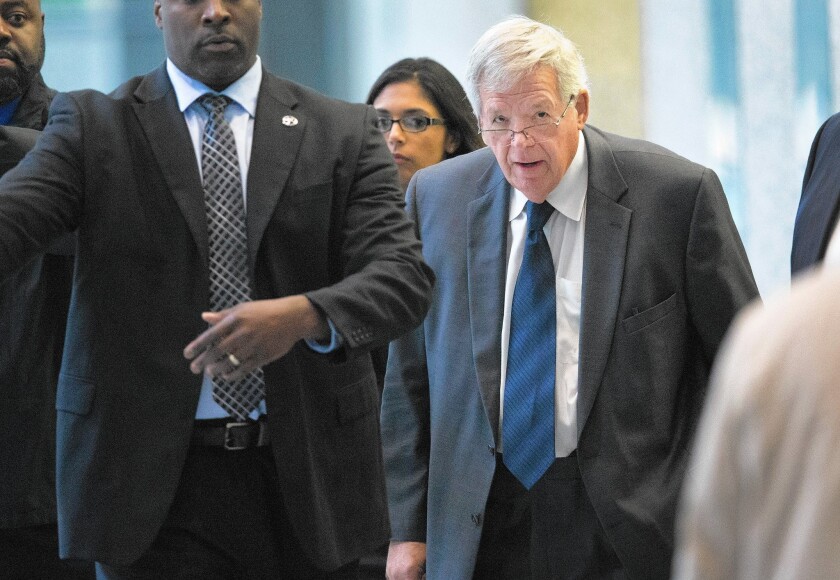 Approached by federal agents last year about dozens of large cash bank withdrawals, J. Dennis Hastert said he was being blackmailed by a former student who was falsely accusing the ex-House speaker of sexually abusing him decades earlier when Hastert was a high school teacher and wrestling coach.
The agents took Hastert at his word. But when they listened in on two phone conversations between him and the former student, agents began to suspect the story was a lie.
What soon was apparent, according to an explosive document filed in the federal case against Hastert late Friday, was that instead of being forced to pay to keep false allegations from being spread, Hastert was paying to hide his actual sexual abuse of a 14-year-old boy.
The document filed by federal prosecutors in advance of Hastert's April 27 sentencing for money structuring — which involves evading reporting requirements for financial transactions — provides a dramatic account of the fall of the man who once was second in line to the U.S. presidency, with the first details of how Hastert allegedly fondled young wrestlers who saw him as a mentor.
According to prosecutors, Hastert inappropriately touched the teenage boys in hotel rooms during team trips and in empty locker rooms, often coaxing them into compromising positions by offering to massage them. He performed sex acts on two wrestlers at separate times, the court filing says, and it quotes another as saying Hastert put a reclining chair outside the locker room's showers in order to sit and watch the boys.
The document depicts a seemingly desperate Hastert trying to protect himself by shifting blame onto one of the former wrestlers, a claim that came undone when agents recording Hastert's phone calls with the man they came to call "Individual A" heard the man's voice for the first time.
They realized then that Hastert might be the criminal.
Hastert's attorneys have sought to portray him as a family man who gave great service to his country and, in his old age and in ill health, regrets unspecified indiscretions from decades ago.
Prosecutors, in their 26-page filing Friday, offered a starkly different portrayal. Hastert, they said, had hidden the alleged sexual abuse of five young men for decades while rising in politics and, over time, amassing considerable wealth — while leaving his victims emotionally shattered.
Prosecutors noted that Hastert could not be charged with sex crimes because the statute of limitations had long passed.
The Hastert investigation, according to the court filing, began in April 2012, when a bank compliance officer preparing for a routine exam unrelated to Hastert noticed a strange series of seven $50,000 cash withdrawals from Hastert's account in Yorkville, Ill., dating to 2010.
When a risk management officer spoke to Hastert about the withdrawals, Hastert initially said that they were "none of his business," the court filing says.
For a few months after that conversation, Hastert stopped withdrawing money, according to the document. When the transactions resumed that July, the withdrawals were in $9,000 increments, below the $10,000 threshold requiring them to be reported to regulators.
The FBI and the Internal Revenue Service also learned of suspicious activity involving similar large withdrawals from two other bank accounts held in Hastert's name.
Hastert, a Republican, served more than two decades in the House, including eight years as speaker. Given his status and in light of his job at the time as a high-profile lobbyist, federal agents worried that the withdrawals signaled that he was involved in criminal activity, either as a perpetrator or a victim. By late 2014, the withdrawals totaled $1.7 million.
After a long pause, [Hastert] said that it was a confusing and difficult time in his life.
Federal prosecutors' description of a conversation in 2010 in which 'Individual A' asked the former speaker 'why he had done it'
On Dec. 8, 2014, FBI agents confronted Hastert at his Plano, Ill., home. He said he was not in any kind of trouble but was keeping his cash "in a safe place" because he didn't think banks were secure.
Shortly after that interview, Hastert's lawyers contacted the government to make a startling accusation: The former speaker was being blackmailed by a former Yorkville High School student and wrestler — the man who came to be called Individual A — who threatened to go public with a false allegation that Hastert had inappropriately touched him during a wrestling trip decades ago. He demanded $3.5 million in hush money.
Hastert agreed to record conversations with Individual A.
In those calls, agents and federal prosecutors noted that Individual A's tone and comments did not sound like someone committing extortion.
Agents confronted Individual A, who told them that when he was a wrestler for Hastert's high school team in the 1970s, the coach had invited him to attend a wrestling camp with other boys that included a two-night stay in a motel. Hastert, the only adult on the trip, told Individual A he would be sharing a room with the coach while the other boys slept in another room, according to the court filing.
Individual A said that when it was time for bed, went to Hastert's room, where the coach told him he wanted to "check on" a groin pull he had complained about. According to Individual A's account, Hastert told him to lie on the bed and take off his underwear, then began massaging his groin area in a way that was clearly inappropriate, the filing stated.
Individual A "jumped off the bed, grabbed his underwear and ran across the room to slouch in a chair," the filing said.
It was not until 2010 that Individual A said he began thinking about confronting Hastert about the long-ago incident. He met with Hastert and asked him "why he had done it."
"After a long pause, [Hastert] said that it was a confusing and difficult time in his life," the court filing said.
When Individual A asked Hastert how many other boys he had molested, Hastert said there was one other victim.
When the two met a couple of weeks later, Individual A said he wanted $3.5 million for what Hastert had done to him, according to the filing. Hastert did not try to negotiate the payment amount.
The first cash payment of $50,000 was made at Hastert's Yorkville office. He told Individual A not to buy any "big-ticket items" with the money. They agreed to meet every month and a half for future $50,000 payments but later changed the arrangement to $100,000 every three months, according to the filing. They exchanged the money during meetings in the parking lot of a Yorkville store.
Prosecutors allege that in all, Hastert abused five young men, all affiliated with the wrestling team and one of whom died in 1995. The allegations stretch over more than a decade, beginning within years of Hastert's arrival as a 23-year-old teacher at the high school in 1965.
Meisner, Coen and Gutowski write for the Chicago Tribune.
ALSO
Clinton and Sanders show no restraint in New York brawl
Obama says Senate inaction on Supreme Court pick will erode public faith in courts
With Trump's rise, big donors and companies hesitate to commit money to the GOP convention
---
Get our Essential Politics newsletter
The latest news, analysis and insights from our politics teams from Sacramento to D.C.
You may occasionally receive promotional content from the Los Angeles Times.