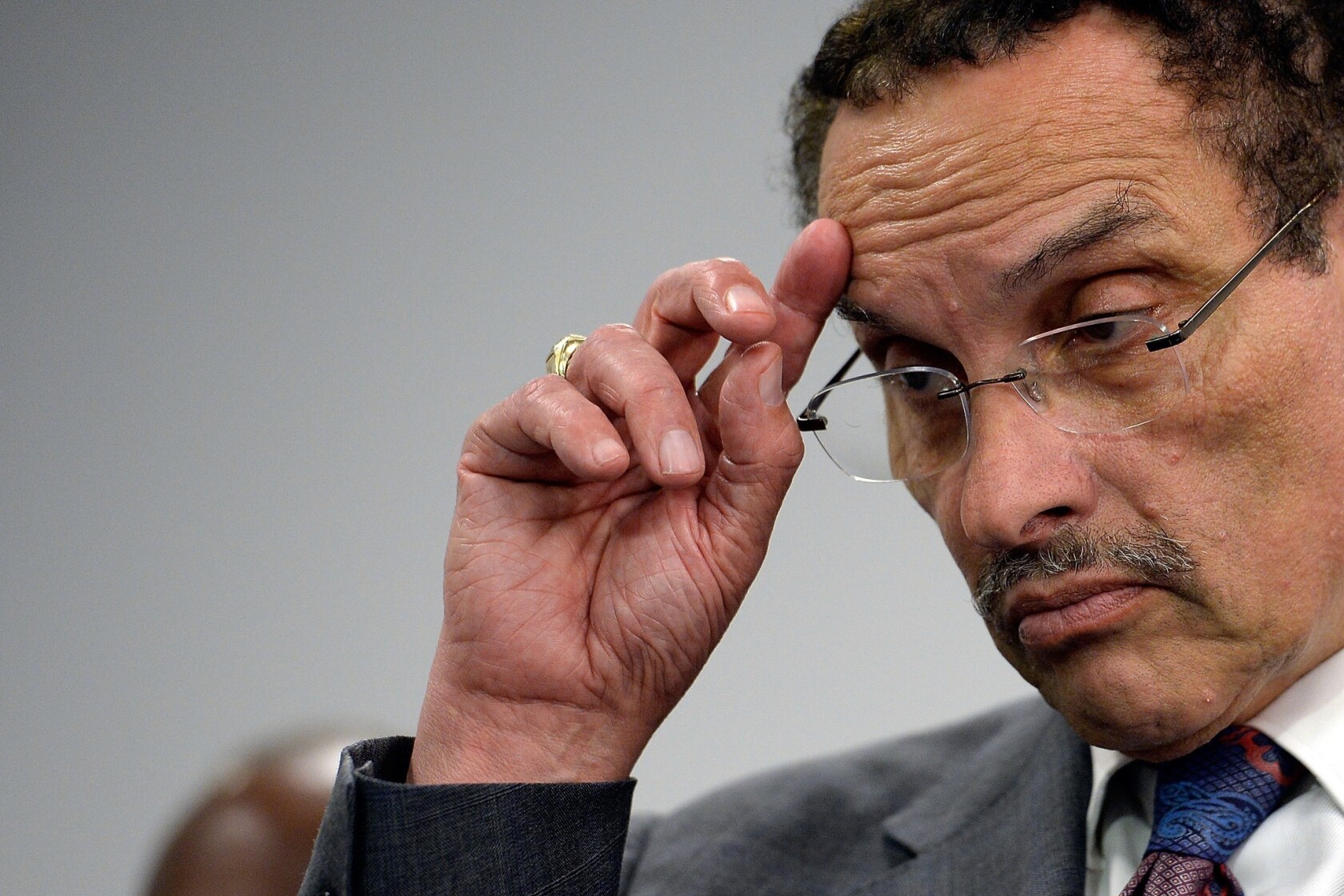 Though Washington, D.C., has refused to cut services to the degree seen in previous shutdowns, Mayor Vincent Gray issued a letter Tuesday warning that "time is running out -- and, soon, I will have exhausted every resource available to me to protect our residents, our workers, and our visitors."
(Patrick McDermott / Getty Images)
It took a salmonella outbreak to prompt the Centers for Disease Control and Prevention to bring back nearly all of its furloughed food monitors Tuesday, after 278 cases were reported across 18 states, including California. The Food and Drug Administration's food-safety programs have also been curtailed, with the agency furloughing about half of its employees.
(Jordan Kartholl / Associated Press)
The National Highway Traffic Safety Administration, which receives its funding through the U.S. Department of Transportation, has significantly cut its safety programs, including issuing recalls, testing safety ratings and reviewing complaints.
(Joe Raedle / Getty Images)
Though food stamps continue to be distributed during the shutdown, the Special Supplemental Nutrition Program for Women, Infants and Children has been defunded. The program, which aids in providing food and healthcare to low-income mothers and their children, is estimated by the USDA to have sufficient funding for about a week before running out entirely.
(Chip Somodevilla / Getty Images)
The Confederate White Knights of the Ku Klux Klan were planning on holding a demonstration in Gettysburg National Military Park on Saturday, the site of one of the Civil War's bloodiest battles. But the park has been closed by the shutdown, and the KKK's permit put on hold.
(Caity Fares)
The early education program Head Start has stated that up to 19,000 children are left without its services during the shutdown, since the grant money required to maintain 23 programs in 11 states has been cut off.
(Chip Somodevilla / Getty Images)
About 200 patients will be turned away from clinical trials each week the government is shut down, National Institutes of Health Director Francis Collins confirmed. Thirty of those patients are children, many of whom are suffering from cancer. Above, Lakers Forward Matt Barnes chatting with Allie Newman, 16 during visits with young patients at the Mattel's Children Hospital.
(Lawrence K. Ho / Los Angeles Times)
The Miramar Marine Corps Air Show, planned for this weekend, is among the most heavily attended air shows in the country with about 500,000 attendees taking part over the last several years. But not even a huge audience could save the show from the government shutdown, with Marine officials confirming Thursday that the event has been canceled.
(Don Bartletti / Los Angeles Times)
The National Zoo's much-watched Panda Cam, set up to monitor Tian Tian, Mei Xiang and the yet unnamed new cub,
went dark Monday night.
Now all that panda devotees can spot is an error message, though the pandas will still be cared for by essential Smithsonian staff.
(Smithsonian National Zoo / Associated Press)
NASA's various social media outreach initiatives have gained a huge number of followers, and many of them are being shut down alongside the government. The popular Asteroid Watch Twitter account freaked out followers with a message that it would no longer be updated, though it later clarified that doesn't mean the agency is turning a blind eye to the skies. And some, like the agency's Voyager 2 space probe,
were a bit more snarky in their closure announcement.
NASA's Instagram account and NASA.gov are also shut down.
(NASA / Getty Images)
Park police began fencing off D.C.'s various memorials and landmarks after the government officially set its shutdown into motion, placing barriers around sites such as the World War II Memorial. But veterans, refusing to be shut out of their own memorial,
stormed the fencing Tuesday morning.
(Olivier Douliery / MCT)
Hopefully you aren't working on a research paper depending on federal statistics during the shutdown, since many sites, including Census.gov, Data.gov, THOMAS (a database of legislative information) and the Federal Trade Commission, are either limited or shut down entirely until Congress agrees to a compromise.
(Library of Congress / Los Angeles Times)
Want to stop by the Capitol for a tour as Congress tries to hash out a deal? Pop by the National Zoo while on furlough? Camp out in Yosemite to celebrate its 123rd birthday? Try again later, since all but a few of the nation's federal tourist attractions, including Smithsonian museums and the State of Liberty are shuttered.
(Emmanuel Dundand / AFP/Getty Images)
District of Columbia Mayor Vincent Gray may have vowed to avoid a District shutdown like that seen in 1995, ruling that the majority of the city's services are essential. But D.C. couples looking for a marriage license may have to wait a while longer, with significant cutbacks enacted at the marriage bureau by the D.C. Superior Court.
(Bob Booth / MCT)
WASHINGTON — Two weeks into a budget impasse that has left Americans dismayed by Washington brinkmanship, an outline of a deal emerged Monday as Senate leaders worked to prevent a potentially catastrophic debt default and end the damage inflicted by the lingering government shutdown.
Details remained in flux, but Senate aides said the plan would give the government authority to borrow to pay its bills into February and would reopen federal agencies until Jan. 15.
In the meantime, to prevent another shutdown, a House-Senate committee would negotiate an overarching budget agreement by Dec. 13 that would allow Congress to pass its regular bills to fund the government.
The proposal would not make significant changes in President Obama's healthcare law. But it could include a pair of tweaks: the delay of a new tax opposed by labor unions and an income verification requirement for customers who buy insurance through the new online marketplaces.
FULL COVERAGE: The U.S. government shutdown
Senate Majority Leader Harry Reid (D-Nev.) and Minority Leader Mitch McConnell (R-Ky.) need to win the support of their party caucuses Tuesday, and momentum could be stalled by a tea party filibuster. The proposal would also face major hurdles in the House, where conservative Republicans are likely to oppose it. But it appeared increasingly likely that the stalemate would end soon.
Activity swirled around the Capitol offices of Reid and McConnell, with intense talks underway three days before Thursday's deadline to raise the nation's $16.7-trillion borrowing capacity and avert a potential default.
"We've made tremendous progress," Reid said as he closed the Senate in the evening, counseling patience. "Perhaps tomorrow will be a bright day. We're not there yet. We hope it will be."
The usually straight-faced McConnell echoed the sentiment, smiling briefly. "We had a good day," he said. "It's safe to say we made substantial progress, and we look forward to making more progress in the near future."
The president had summoned the two Senate leaders, as well as House Speaker John A. Boehner (R-Ohio) and Minority Leader Nancy Pelosi (D-San Francisco), to the White House on Monday, but the session was postponed — a sign the administration was optimistic that Senate negotiators were making headway on the standoff.
"There's been some progress on the Senate side, with Republicans recognizing it's not tenable, it's not smart, it's not good for the American people to let America default," Obama said during a visit to Martha's Table, a food bank in Washington.
PHOTOS: 2013's memorable political moments
A potential filibuster could prolong the debate. But experts have said the promise of a deal could calm the restless financial markets. Sen. Ted Cruz (R-Texas), who spearheaded the drive to kill or delay Obama's healthcare law using the government-funding bill, held out the possibility that he would filibuster, but said, "I want to wait to see what the details are."
Any Senate deal is expected to hit turbulence in the House. Boehner's Republican majority has resisted compromise as the hard-right flank sought to use the usually routine budget bills as leverage in their failed campaign to stop the healthcare law.
House Republicans have become increasingly resentful of having legislation forced upon them by the Senate. With the debt deadline fast approaching and the GOP suffering heavily in the polls for its handling of the crisis, Boehner may have little opportunity to amend the package — even if he could unite his troops around a common approach.
Boehner's office, across the Capitol from those of the Senate leaders, was a hectic way station Monday as the Ohio Republican's leadership team filed in for private meetings.
"If the Senate comes to an agreement, we will review it with our members," Boehner spokesman Michael Steel said.
Congress faces a two-pronged problem: It must vote both to lift the debt limit and to fund the government. On Tuesday, the federal government shutdown will enter its third week.
The outlines of the deal would solve both issues, but only temporarily.
The proposal to lift the debt limit until February is longer than Republicans had sought but far shorter than Democrats had wanted. Democrats wanted to extend it through next year to ensure the issue would not come up until after the November 2014 midterm election.
PHOTOS: The battle over Obamacare
Government agencies would reopen, with money provided until Jan. 15. Democrats wanted the extension to expire before a new round of across-the-board cuts takes effect. Those so-called sequester cuts are scheduled to kick in 15 days after Congress adjourns for the year.
Democrats — and some Republicans — hope to use proposed budget negotiations to alter those cuts. Because the Pentagon would take the biggest hit in the next round of cuts, defense-oriented Republicans would also like to see them eased.
To reach agreement before the mid-January deadline, Congress would convene a budget conference committee responsible for either replacing the sequester with different cuts or finding new revenue. Failure to strike a deal would risk another government shutdown.
Senate negotiators appeared unlikely to include a delay of a new tax on medical device makers, which is part of the funding for the Affordable Care Act, in their proposed deal. That tax had been part of the talks.
But the emerging deal would delay for one year another tax created to fund part of the healthcare law, a levy some unions have opposed because it would hit plans that many labor organizations administer for their members.
"We continue to discuss the parameters of an agreement," said Sen. Susan Collins (R-Maine), who helped broker a bipartisan framework. "I'm very pleased to learn those discussions have picked up pace."
Divisions within the GOP have weakened the party's hand throughout the negotiations with Democrats. The conflict between Republican leaders and their hard-right flank reemerged with the prospect of a deal.
An influential right-wing blogger, Erick Erickson, tweeted Monday: "Looking at the framework the Senate has come up with, the only [thing] that's certain is Judas was a better negotiator than Mitch McConnell."
In the House, Rep. Joe L. Barton (R-Texas) said, "No deal is better than a bad deal."
But Sen. John McCain (R-Ariz.), who has called the tea party efforts to stop the healthcare law a "fool's errand," spent time on the Senate floor highlighting a report about the GOP's dismal poll numbers.
And Sen. Bob Corker (R-Tenn.) criticized efforts to repeal the law. "Let's just spell out what's happened here: We've wasted two months talking about something that was never going to happen," he said.
The current proposal "isn't quite fully baked yet," Corker said. "As one would expect, there are still conversations that are taking place on the other side of the building too."
---