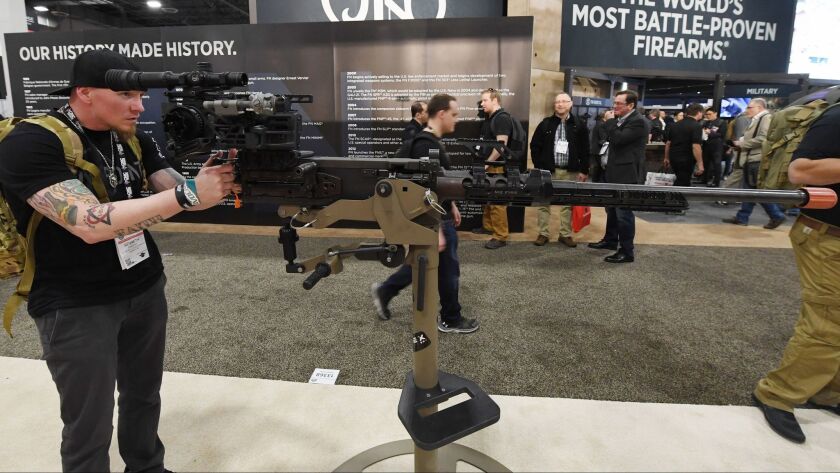 Reporting from Las Vegas —
The machine gun dealer was drinking his quad shot white mocha in the Starbucks at the Sands Expo Center, searching for his friend.
It took a few minutes, a few quick texts but then Jonathan Babb saw Matthew Ingle weaving his way past a couple of men in cowboy hats and some suits. After Ingle settled on a stool, green tea drink in hand, Babb told him he didn't think he needed to stay for the entire Shot Show convention.
"There doesn't seem to be a lot of innovation this year," Babb said. "It's not like 2016."
Ingle nodded slightly. At a nearby table, three men were discussing handguns. A stream of Shot Show attendees — estimated to be about 65,000 in total for the four-day event ending Friday — spilled out of the convention hall and into swanky restaurants or onto the casino floor at the Venetian.
The Shot Show (for Shooting, Hunting, Outdoor Trade) is an annual event for the firearms industry, where exhibitors and vendors display their latest products that can used by law enforcement, hunting and shooting enthusiasts. The trade show features more than 1,600 exhibitors. An easel at the entrance to the high-end seafood restaurant, AquaKnox, displayed a placard directing National Rifle Assn. members and guests into its airy, blue-lit space.
Both Babb and Ingle arrived for the show this week and went past the Mandalay Bay hotel. Both had looked up toward the 32nd floor where, last Oct. 1, Stephen Paddock had opened fire on a crowd attending the Route 91 Harvest country music festival. He killed 58 and wounded hundreds.
The massacre couldn't be ignored.
The National Shooting Sports Foundation — which puts on Shot Show — issued a statement that explained how a large area of space at the convention was dedicated to law enforcement.
"The exhibitors and attendees are well aware of tragedies involving the criminal misuse of firearms and feel genuine sympathy for the victims," the statement read. "But they know that the lawful commerce in firearms serving millions of law-abiding citizens is completely unconnected to the actions of criminals or the seriously mentally ill who are intent on doing harm."
Talking about guns is hard enough, let alone in a place where "Vegas Strong" signs are still visible.
The National Shooting Sports Foundation restricted media credentialing at Shot Show this year to outlets that only regularly cover hunting, shooting, firearms and firearms-related products. Throughout the hallways at the Sands Expo Center, signs warned people that security would be checking convention credentials. The tightened security was for safety.
And here were Babb and Ingle, talking about guns and people and misunderstandings. Babb said after the shooting happened, he was upset over the tragedy "just like everyone was." He told Ingle about a girl he had been talking to not long after the shooting. When it came up that he was a licensed firearms dealer, Babb said she suddenly grew cold and quiet.
"She looked at me as if I were a third party to murder," Babb said. "It felt like I might as well have said I was a late-term abortion doctor."
Babb, a 31-year-old from Houston, has never shot anyone. "I hope I never have to," he said. Ingle, a pilot, said he enjoys the escape and challenge of trying to master shooting at a range from 1,000 yards away with his Remington rifle.
But Babb said the spate of mass shootings feel — to him — like he is being judged, that just because he is a gun owner, seller and enthusiast, that he's somehow similar to someone like Paddock. The guilt-by-association seems to grow with each mass shooting.
Ingle, who owns 25 guns, sipped on his tea and said he understood why people felt that way.
"They want to be angry at something," Ingle said. "Paddock is dead. The only thing left to be angry at are the guns."
The men have been friends for years and admitted they're probably not conventional gun owners. Babb isn't a member of the NRA and conceded the firearms advocacy group isn't always helpful on the gun debate. Both think people who open-carry rifles into public places just to make a point are inappropriate. But both also think those arguing for more gun control don't realize how much background checking goes into a firearms purchase.
"People think you can just order a machine gun online, and it's delivered to your house. Or that silencers are illegal," Babb said. "Neither of those things are true."
But Babb said he's also not sure how to open up a dialogue between the two sides that he said seem to do more yelling than listening.
"I'd like to ask them, how can I be a more responsible gun owner?" Babb asked. "How can I represent the industry and gun owners in a positive light so we can bridge this divide?"
Ingle said he's been bothered by the name-calling and said that doesn't advance the conversation on guns. Slogans and trite cliches don't change minds. He bemoaned how comment threads on social media devolve into name-calling.
"I don't like the term 'snowflake,'" he said. "How does calling someone a snowflake help anything?"
Christine Caria, who was trampled by the terrified concertgoers fleeing the shooting, lives in Las Vegas and has been advocating for more open discussion on the issues of guns and violence. She didn't attend the show and said in an phone interview she wasn't upset that it was happening in Las Vegas.
"It was scheduled before the shooting, Las Vegas is a tourism and convention destination and it makes sense," Caria said. But she wished gun rights supporters were more open to talking about the issues.
Caria also said she has been frustrated by the lack of progress on the banning of bump stocks. Bump stocks are devices attached to semi-automatic rifles to make them fire faster and were used by Paddock during the massacre.
Caria, president of the Las Vegas chapter president of the Brady Campaign to Prevent Gun Violence, said after the shooting, it looked like there was agreement on a path to make bump stocks illegal. So far, though, that hasn't happened. She noted, however, that Slide Fire — a leading bump stock manufacturer — wasn't at Shot Show this year.
She said she isn't anti-gun — she's just anti-gun violence. Caria wished people who support guns would ask her two simple questions.
"What can we all agree on? Where can we start from? My guess is we all have the same goals — safety for everyone. Nobody wants to not be able to attend a concert, go to church or school and worry about having their head blown off. I want them to ask me where can we start from?"
At the Starbucks, Babb and Ingle were thinking about the same question.
"I have a problem with the wrong people owning a gun, but I can't tell you what the fix is. I wish I could," Babb said. "But there will always be bad people. There will always be evil and if they want to do it bad enough, they'll find a way."
To read the article in Spanish, click here
Twitter: @davemontero
---