U.S. intelligence official says foreign spy services are trying to hack presidential campaign networks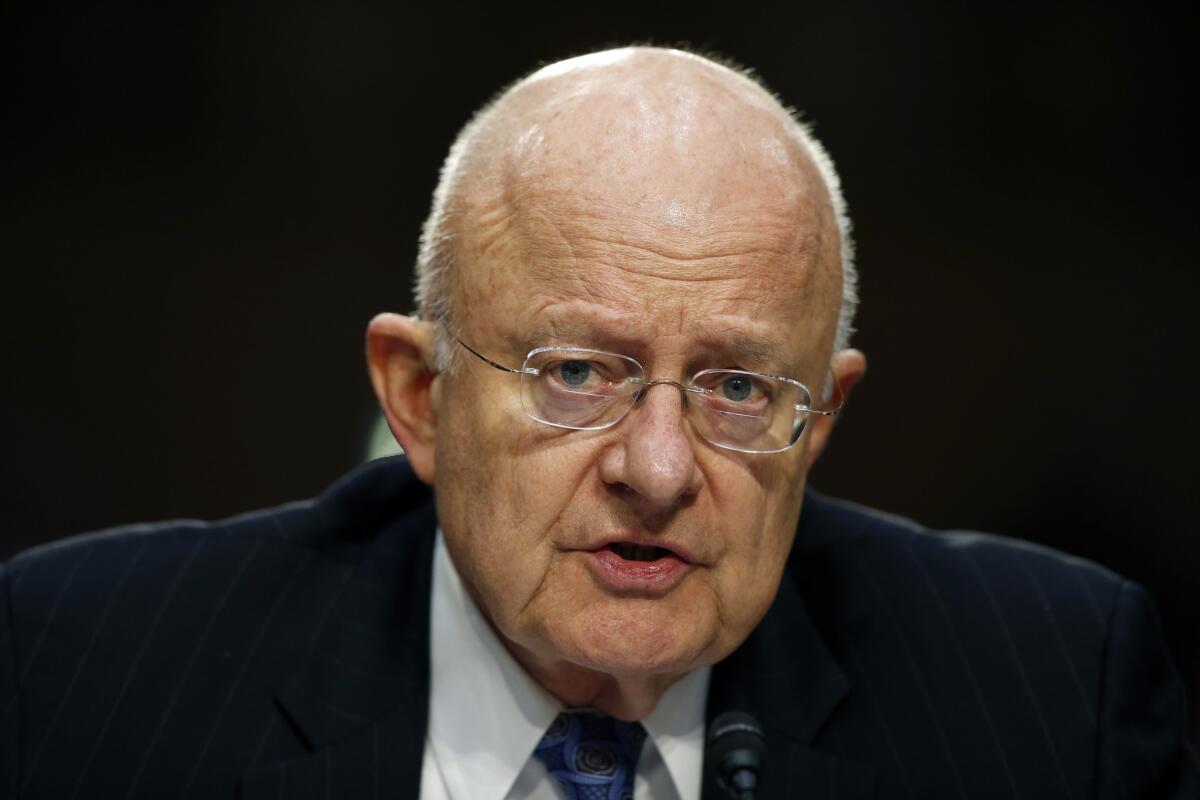 Reporting from Washington —
Foreign spy services are trying to hack into digital networks used by U.S. presidential campaigns, the top U.S. intelligence official said Wednesday in the latest warning about sensitive cyberattacks.
The FBI and the Department of Homeland Security have sent experts to help the three remaining candidates — Donald Trump, Hillary Clinton and Bernie Sanders — take measures to protect their campaigns from digital spying.
James Clapper, the director of national intelligence, said U.S. intelligence officials have seen "some indications" that foreign hackers have tried to access campaign computers this year, reviving a threat that was detected in at least two previous presidential races.
"We'll probably have more" cyberattacks on the campaign trail, Clapper said at the Bipartisan Policy Center, a think tank in Washington.
Foreign intelligence services seek to penetrate U.S. presidential campaigns to understand America's political winds and to collect potentially sensitive details about candidates and others who may wield power in a future administration.
During the 2012 election cycle, the campaigns of President Obama and the Republican nominee, Mitt Romney, were targets of cyberattacks, officials said.
Four years earlier, U.S. intelligence officials determined that hackers working for the Chinese government had infiltrated campaign computer networks of then-Sen. Obama and his rival, Sen. John McCain (R-Ariz.).
Foreign operatives met with campaign staff that year and "exploited technology to get otherwise sensitive data," according to a 2009 briefing on espionage threats that was prepared for incoming Obama administration officials.
The briefing was released by Clapper's office this month.
"Foreign intelligence services have been tracking this election cycle like no other," one slide in the briefing noted.
Officials in the Trump, Clinton and Sanders campaigns did not respond to questions about attempts to hack their computer systems.
"We're aware that campaigns and related organizations and individuals are targeted by actors with a variety of motivations — from philosophical differences to espionage — and capabilities from defacements to intrusions," Brian P. Hale, Clapper's spokesman, said in a statement.
Hale would not discuss specific incidents and it's not known whether digital spying on campaigns has compromised sensitive information about the candidates or U.S. policy.
ALSO
Criminal hackers now target hospitals, police stations and schools
Kerry denounces North Korea over cyberattacks, hack on Sony Pictures
Sanders and Democratic officials are engaged in an escalating dispute over Nevada violence
For more on national security follow @ByBrianBennett on Twitter.
Sign up for Essential California for the L.A. Times biggest news, features and recommendations in your inbox six days a week.
You may occasionally receive promotional content from the Los Angeles Times.