On the Ground: 'All our apparitions are friendly,' he said. A skeptical reporter's Louisiana ghost story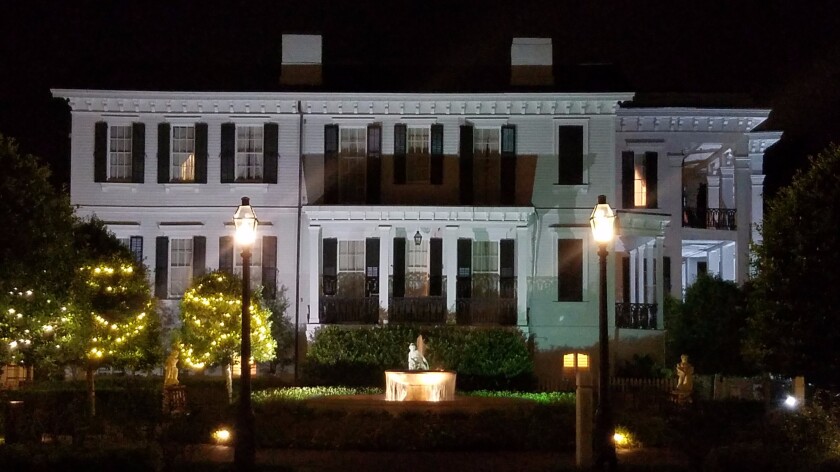 Reporting from White Castle, La. —
It was a dark and stormy night when I arrived at Nottoway Plantation, eager to get to my room, unaware of the ghosts.
Western Louisiana was flooding. Roads were washed out, hotels in short supply. I had pointed my rented Jeep toward one of the few places with a room, a mansion by the Great Mississippi River Road 30 miles south of Baton Rouge that's listed on the National Register of Historic Places.
It was about 1 a.m. when I finally passed sugar cane fields surrounding the plantation on Bayou Goula, cane so tall and thick you could walk a foot into it and disappear. Out of the lush fields and the darkness rose the 40-room plantation, which bills itself as the South's largest antebellum house, an Italianate-Greek revival built in 1859 with 22 white columns, the "White Castle of Louisiana."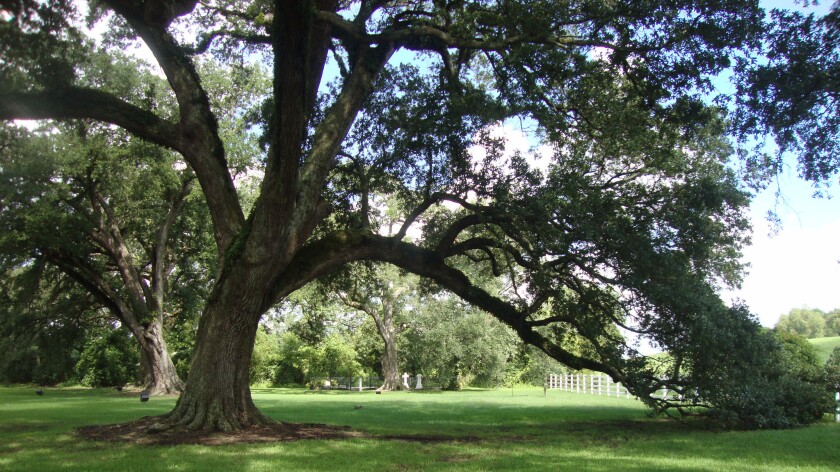 The night security manager, Jim Denis, insisted on carrying my bag up to Room 14, the only one available.
The massive door was nearly as tall as the 15-foot cypress walls, and Denis opened it to reveal a mahogany canopy bed, draped in a heavy red and gold bedspread with matching drapes that pooled on the floor.
Jim headed for the door, but not before muttering with a smile, "All our apparitions are friendly."
I was going to make a joke, but he had already disappeared.
Looking back, I remember noticing two water-stained flower prints on the wall next to the claw-footed tub in the bathroom down a short hall. In the room, next to a display of vintage jewelry, was a photograph of an elderly woman.
The next night, after capturing the stories of flood survivors, I asked Denis what he'd meant by "apparitions."
"Oh, that room is haunted," he said matter-of-factly.
I started.
"The ghost especially has a thing about women with long hair," he said.
I have long hair.
Denis said several female guests had swiftly left the room after encountering ghosts. One woman was showering when the lights went out and she felt a cold hand on her neck, shifting her hair. Another woman was showering when the tub jolted toward the wall; after she tried to reason with the ghost, it jolted back and the feet fell off. That might account for the water stains on the bathroom pictures, I thought.
So where was I staying tonight?
The carriage house, which was also haunted, Denis said, but by a kindly ghost — a girl who died there 150 years ago. On the computer in front of him, he showed me security camera video of a girl's pale outline floating around the front parking lot.
I am a news reporter who deals in facts. But I am also Catholic, fairly superstitious and a fan of ghost stories. I collected them as a child, told them as a camp counselor. Stephen King's books are among my favorites, including "1408," his short story about a skeptical writer who insists on staying in a haunted hotel room whose digits add up to 13 and where people had died. As ghostly forces take hold, the writer loses his grip on reality and tries to leave, but the room won't let him.
I may be skeptical, but I slept with the lights on. I did not shower. I did not peer in the mirrors or out at the parking lot. I willed myself not to reread King's story or Google "Nottoway ghosts." (If I had, I would have seen the plantation had so much paranormal activity that it was featured on Discovery Channel's "Ghost Lab.")
See more of our top stories on Facebook »
Nothing happened. The next morning, I passed one of the housekeeping staff and asked whether he'd seen any ghosts.
"Oh, people leave all the time," the staffer, Roy Johnson, said, especially from Room 14.
He recalled cleaning a room when he heard a ruckus next door: furniture rattling, shifting. He called the main desk, but they said the guests had already checked out.
"So I knocked like this, 'Housekeeping!' " he said.
No response. He opened the door. Empty.
He tried not to work too late, he said. He didn't know how Denis could handle staying after dark, roaming the property, doing security checks.
That night the moon was full. I stayed in cottages next to the main house. Denis assured me they were not haunted, but when I stopped at a nearby coffee shop for cafe au lait and beignets, two local police officers laughed at me.
"That's worse!" one of them said. "That's the old slave quarters."
But it didn't feel haunted to me. I turned out the lights and slept soundly.
The next day during a tour I discovered there had been plenty of deaths and dramas at Nottoway, which was owned by the Randolph family (forebears of William Randolph Hearst) and named after the county they came from in Virginia. This was a house built and staffed by hundreds of slaves, who crafted its signature bousillage molding from Spanish moss, horsehair and river mud. At least one slave, Judah, was beaten by the overseer and jailed before joining the Union Army.
The house came under attack during the Civil War but was spared when a Union officer realized he had stayed there. Three Randolph sons fought for the Confederacy, and one died at Vicksburg. Another was disowned for running off with the daughter of a slave. One Randolph daughter married a Yankee. Another never married, despite etching her name in one of the windows with a diamond ring, a custom of the betrothed.
The Randolphs themselves were wary of ghosts. In their white ballroom, my guide lifted a delicate German porcelain keyhole cover designed, he said, to prevent spirits from traveling room to room.
He said the woman in the photo in Room 14 was Nottoway's last occupant owner, Odessa Owen. When she sold the house to be turned into a resort in 1980, Miss Odessa stipulated that she be allowed to spend the rest of her days there. She was beloved by the staff whom she visited at the gift shop until the day she died — in Room 14.
Another night manager, Bob Green, told me he didn't believe in ghosts. "Jim's scared. I'm a skeptic," he said of Denis.
For each of the ghost stories Denis told, Green offered plausible explanations. The cold hand on the neck could have been a bug, of which there are lots on the bayou. The electricity going out and tub moving could just be the failings of an old house.
The house is also full of optical illusions, he said.
He walked me outside and pointed to the third floor porch of the main house.
"See the witch?" he said.
There she was! We could see her shadow, in profile, especially her pointy black hat.
Then Green had me walk a few steps forward, toward the glittering lights of a fountain. Suddenly, she wasn't a witch at all: Just a trick of the eye created by the shape of an ornate column.
But there are some phenomena at Nottoway that even Green can't explain. As we chatted near the front desk, Cajun chef Mike Gros stopped to say that earlier that day, he had been setting up the Randolph ballroom for a wedding and found a chair tipped forward, is if someone had reserved their seat. Gros righted it — only to discover soon after that it had tipped again.
He fixed it several times before getting a familiar eerie feeling. It was the same feeling he gets in a corner of the ballroom near the grand piano. "Like there's a face right next to me."
Green took me over to the ballroom, the glittering crystal chandeliers casting a pale glow, and I stood near the piano and closed my eyes. I didn't feel anything.
"Look at that," Green said.
A gold-tone faux bamboo chair was tipped. He righted it.
A staffer emerged from the adjacent kitchen. Green explained about the chair.
"It was what?" the man said. He darted back into the kitchen.
We stayed in the ballroom a bit longer, waiting for a feeling that never came. All the while, I kept eyeing that chair.
molly.hennessy-fiske@latimes.com
Twitter: @mollyhf
---
The Latinx experience chronicled
Get the Latinx Files newsletter for stories that capture the multitudes within our communities.
You may occasionally receive promotional content from the Los Angeles Times.