With the Brazos River headed for an off-the-charts flood, a Texas neighborhood is on the run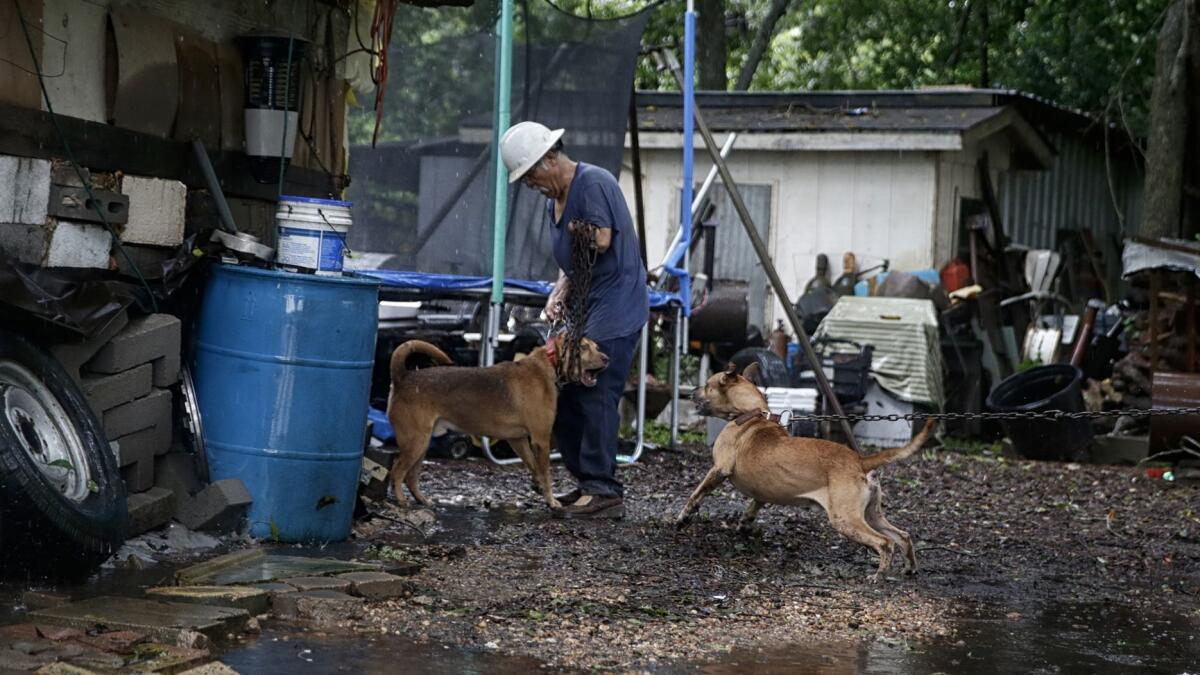 Reporting from Richmond, Texas —
They had less than 24 hours. By Tuesday morning, their neighborhood would be under water.
The Brazos River, less than 100 yards away, surged toward a record crest.
The river, gorged by rains from Hurricane Harvey, was coming for them.
It was the kind of flood that authorities said happens only every 800 years. Roughly 100,000 people, or more than 20% of the population of Fort Bend County, were asked or ordered to leave their homes.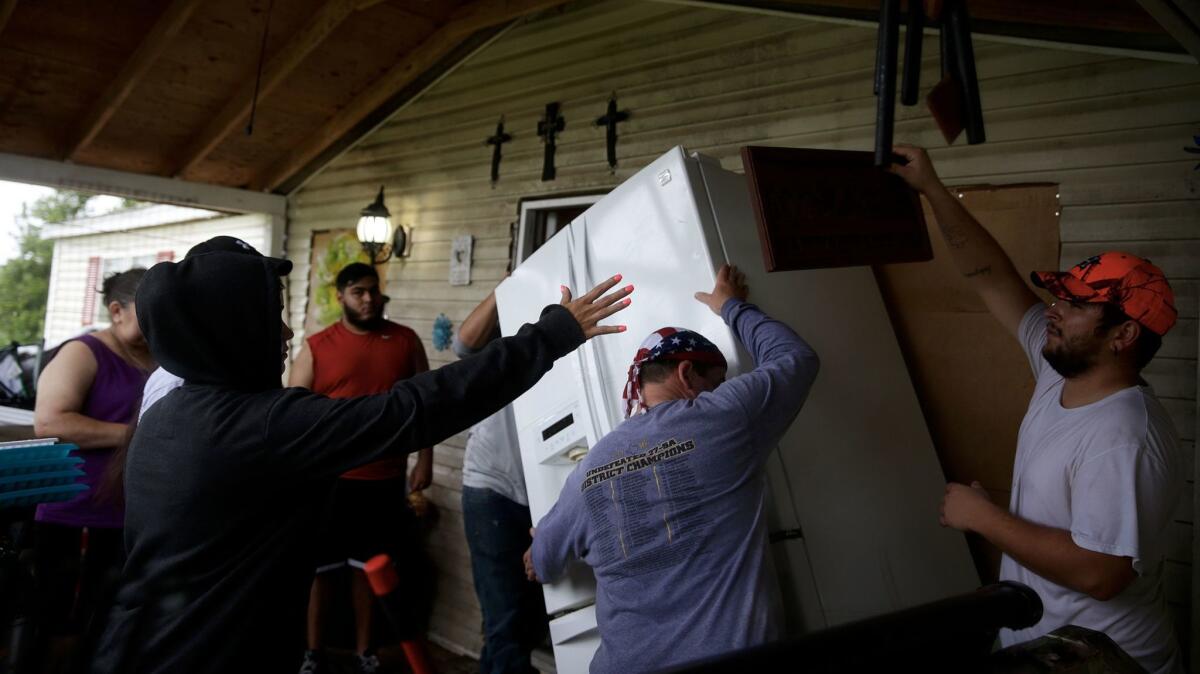 Just behind Wyatt Sebesta's house, the river rose silently as Sebesta, 34, gutted its interior to save whatever he could. He wore a cowboy hat and had a revolver strapped to his hip in case of looters.
He lives on the wrong side of the river, the side without a levy to protect it. Disgusted that the barrier might force more water into his neighborhood, he made a sarcastic proposal: "Best thing we can do is break that levy."
Now Sebesta was trying to evacuate all his appliances — "everything and the kitchen sink," he said, pointing to the sink on the kitchen floor. He had already removed the carpets.
He tossed out the frozen meats he'd stored in his freezer, which were wrapped in butcher paper and marked with handwriting that said, "shark fillet," "leg roast deer 2016" and "pig skin."
A sticker on his front window said, "Here, kitty kitty," next to a decal of a catfish.
All his stuff was leaving, headed to a neighbor's house. But Sebesta wasn't. "I'm gonna stick around the whole time with a boat in case people need help."
Just up the road, Javier Escamilla, 27, and Ruben Lozano, 47, worked quietly as they placed sandbags behind a relative's house. They had loaded sand they collected around town into trash bags that sometimes ripped open. They placed the surviving sand bags at the base of the back door facing the river.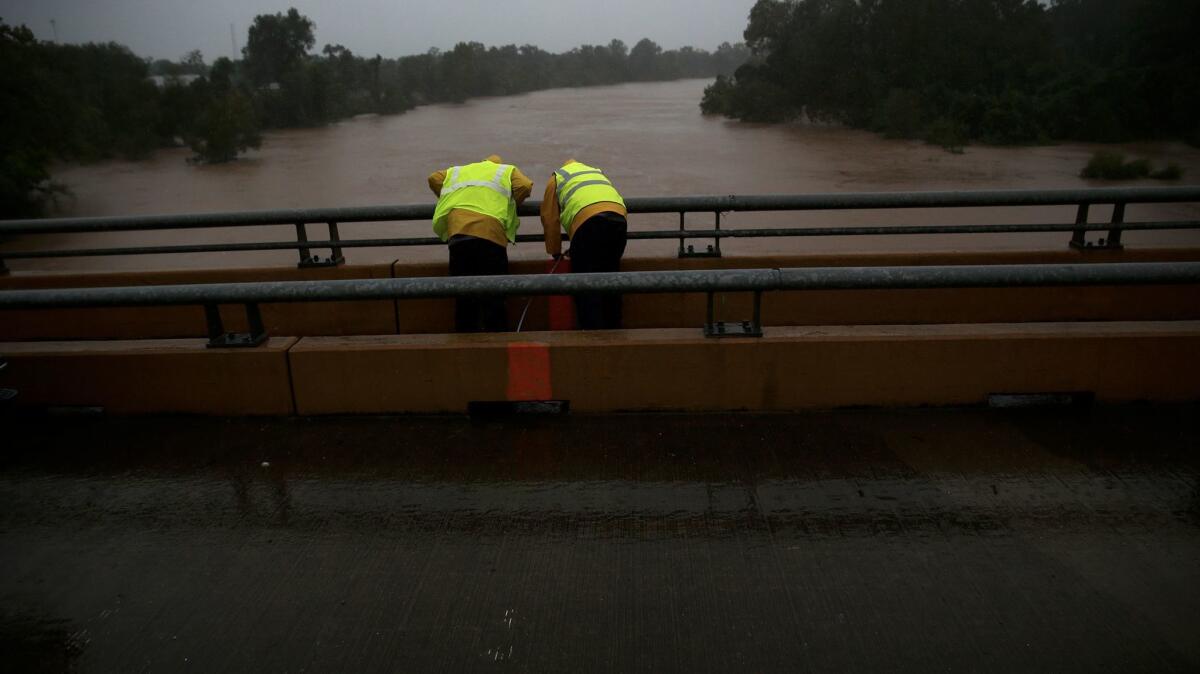 They also ripped up the brick back patio to use the bricks as weights for a tarp they planned to nail to the back of the house to keep the water out.
"Uno, dos, tres," Lozano said, counting sandbags. "We're gonna be here all day — or at least until the waters come."
At a trailer park on the edge of the river, most residents had already cleared out, or were pulling out in trucks Monday morning after loading up the last of their belongings.
"There's no hotels or nothing around," said resident Victoria Sanchez, 41, before driving away.
Nearby, Antonio Garcia, 61, worked alone in his yard, as he made plans to evacuate his five dogs: Chore, Cash, Ears, King and Sarah. But he needed something to put the dogs in.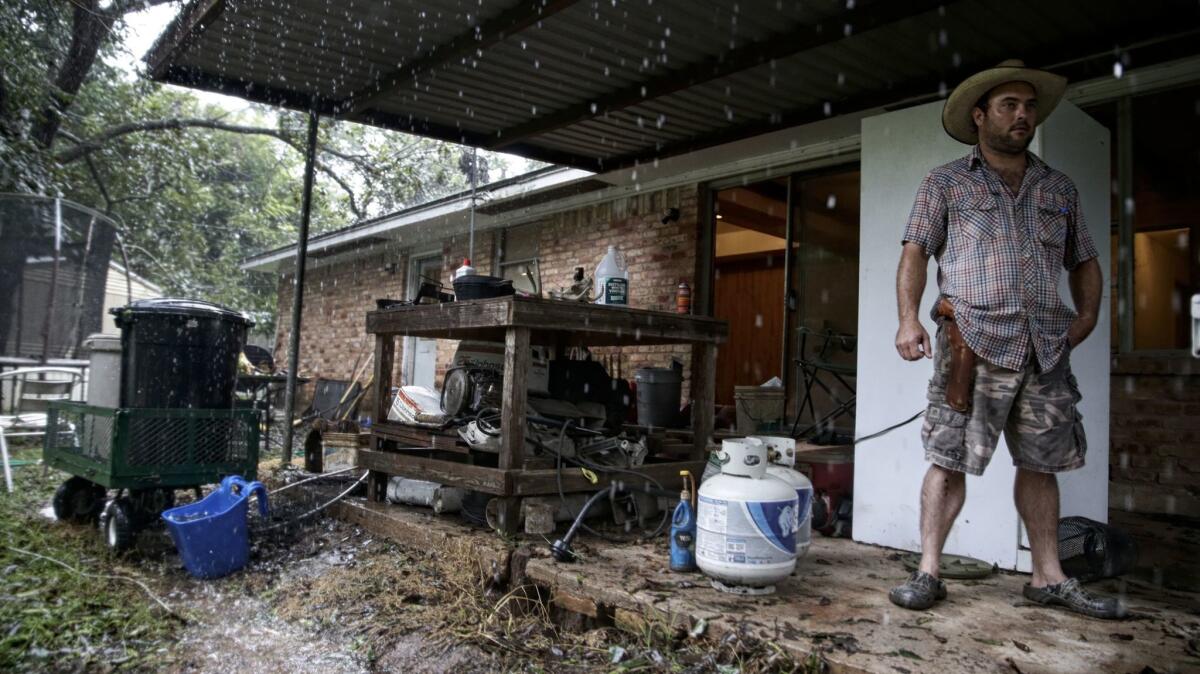 "I'm going to make a camper," Garcia said optimistically, as he set to work in the back of his pickup. With one of his arms amputated below the elbow, his progress was slow but steady.
First he lifted a large metal bar into the pickup bed to form a frame. Then he brought out a white tarp to form a tent and removed the tailgate. Finally, he set a cage in the bed and led over one of his dogs, who tried to jump up but fell.
She succeeded on the second try, then turned around to lick Garcia's face.
And that was just the first step of a long journey.
"Maybe I can find a shelter," Garcia said.
Down the river, in a flood plain outside Rosenberg, Sylvia Gonzalez, 45, had an army of help. In several hours, the waters would move toward her rural home from two sides, like pincers. Several of her neighbors' homes were already under water.
But Gonzalez was not discouraged.
"God is truly here," Gonzalez , a youth pastor, said as a group of family members and friends moved her refrigerator out of her home. Among the few things that remained inside was an inspirational poster on the living room wall with the words, "Faith is a bridge."
It also helps to have married the right man. "I'm blessed that I do have a contractor in this family," she said.
Her husband, Rene, will have plenty to do in the months to come.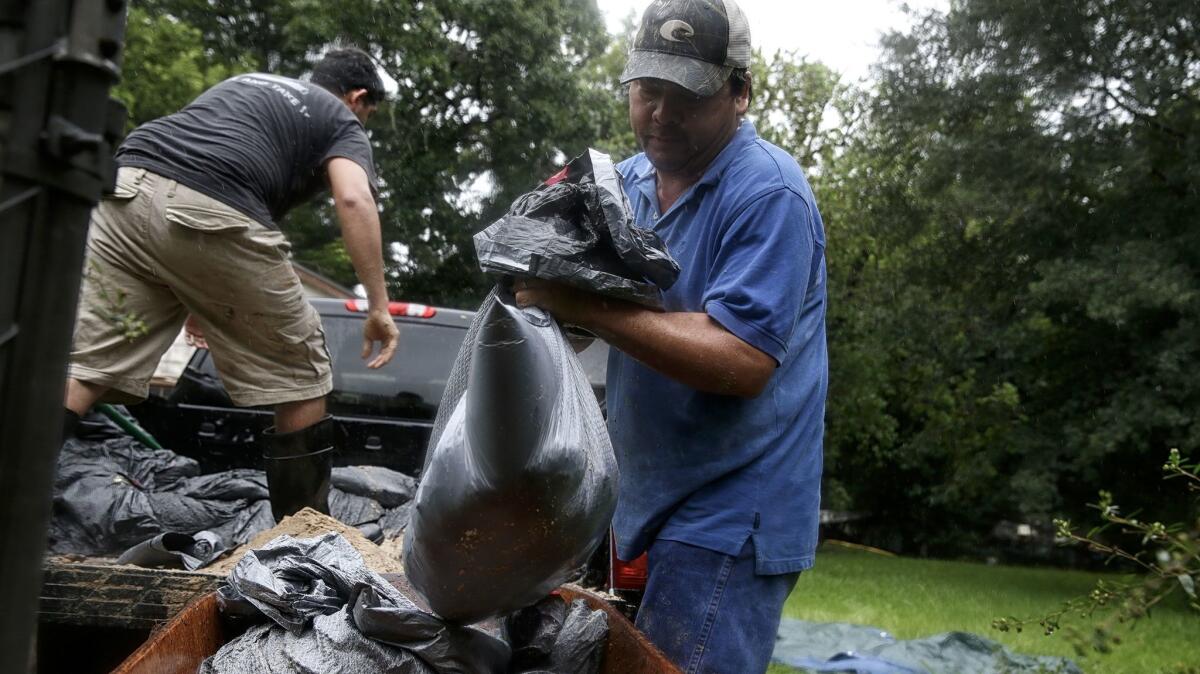 Matt Pearce is a national reporter for The Times. Follow him on Twitter at @mattdpearce.
ALSO
Death toll from Harvey rises to 8, with 30,000 expected to flee to Texas shelters
Trump heads to Texas to witness destruction from Harvey as emergency teams race to rescue families
Sign up for Essential California for the L.A. Times biggest news, features and recommendations in your inbox six days a week.
You may occasionally receive promotional content from the Los Angeles Times.