Detroit judge blocks deportation of more than 1,400 Iraqi nationals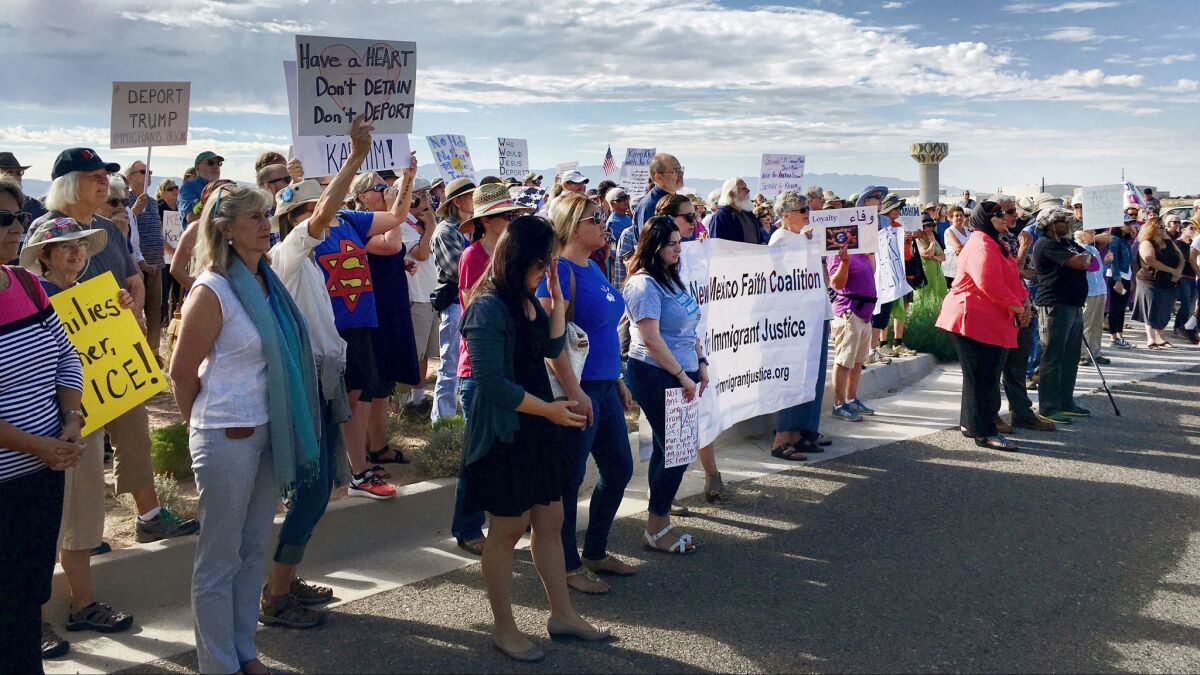 A federal judge in Detroit has temporarily halted the deportations of more than 1,400 Iraqi immigrants, ruling that they deserve to have their cases play out in court because of the risk that they could be targeted for persecution in Iraq.
In a ruling Monday, U.S. District Judge Mark Goldsmith said the immigrants faced a "compelling confluence of extraordinary circumstances" and that the government's attempt to rush their deportations was a violation of their rights.
Many of the Iraqis arrived in the U.S. as children as far back as the 1980s and have few ties to their native country. The majority are members of religious or ethnic minorities such as Chaldean Christians or Kurds, who have been subjected to torture and other forms of repression in Iraq.
They face deportation because they had overstayed visas or committed crimes, typically misdemeanors such as driving under the influence of alcohol.
They had been allowed to stay in the U.S. because for decades Iraq had refused to take them back. But in March, the Trump administration reached a deal with the Iraqi government to accept them and in June began rounding them up in immigration raids.
As of July 1, 234 had been arrested and detained around the country, including large numbers in Detroit, home to thousands of Chaldean Christians.
Returning the immigrants to Iraq would in some cases be akin to issuing a death sentence, according to civil rights and immigrant rights groups that filed a lawsuit in Detroit federal court in late June to block deportations of those immigrants who had been living in Detroit.
Many had been transferred multiple times to various detention facilities, making it harder for them to get legal representation and prepare their cases, advocates said.
"People were sent to 31 facilities across the country," said Miriam Aukerman, senior staff attorney at American Civil Liberties Union of Michigan. "It takes time to get people their documents from the government and many of these people have valid claims under the convention against torture, so that's why we are asking to give people time get their cases heard.
"These individuals would have viable claims in immigration court and they are entitled to make those claims in immigration court, but it's extremely difficulty to do that because you need time to access that system and court records," she said.
Goldsmith agreed and granted an emergency stay barring deportations while he determined whether he had jurisdiction over the case.
Less than a week later, in response to a new petition by the rights groups, the judge expanded his ruling to include Iraqis nationwide with deportation orders. On July 12, Goldsmith determined that he did indeed have jurisdiction over the case.
The emergency order was set to expire at midnight Monday.
The government, which had argued that the Iraqis already have adequate access to immigration courts to have their cases reconsidered, did not immediately react to the judge's latest ruling.
The decision was welcomed by immigrant rights advocates.
"This ruling continues to block the government from recklessly sending these individuals to harm's way," Judy Rabinovitz, deputy director of the ACLU's Immigrants' Rights project, said in a statement. "The court's action could literally save lives."
Follow me on Twitter @melissaetehad
ALSO
U.S. hits cap of 50,000 refugee admissions
A hub for Iraqi refugees, San Diego is making way for new faces — this time from Syria
Religious leaders protest L.A. pastor's detention during a routine ICE appointment
San Diego teacher detained after refusing to answer Border Patrol questions at checkpoint
Must-read stories from the L.A. Times
Get the day's top news with our Today's Headlines newsletter, sent every weekday morning.
You may occasionally receive promotional content from the Los Angeles Times.