Chicago jury convicts police officer of murder in shooting death of Laquan McDonald
For more than a year, Chicago refused to release the grainy police video of the veteran white police officer shooting a black youth to death.
When the courts finally demanded the video be made public, the city seethed. There were protests, political upheaval and a scathing federal investigation that concluded that police in America's third-largest city routinely violated the civil rights of minorities and treated them like "animals."
On Friday, another chapter in the four-year saga closed when a jury found the Chicago police officer guilty of murder in the shooting death of 17-year-old Laquan McDonald.
The conviction was the first time in half a century that an on-duty Chicago police officer faced such a fate. It also marked a rare instance nationwide that an officer was put on trial and found guilty of murder for a police shooting.
Officer Jason Van Dyke, who worked for 17 years in uniform, now could serve between four and 20 years in prison after being convicted of second-degree murder in the October 2014 shooting. Van Dyke, 40, also faces additional prison time for convictions on 16 counts of aggravated battery. He was ordered held without bail.
In Chicago, the tense, weeks-long trial had become a focal point of frustration over law enforcement in the city, where the vast majority of people shot by police are black. Over the years, controversy over the handling of the McDonald shooting led to removals of a county prosecutor and the police superintendent, as well as criticism of Mayor Rahm Emanuel, who said last month that he would not seek reelection.
Nationally, civil rights activists watched the case as one of few that remained unresolved from the so-called Ferguson era — when protests and policy debates erupted across the country after a white officer gunned down an unarmed black teen named Michael Brown in the St. Louis suburb in 2014.
Friday's verdict followed that of another high-profile case this summer, when a Balch Springs, Texas, officer was convicted of murder for the 2017 shooting death of black teen Jordan Edwards. In another prominent case last year, Michael Slager, who fatally shot Walter Scott in North Charleston, S.C., in 2015, pleaded guilty to a federal civil rights violation charge.
But in most shooting cases, officers have been cleared of wrongdoing.
"This is historic for Chicago and police misconduct cases around the country," said the Rev. Janette Wilson of the Rainbow PUSH Coalition, a Chicago-based civil rights organization led by the Rev. Jesse Jackson.
The verdict "sends a clear message that police officers can no longer act with impunity against black Americans, and that this new era of accountability inspires systematic police reform not only in Chicago but throughout the United States," said Sherrilyn Ifill, director of the NAACP Legal Defense and Educational Fund Inc.
McDonald was killed Oct. 20, 2014, after police received reports that somebody was breaking into vehicles in a trucking yard. Officers began following the teen, who had a 3-inch folding knife that an officer said McDonald had used to puncture a tire on a police cruiser. Police radioed a request for a taser. Van Dyke arrived less than 30 seconds before an officer with a taser showed up, and began shooting almost immediately.
The case, and public reaction to it, largely rested on dashboard camera video that appeared to show that McDonald was shot as he was walking away from Van Dyke and that he continued to be hit by bullets even as he writhed on the ground. In all, Van Dyke shot McDonald 16 times in less than 15 seconds.
Protesters took to the streets after the courts forced the city to release the video in 2015. Activists said the city was covering up for the officer, and rallied successfully to get the police superintendent dismissed and to vote out the county prosecutor. Last year, one current officer and two former colleagues were charged with conspiring to cover up for Van Dyke after the shooting.
The case drew parallels to the 1992 Los Angeles riots, when violence roared through the city after police were acquitted in the brutal videotaped beating of black resident Rodney King.
As jurors deliberated Van Dyke's fate, Chicago police had braced for protests, dispatching extra officers across the city and putting hospitals on alert, as downtown businesses closed early and public schools canceled sporting games.
In reaction to the verdict, Emanuel and Police Supt. Eddie Johnson issued a statement calling on Chicagoans to "continue to hear each other and partner with each other. While the jury has heard the case and reached their conclusion, our collective work is not done. The effort to drive lasting reform and rebuild bonds of trust between residents and police must carry on with vigor."
McDonald's death sparked a Justice Department investigation, which last year found that Chicago police routinely violated the civil rights of minorities, often treating them as "subhuman." That report followed a Chicago Tribune analysis in 2016 that found 80% of the police shootings between 2010 and 2015 were of black people. Nearly half were killed by white police officers.
Since McDonald's death, city officials have launched a handful of policing changes. All officers now have tasers and body cameras and there are tougher restrictions on when officers can shoot or use tasers. Last month, the city announced a proposal for court-enforced oversight of a policing overhaul stemming from flaws cited in the Justice Department investigation.
Activists cheered outside the courthouse in southwest Chicago after the verdict and carried "Black Lives Matter" signs on downtown streets. "Justice for Laquan! Justice for Laquan!" people chanted outside the courthouse.
Aislinn Pulley, co-founder of the city's Black Lives Matter chapter, said her group marched in celebration. "This is historic. We're extremely excited," she said.
Speaking at a news conference, Van Dyke attorney Dan Herbert called it a "sad day for law enforcement," saying the verdict would make officers fearful to do their jobs correctly. He described Van Dyke as a "a sacrificial lamb by political leaders and so-called community leaders to save themselves."
The Rev. Marvin Hunter, McDonald's great-uncle who is pastor at the city's Grace Memorial Baptist Church, said the case resonated well beyond Chicago and described the conviction as a "victory for everyone."
"Laquan McDonald represents all of the victims who suffered what he suffered," Hunter said.
Kevin Graham, president of the Chicago Fraternal Order of Police, called the news "unfortunate" and criticized politicians whom he said used the case "to really kick around the Chicago Police Department."
During the trial, prosecutors argued that Van Dyke intended to kill the teen even though he was not a lethal threat to Van Dyke or other officers. Van Dyke and his lawyers argued the opposite: that McDonald seemed dangerous and had waved his knife at the officer, even after falling to the ground.
Illinois law authorizes an officer to use deadly force when it's "necessary to prevent death or great bodily harm to himself or such other person" or "necessary to prevent the arrest from being defeated by resistance or escape."
Van Dyke was charged with first-degree murder, but Cook County Judge Vincent Gaughan gave jurors the option to convict him of the lesser crime of second-degree murder. Jurors deliberated for about 7½ over two days.
For the second-degree conviction, jurors needed to believe that Van Dyke was unreasonable in shooting even if he at the time saw his actions as justified. The conviction has a lesser sentence than first-degree murder and does not require prison time, although most people found guilty of it in Illinois go behind bars.
Van Dyke also was found guilty of one count of aggravated battery with a firearm for each shot he fired at McDonald. A single count carries a sentence between six and 30 years, and those convicted of multiple counts typically do not serve multiple sentences.
Kane County state's attorney Joseph McMahon, who was a special prosecutor in the case, said the verdict gave "validation" to Chicago residents.
Speaking of Van Dyke, he said "the jury saw his testimony for what it was."
"The end of this trial offers an opportunity," he said, "for this city to come together."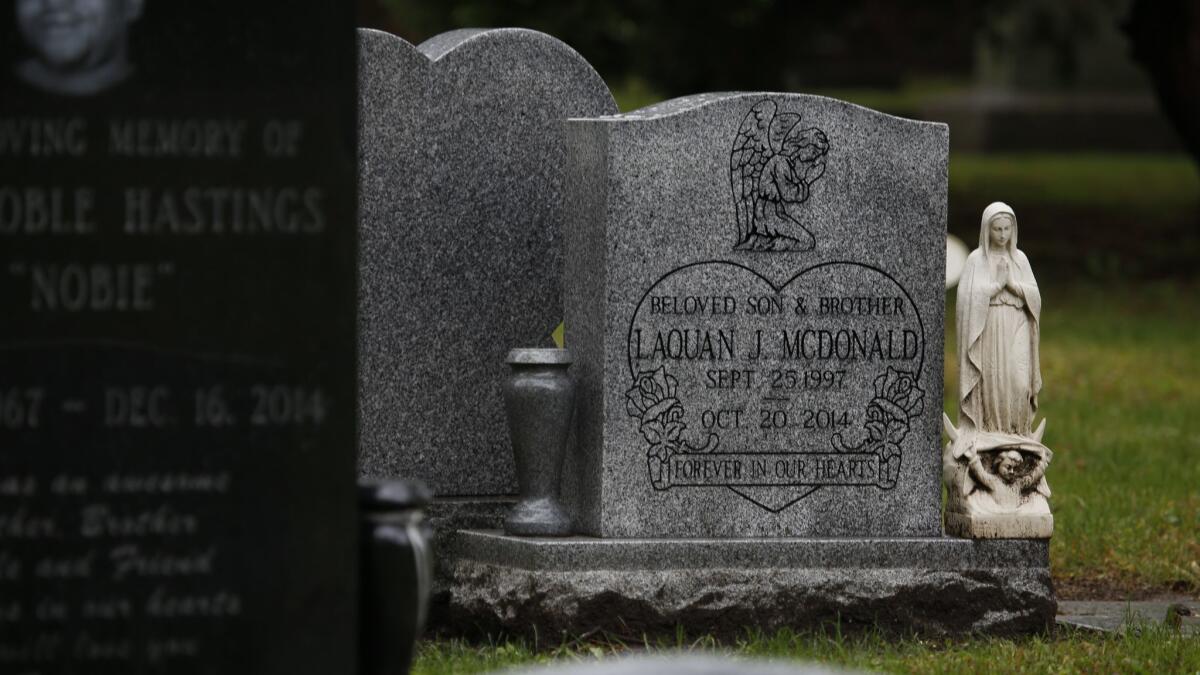 ---
UPDATES:
4:25 p.m.: The article was updated with further details and reaction.
The article was originally published at 11:15 a.m.
Sign up for Essential California for news, features and recommendations from the L.A. Times and beyond in your inbox six days a week.
You may occasionally receive promotional content from the Los Angeles Times.