Race now deemed not a factor after arrest in the killing of a 7-year-old Houston girl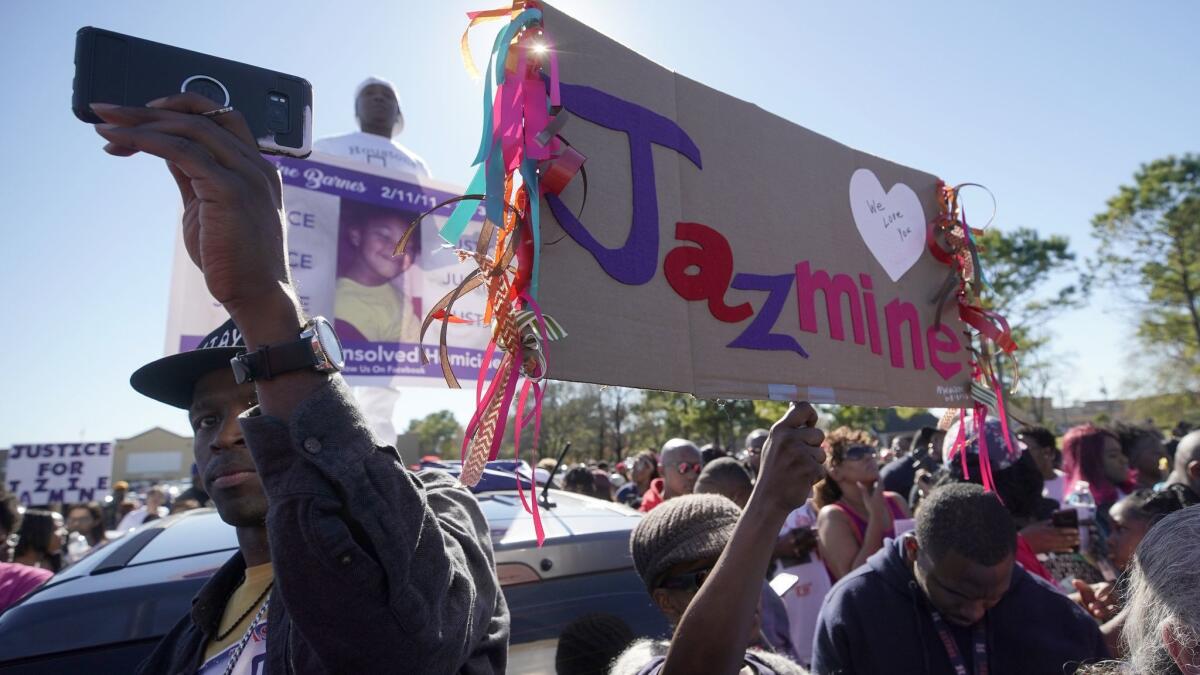 Reporting from Houston —
Rewriting the narrative of the fatal shooting of a 7-year-old girl, authorities in Houston said Sunday that they had arrested an African American man and that their original description of the suspect as white with blue eyes had been wrong.
That description had led activists to conclude that racial hatred was the motive in the Dec. 30 killing of Jazmine Barnes, who was riding in her family's car near a Walmart when somebody opened fire on it. Jazmine's mother, LaPorsha Washington, 30, was shot in the shoulder.
On Sunday, the sheriff said the original suspect turned out to be an innocent driver fleeing the gunfire.
Prosecutors have turned their attention to 20-year-old Eric Black Jr., who was arrested and brought in for questioning Saturday after sheriff's deputies found him in possession of marijuana during a routine traffic stop.
Black, who was charged with capital murder and jailed without bond, confessed to being the driver of a rented Kia sedan when his passenger opened fire on Jazmine's family's car, prosecutors said Sunday at his first court appearance.
Investigators said they found a 9-millimeter pistol at Black's home and that it matched shell casings at the scene of the shooting and that Black also identified the alleged shooter from a booking photo.
Prosecutors and a lawyer for Jazmine's family, S. Lee Merritt, named the second suspect as Larry Woodruffe, 24, who is also black and was at the Harris County jail on Sunday on a drug possession charge.
Harris County Sheriff Ed Gonzalez declined to identify the second suspect during a briefing Sunday, saying that person had not been charged.
After the briefing, Jazmine's father, Chris Cevilla, thanked investigators "for finding my daughter's killer" and said he was "pretty confident" they had the right suspects.
Jazmine's great aunt, Elizabeth Perez, said she too was reassured, despite initial doubts that the description of the shooter could have been so wrong.
"At least we got closer to justice," she said, noting that she was awaiting news about the second suspect.
Black activist John Marsden, who had joined the search for Jazmine's attacker, said he had difficulty accepting that the suspect was black.
"A lot of people are skeptical about that," said Marsden, 43, who dedicated his Facebook page to helping with Houston homicides after his 22-year-old son was killed in an unsolved shooting last year.
A sketch of a white suspect was released by sheriff's investigators based on a description provided by Jazmine's 13-year-old sister, who was in the car at the time of the attack and said the man was driving a red pickup truck.
The killing quickly drew national attention as activist Shaun King and the family's attorney offered a $100,000 reward for information leading to the suspect. Nearly a thousand people gathered Saturday for a rally at the scene of the shooting, where Jazmine's parents and other relatives pleaded for leads.
The sheriff — who never called the shooting race-related — said the traumatized family's description of the suspect had been "sincere."
"At this point, it does not appear to be related to race," Gonzalez said.
One of the first suggestions that race was not the motive came last week, when King and Merritt received tips about the African American suspects and forwarded them to investigators.
"Our biggest problem with this lead was it was so inconsistent with witness statements," Merritt said.
But he said investigators concluded that the red truck had merely passed by Jazmine's family car just before the shooting.
Black was charged a few hours after the Sheriff's Office announced that its investigation had "taken a new direction." Authorities said he told investigators that he and the shooter had not targeted Jazmine's family and that they realized the attack was a mistake when they saw news reports about the girl's death.
The suspects "were complete strangers to this family," Merritt said.
Rep. Sheila Jackson Lee (D-Texas), who attended the rally Saturday, said those gathered had reason to fear the shooting was racially motivated based on available evidence, but credited them with not allowing that fear to incite racial tensions.
"There was no hysteria," she said, "There was nothing but the orderly following of the law."
The shooting occurred in the northeast Houston neighborhood of Woodforest, which is middle-class and racially diverse.
"It wasn't about race for me," said one resident, Tammetta Mares, a 41-year-old teacher's aide who is black and has three children, including a 7-year-old girl. "We just wanted to get somebody caught. That's all that matters to me: They're off the street."
Dexy Neal, 58, who is also black, was shopping with her family at the Walmart near the shooting scene Sunday and praised investigators who she had seen canvassing the area.
"They did what they are supposed to do," she said.
Other Woodforest residents were troubled by the family's initial description of the shooter.
Juanita Bell, who saw the arrest on the news, said her first thought was: "Something is wrong. This don't feel right to me."
Bell, 65, who is black, said she is not alone in her belief that the shooting was a hate crime and that the suspect who has been charged is a scapegoat.
Bell, who drives her 7-year-old granddaughter to school and normally takes a route past the shooting scene, said the sheriff will have to release more information before she feels safe.
"They're going to have to prove this to me, because I know how they can do to cover themselves," she said.
Sign up for Essential California for the L.A. Times biggest news, features and recommendations in your inbox six days a week.
You may occasionally receive promotional content from the Los Angeles Times.