Joe Arpaio appreciates Trump's hint of a pardon, but the ex-sheriff's opponents are not impressed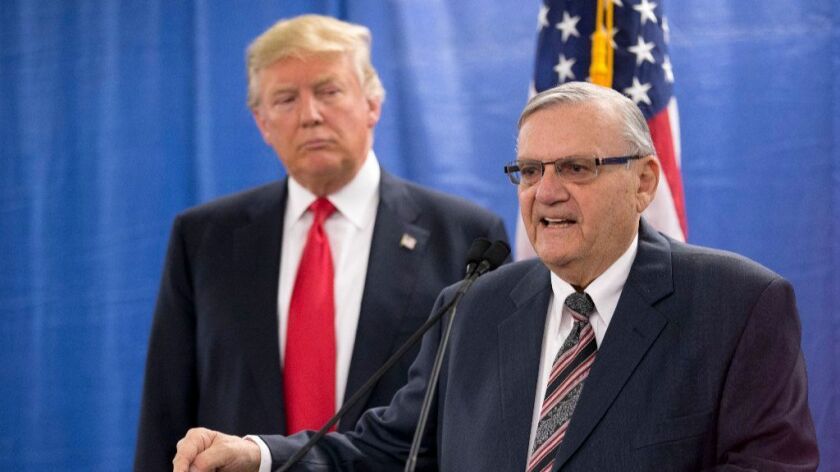 Reporting from PHOENIX —
The words of President Trump, spoken to a roaring crowd at a campaign-style rally here, came as sweet relief to Joe Arpaio, who was at home watching on television.
"Was Sheriff Joe convicted for doing his job?" the president said to heavy applause Tuesday night at the Phoenix Convention Center.
"I'll make a prediction," Trump added. "I think he's going to be just fine."
It was a clear indication from Trump that he plans to pardon Arpaio, the former sheriff of Maricopa County who was convicted last month of criminal contempt for flouting a judge's orders to stop racial profiling.
"He speaks from the heart," Arpaio said of Trump in an interview on Wednesday. "And I must say, I really appreciate it."
Speaking from his home in the suburbs of Phoenix, "America's toughest sheriff," as he once called himself, described Trump as a friend. Arapaio was one of Trump's earliest supporters in the presidential race, endorsing him weeks after he announced his candidacy in 2015.
But he said he did not ask for a pardon and that he does not see one as payback from Trump.
"I know he believes that I was done wrong," said Arpaio, who served as sheriff for more than two decades before voters ousted him in November. "This has all been politically motivated … a travesty of justice."
Arpaio, 85, has long been a divisive figure at the center of national debates over policing and illegal immigration. He was extremely popular with many Arizona voters, but his harsh policies drew sharp criticism from advocates for immigrants and civil rights.
He forced inmates to wear pink underwear and housed them in canvas tents under the hot Arizona sun. And he ordered his officers to stop drivers simply on the suspicion that they were in the country illegally, sometimes leading to the detention of Latinos who were citizens or in the country legally.
Arpaio's conviction for criminal contempt stems from a 2011 court order for him and his force to stop racially profiling Latinos and turning them over to federal immigration authorities. He openly defied it, leading a U.S. District Court judge to find him guilty of contempt.
He is scheduled to be sentenced in early October and could face up to six months in jail.
Even before Trump's visit to Phoenix, the president had made veiled references to a pardon. In his speech Tuesday, Trump did not indicate when he might issue one, saying only, "I won't do it tonight, because I don't want to cause any controversy."
His statements have prompted activists, politicians and other critics of Arpaio to accuse the president of deepening racial divisions instead of trying to heal them.
"If this does move forward, President Trump is only showing Americans he doesn't care about police abuse," said Maria Castro, a community organizer for Puente Human Rights Movement, a local immigrant rights group. "He's saying racism is OK."
Puente organized the "White Supremacy Will Not Be Pardoned" march outside Trump's rally Tuesday. The event drew nearly 5,000 attendees, many carrying signs and inflatable balloons of Arpaio dressed in a prison jumpsuit and handcuffs.
Liz Chatham, an immigration attorney in Phoenix, questioned Trump's rationale and said a pardon could have damaging repercussions.
"People in this community were profiled and a court of law agreed," she said. "This was justice, and now it could be thrown out? The president is sending a strong message that law enforcement can essentially have free reign to violate a person's rights."
Local politicians have also pressured Trump not to pardon Arpaio.
U.S. Reps. Ruben Gallego, Raul M. Grijalva and Tom O'Halleran — all Arizona Democrats — sent a letter to Trump this month saying they believe that "public officials should be held accountable when they commit crimes and that the rule of law should be applied fairly regardless of how powerful an office holder's friend's are."
"By pardoning Mr. Arpaio, an early supporter of your campaign, you would be sending a clear message that your allies are immune from prosecution," they wrote.
Phoenix Mayor Greg Stanton, who had encouraged the president not to travel here this week for the rally, has also publicly called on Trump to forgo a pardon.
"Let's be clear: A pardon of Arpaio can be viewed only as a presidential endorsement of the lawlessness and discrimination that terrorized Phoenix's Latino community," Stanton wrote in a recent Washington Post op-ed. "For years, Arpaio illegally targeted Latinos in our community because of the color of their skin."
Asked about a potential pardon, Arpaio's successor, Paul Penzone, said it was the president's decision to make, but noted that "this community was not happy with what they had as a sheriff, and the courts — the justice system — held him accountable."
"He was convicted because he defied court orders," Penzone said on CNN on Wednesday.
Arpaio, for now, is unmoved by the critics and insists he knows — and trusts — the president's gut.
"I'm sure he knows I was right in enforcing the illegal immigration laws," said Arpaio. "That's why he's very concerned, and I'm very appreciative of a pardon when it might occur."
Twitter: @kurtisalee
ALSO
Outside Trump's rally, thousands take to the streets in mostly peaceful protests
Phoenix mayor calls on Trump to halt campaign-style rally
Here's why a growing number of states are pushing back against Trump's voter fraud commission
---
Must-read stories from the L.A. Times
Get the day's top news with our Today's Headlines newsletter, sent every weekday morning.
You may occasionally receive promotional content from the Los Angeles Times.