Trump sends message with Arpaio pardon: The federal government expects local help enforcing immigration laws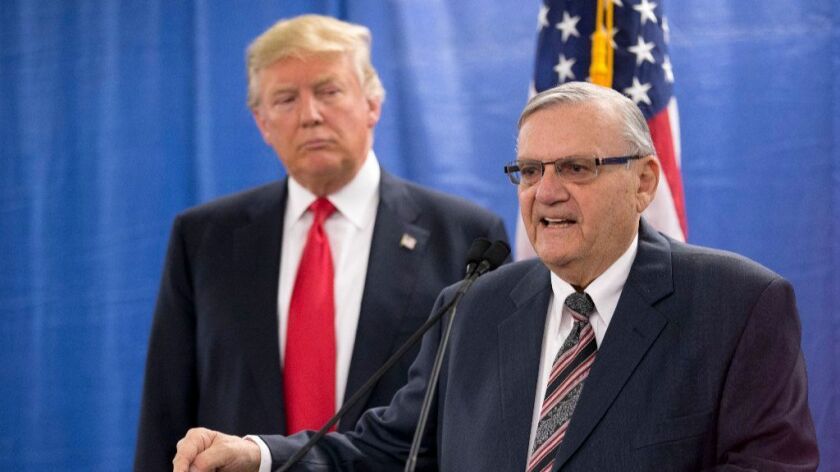 To President Trump and many of his supporters, Joe Arpaio is a national hero whose aggressive pursuit of people in the country illegally and cooperation with federal immigration authorities should be a model for cities and counties around the country.
"Was Sheriff Joe convicted for doing his job?" Trump asked at a raucous campaign-style rally in Phoenix last week, three days before pardoning the 85-year-old former Arizona sheriff.
The pardon of Arpaio — who was convicted of criminal contempt in July for flouting a court order to stop racial profiling of Latinos while he was sheriff — has galvanized Trump's political base around an issue that was at the center of his presidential campaign.
But for civil rights advocates, who believe that local authorities should not enforce federal immigration laws, the pardon was an endorsement of illegal tactics and will only serve to deepen racial tensions.
"Arpaio built his work on terror and fear," said Alejandra Gomez, co-executive director of the Arizona-based Living United for Change in Arizona, or LUCHA, an immigrant rights group. "Arpaio targeted the immigrant community, separating thousands of families. Arpaio built the foundation for Trump's agenda."
The issue of how to combat illegal immigration has become a major dispute between the Trump administration and left-leaning cities including Chicago, Los Angeles, Denver, San Francisco and Austin, Texas.
The president's threats to crack down on so-called sanctuary cities — which refuse to cooperate with federal immigration agents — by withholding federal money have spurred little cooperation and several lawsuits.
Arpaio has long been a divisive figure at the center of the debate over illegal immigration.
During his more than two decades as Maricopa County sheriff, which came to end after he failed to win reelection in November, he ordered his officers to stop drivers simply on the suspicion that they were in the country illegally, sometimes leading to the detention of Latinos who were citizens.
In 2011, a federal judge ordered Arpaio and his deputies not to racially profile Latinos. A year later the Justice Department sued Arpaio, alleging a pattern of illegal discrimination against Latinos.
That only elevated his stature in the movement against illegal immigration.
Trump understood that as well as any politician, and early in his campaign he called Arpaio a friend and ally in fighting illegal immigration.
Arpaio became one of the first major figures to endorse Trump, urging voters to back the billionaire businessman because of his hard-line immigration positions.
When Trump suggested a pardon last week — "I'll make a prediction. I think he's going to be just fine," he said to cheers at the Phoenix rally — Arpaio was facing the prospect of up to six months in jail.
To 72-year-old Daniel Magos, seeing Arpaio convicted of criminal contempt last month felt like justice.
One morning in December 2009, Magos was driving his rusted Ford pickup on his way to a drywall restoration job near his home when one of of Arpaio's deputies turned on his patrol lights.
"I'm just trying to earn a living, and all of a sudden I'm being stopped — you know, for what?" said Magos, who was born in Mexico and became a U.S. citizen in 1967. "The deputy is just staring at me, very angry, like I shouldn't be here in this country trying to make an living."
After a 10-minute interrogation, the deputy sent him on his way.
"It was profiling, no doubt about it," said Magos, who joined a 2012 lawsuit against the sheriff. "To this day it's stuck with me."
On Friday, as Magos prepared dinner at his Phoenix home — about 35 miles from where Arpaio lives — he learned that Trump had issued the pardon.
"I thought, why, how could this be?" he said. "But then I just thought how Trump and Arpaio are the same."
In an interview Saturday, Arpaio denied that he or his officers had ever profiled anybody.
"I was doing my job and combating illegal immigration," he said by phone from his home in a Phoenix suburb. "I didn't ask for a pardon, but it is greatly appreciated."
It was also appreciated by Trump supporters, as the president by some measures has fallen short in his attempt to curb illegal immigration.
In January, Trump signed an executive order that called for the hiring of 5,000 more Border Patrol agents, the increased deportation of undocumented migrants and funding for the immediate construction of a massive wall along the U.S.-Mexico border.
But seven months later, the number of new Border Patrol agents has dropped by 220 instead of risen. Immigration officials are on pace to deport 10,000 fewer people this year than during President Obama's last year in office. And Congress has not made a border wall a priority, prompting Trump to threaten a government shutdown if funding for it is not authorized.
Given those shortcomings, some of his advisors have been urging the president to end Deferred Action for Childhood Arrivals, a program started by Obama to offer legal residency to people who were brought to the country illegally as children and grew up here.
On the issue of sanctuary cities, Arpaio said he remains confident that Trump will triumph over local authorities.
"What he's doing will work. … It really will help out a lot," Arpaio said. "Are there sanctuary cities for bank robbers? No. There needs to be action taken against these mayors and police chiefs that are just allowing safe havens."
To civil rights activists, Arpaio provided the worst kind of model for dealing with illegal immigration.
"For more than two decades, Sheriff Arpaio terrorized and profiled Arizona's Latino citizens, was finally voted out of office, and was convicted for failing to follow a court order to cease his unlawful, racist policing," Vanita Gupta, president of the Leadership Conference on Civil and Human Rights, said in a statement. "This pardon sends a dangerous message that a law enforcement officer who abused his position of power and defied a court order can simply be excused by a president who himself clearly does not respect the law."
Arpaio said Saturday that he'll take the criticism.
"It's expected," he said. "I've been talked about my whole career."
Twitter: @kurtisalee
ALSO
Trump pardons former Arizona Sheriff Joe Arpaio, convicted of contempt of court for violating Latinos' rights
Damage toll from Hurricane Harvey continues to mount as rescue workers strive to reach stranded communities
Here's how a Texas oilman's vision spawned a homeless shelter extraordinaire
---
Must-read stories from the L.A. Times
Get all the day's most vital news with our Today's Headlines newsletter, sent every weekday morning.
You may occasionally receive promotional content from the Los Angeles Times.