Must Reads: As tobacco sales dry up, Kentucky farmers look to the state's 'original crop' — hemp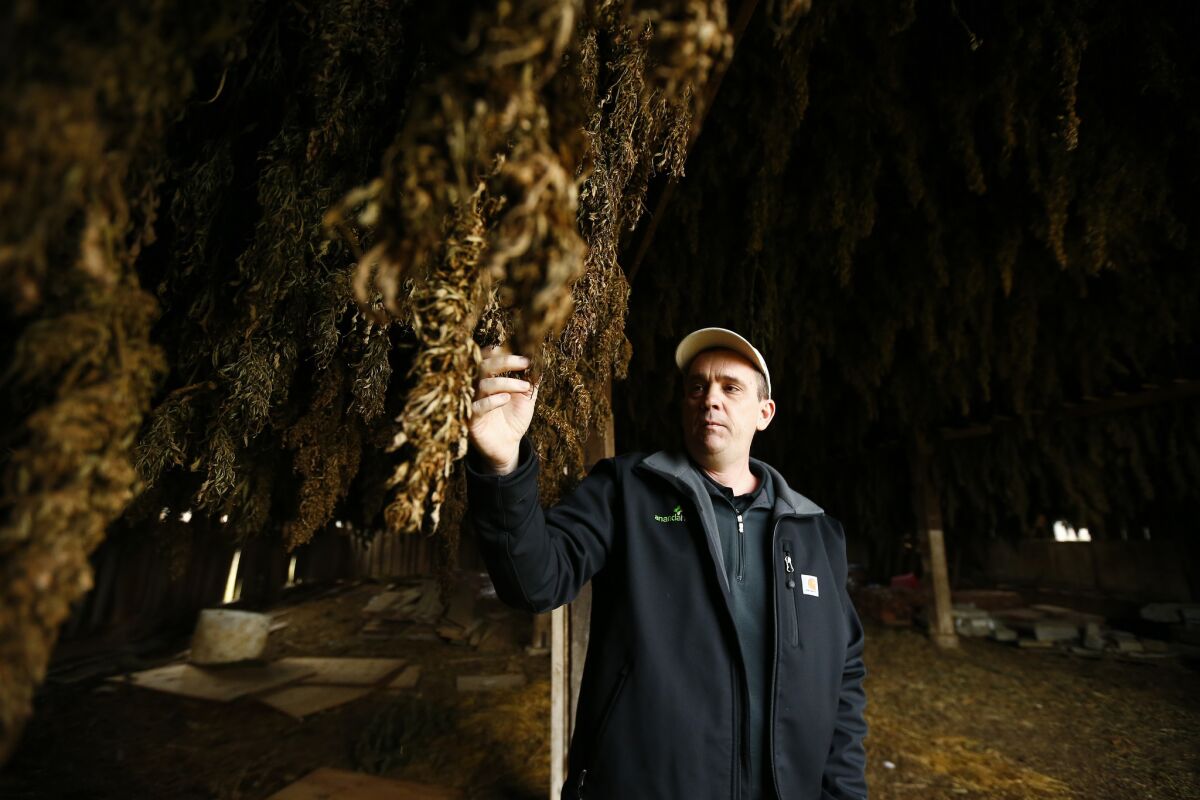 CYNTHIANA, Ky. —
Brian Furnish studied the thick, tan stalks dangling from wooden trellises inside his towering, pitched-roof barn. After years of practice, the eighth-generation Kentucky tobacco farmer knew to check for even the earliest signs of mold on his plants.
But this wasn't tobacco. Above Furnish was another plant with a long, complicated history in the state.
"This is about evolving," the 43-year-old said, gingerly pinching stalks of hemp that dangled like light fixtures.
A steady morning rain pattered on the tin roof and slivers of light shone through the plank siding. The sweet smell of tobacco leaves dried here over generations lingered in the air. With it mingled the pungent odor of the new hemp harvest.
"Tobacco here is very much the past," Furnish said. "Hemp is the future."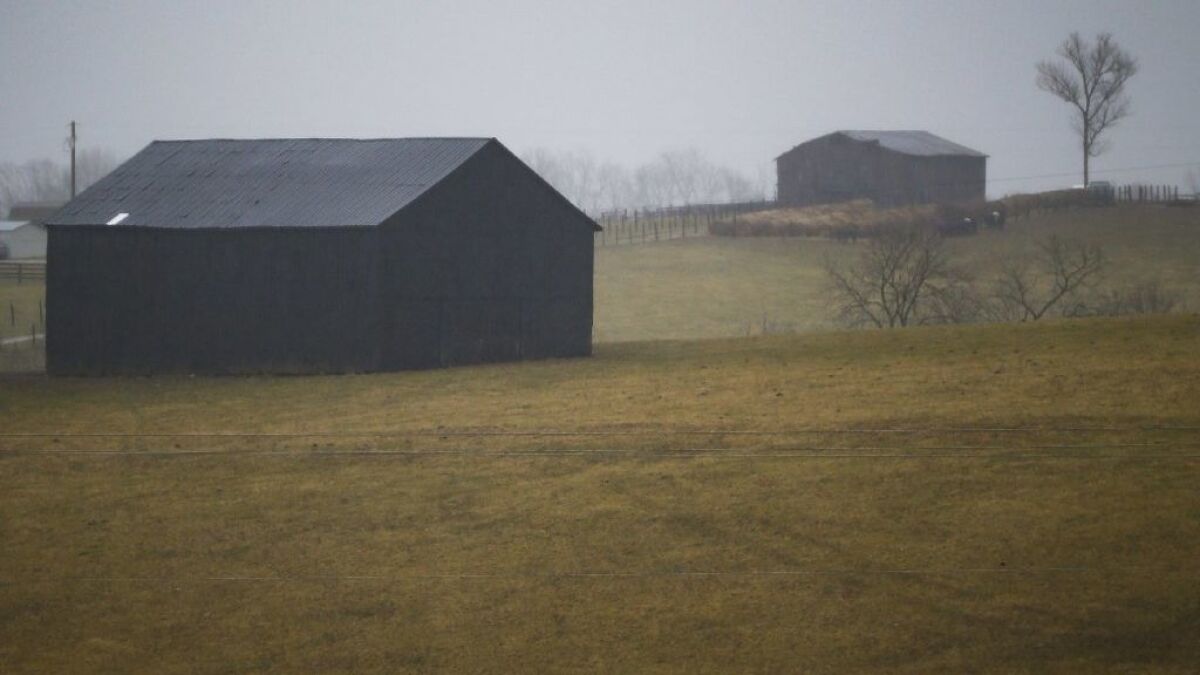 For centuries, tobacco barns dotted the central Kentucky landscape, but as health risks from smoking became clear, sales of the state's longtime top crop plummeted. Farmers searching for an alternative focused on another crop with a long history here, stretching back to the 1700s. And it's one that's grown and dried similarly to tobacco.
Now the conservative state is on the front lines of what is expected to be a booming hemp industry nationwide. Some say the crop is as ingrained in the state's culture as bourbon and thoroughbreds.
But it has a complicated reputation.
Like marijuana, hemp is a species of cannabis. Although the two plants look similar, there is a key difference: Marijuana produces buds filled with THC, the chemical compound that gets you high; hemp has almost none — 0.3% or less.
Instead, the plant known for its strong fibers has often been used to make clothing, and in recent years, extracted for cannabinoids — commonly referred to as CBD — an increasingly popular compound that many ingest to ease anxiety or pain.
Although hemp products, including T-shirts and soaps, have been imported and sold in the U.S. for years, the federal government long classified the plant as a Schedule I drug, barring American farmers from growing it.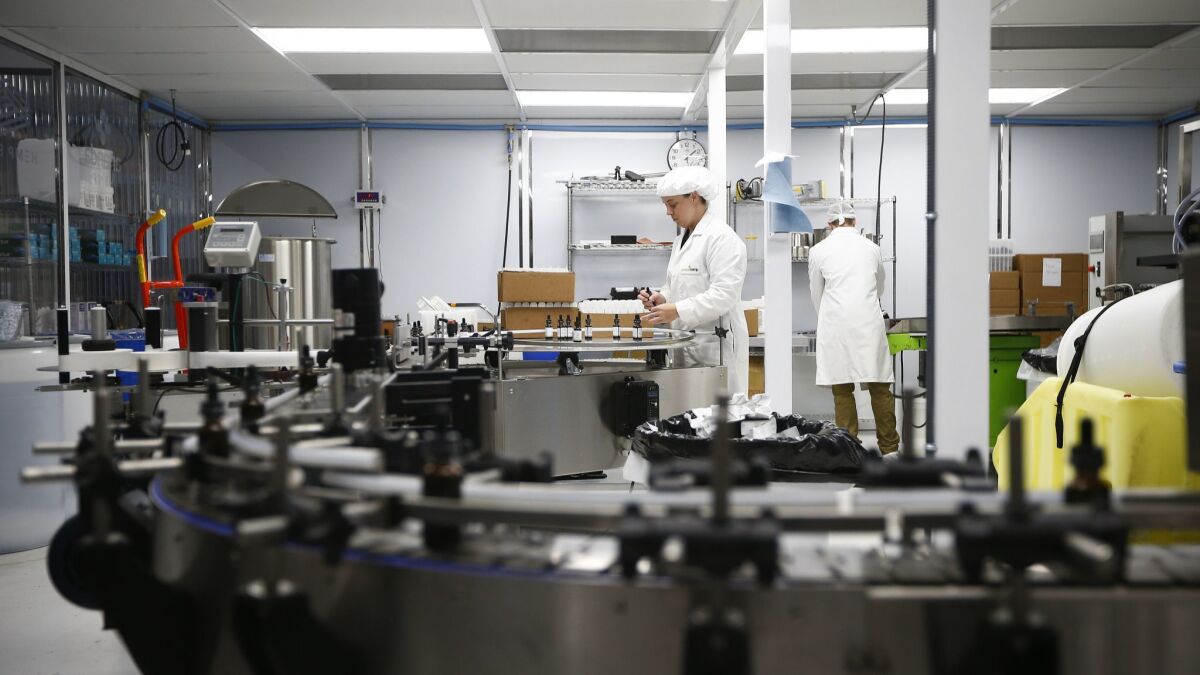 That changed in December when President Trump signed a farm bill with a provision legalizing commercial cultivation of hemp nationwide. The move was a testament, at least in part, to the persistence of farmers like Furnish, who had lobbied the state's senior senator for years about hemp.
When the bill was signed, Senate Majority Leader Mitch McConnell proclaimed it "the beginning of a new era."
The Republican said he was "confident the ingenuity of Kentucky's farmers and producers will find new and creative uses for this exciting crop."
The hemp provision, which had bipartisan support, labels hemp a commodity crop — like soybeans and corn — and offers farmers insurance if they choose to grow it.
It's a crucial step for the hemp-based industry, which, according to the Hemp Business Journal, hit $820 million in sales nationwide in 2017.
On a recent afternoon, Furnish watched half a dozen employees test hemp oil in a small warehouse a few minutes from his barn. Furnish, a taciturn man who says he's most comfortable outside on a farm, is part owner of Ananda Hemp — a company that extracts CBD from the plant. He intends to increase his hemp acreage from 200 to 250 this year; most of those plants, he said, will be processed for CBD oils.
He nodded toward the workers, in blue jeans and mud-caked boots, reading beaker levels and typing numbers into computers.
"These are tobacco-country people. And now we're all in hemp."
Starting at age 5, Furnish and his six siblings helped on the family's 1,500-acre farm outside Cynthiana, Ky., a community about an hour south of Cincinnati where it's not uncommon to see tractors driving up and down Main Street.
Burley — a light, air-cured tobacco — thrived in the hot and humid summers, and for years his family lived comfortably off sales of the plant, as well as other crops, including corn and hay.
But by the 1990s, anti-smoking campaigns and higher cigarette taxes hurt tobacco sales. In 2004, the federal government ended a Depression-era subsidy program for tobacco farmers and began buyouts known as the Tobacco Transition Payment Program.
The payments ended in 2014, and sales continued to dive. Last year a record-low 57,000 acres of Kentucky land was growing tobacco, according to the U.S. Department of Agriculture, down from more than 200,000 acres in the '90s.
As the buyouts began, farmers started looking for different sources of revenue.
Hemp had thrived in the state before. Central Kentucky was a top producer during the 19th century. Then, the labor-intensive crop was sown, cared for and harvested by slaves.
Furnish remembered his grandfather's stories about growing hemp during World War II.
In the 1940s, the federal government encouraged farmers to grow hemp so it could be used for rope, parachutes or uniforms. It was a simple transition from tobacco for Furnish's grandfather, as both crops required similar tractors and harvesting tools.
By 1943, Kentucky farmers were growing 52,000 acres of hemp — among the most of any state. After the war, Kentucky production remained steady, but halted in 1970 when President Nixon launched the so-called war on drugs by signing the Controlled Substances Act, making hemp illegal.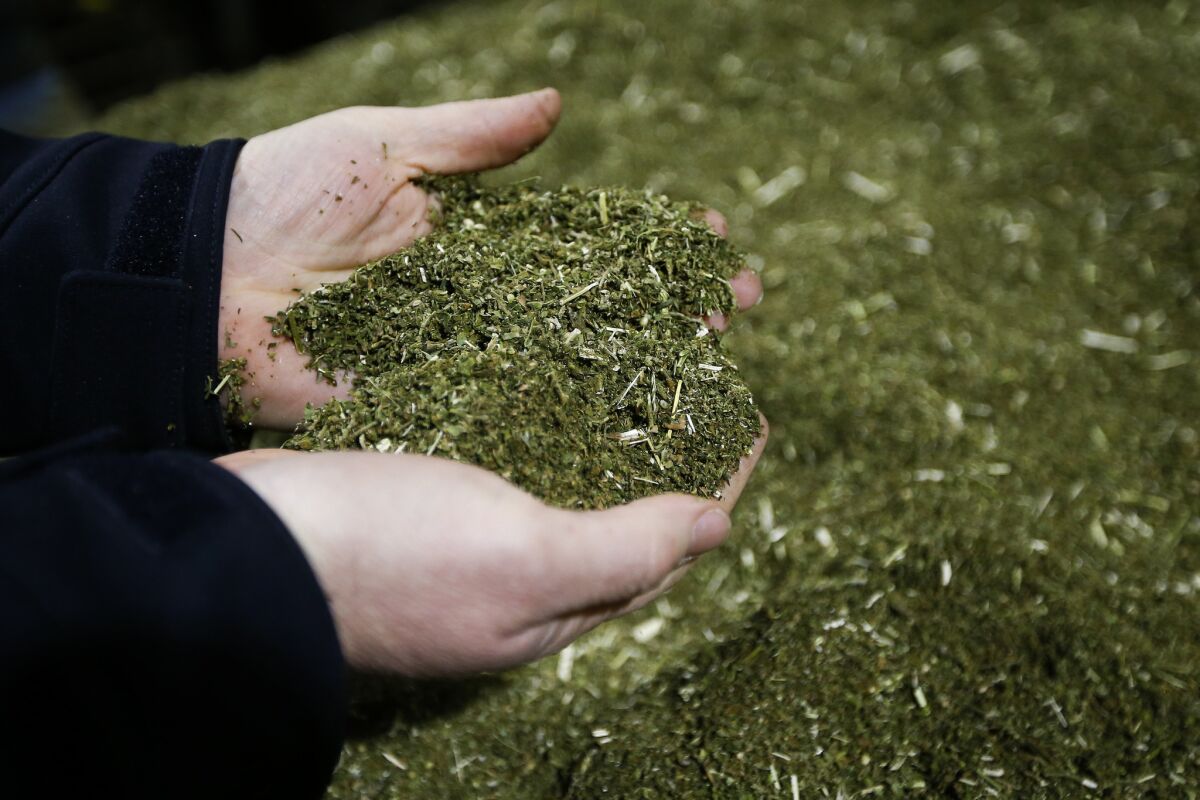 In 2013, after steady pressure from farmers, who held town halls and testified at the state Capitol, Kentucky lawmakers authorized hemp farming, contingent on it becoming legal under federal law. It was among the first state law of its kind nationwide.
A year later, President Obama signed a farm bill that allowed universities and state agriculture departments to oversee cultivation of hemp for limited purposes, such as researching the best uses for the plant.
Since then, nearly 40 states — including California — have passed laws allowing agriculture departments to manage hemp cultivation and production programs. But not all of those states have started growing hemp.
Because Kentucky's law was already in place, its farmers had no lag time in working with the state to start sowing.
Last year, nearly 78,000 acres of hemp were grown nationally, up from about 26,000 acres in 2017, according to Vote Hemp; Montana, Colorado, Oregon and Kentucky were the top growers. Kentucky accounted for 6,700 of those acres.
Furnish, who has family still farming tobacco in Cynthiana, said there's more profit in hemp: $2,000 an acre versus $1,500 for tobacco.
And after the farm bill Trump signed, the hemp expansion is expected to increase nationwide.
Rep. James Comer (R-Ky.), who served as the state's agriculture commissioner when the 2013 law was enacted, said the federal move was overdue. "Legalizing hemp gives farmers a new cash crop and gives producers and growers another tool in their toolbox."
The Kentucky Department of Agriculture has approved more than 42,000 acres for hemp production in 2019. Nearly 1,000 farmers have sought permits this year alone, hopeful that soon a majority of hemp-based products will be grown in the United States and dependency on imports from China and Canada will dwindle.
Like Furnish, other farmers see an immediate boon in CBD. In 2017, hemp-based oil extracts brought in more than $16 million in revenue to Kentucky, according to its agriculture department, which allowed production and sale through its pilot program.
The oils are sold online, in private pharmacies, even some farmers' markets. CBD in topical creams is meant to alleviate pain and in intimate oils meant to increase pleasure. It's vaped, infused into beverages, and even put into dog treats. Last year, the Food and Drug Administration approved the CBD drug Epidiolex to treat epilepsy.
So far, the FDA has mostly taken a hands-off approach to CBD. However, the agency recently issued a statement warning it is illegal for businesses to market CBD as a dietary supplement. Some state and municipal governments have followed suit with similar statements.
Shawn Hauser, a Denver-based attorney who helps marijuana and hemp businesses navigate state and federal laws, said CBD would "likely be the No. 1 source of revenue from hemp legalization in the immediate future."
But she cautioned that new laws could change that: "It's still all very fluid."
Despite the change at the federal level, there's still disagreement and confusion among some in law enforcement.
Law enforcement in Kentucky opposed the 2013 hemp measure, saying it could lead to marijuana legalization; legislators agreed to allow state police to patrol fields to ensure no marijuana is grown.
A few weeks ago, a Kentucky farmer shipped 18,000 pounds of hemp, worth an estimated $500,000, to a Colorado medical company, but police in Oklahoma seized it, believing it was marijuana. The company is still trying to get the hemp returned.
In Cynthiana on a recent evening, Furnish pulled his black Chevy Silverado up to the barn he inherited from his father.
The hemp inside had been drying since November, and as Furnish pulled apart a thick stalk, strands of strong, stringlike fiber fell into his hands. The crop would be ready for processing in the weeks ahead.
"Hemp has a history here," he said. "It should have never left us."
---
Must-read stories from the L.A. Times
Get the day's top news with our Today's Headlines newsletter, sent every weekday morning.
You may occasionally receive promotional content from the Los Angeles Times.