CBD-infused products are being sold everywhere in California — but are they legal?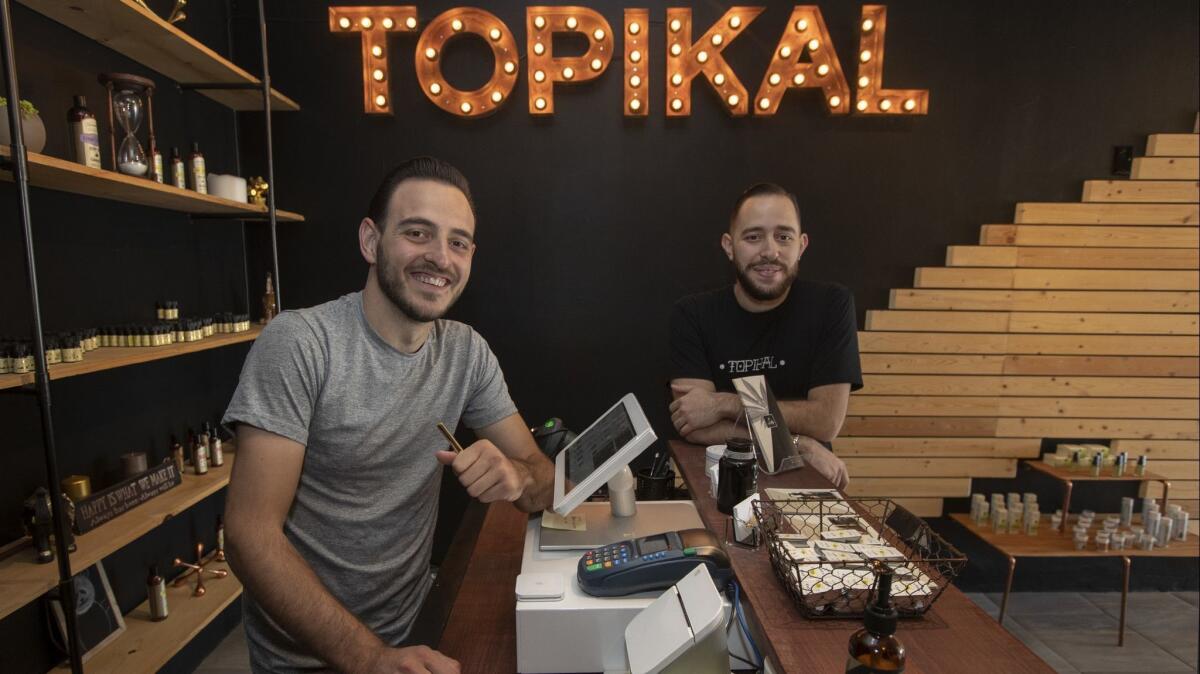 Greg and Gary Avetisyan make no secret of it: They proudly sell all manner of products infused with CBD, from essential oils to bath bombs to fruity tea-like beverages that promise calming relief in a frantic world.
CBD, short for cannabidiol, is a molecule derived from cannabis. But unlike its chemical cousin THC, it won't get you high. What it might do, according to some research, is alleviate anxiety, seizures, chronic pain and dozens of other ailments.
The Avetisyan brothers' belief in the alleged benefits of the extract is so steadfast that they opened California's first CBD-only store, Topikal, in Tarzana last year and opened a second along the Venice Beach boardwalk in April.
In the eyes of California, however, the Avetisyans' products are being sold illegally, even though they are non-psychoactive.
The state's Department of Public Health declared this summer that CBD-infused food, drink and dietary supplements cannot be sold by non-licensed retailers, further complicating an already confounding regulatory landscape. According to the California Bureau of Cannabis Control, CBD products made from marijuana may be sold at licensed cannabis dispensaries, but CBD pulled from pot's non-intoxicating relative, hemp, is barred from being peddled at pot shops.
The prohibition comes at a time when CBD's reputation as an alternative cure-all has captured the public's imagination and spawned a half-billion-dollar industry. With weed-friendly California putting the brakes on CBD sales, however, the future of that exploding market has been cast into doubt. It has also raised questions over just how well officials can enforce the ban, and whether — as CBD supporters insist — the state is actually increasing the risk of consumers purchasing fraudulent or adulterated products.
California's stance is part of a larger, quickly evolving universe of state and national regulations targeting cannabis. And CBD, in particular, is having a moment, albeit an embattled one.
In states where recreational and medical marijuana is legal, such as California, CBD derived from the cannabis plant is taxed and regulated, but can be sold only at dispensaries. But as far as the federal government is concerned, CBD pulled from industrial hemp is unregulated, untaxed and illegal.
The confusion is largely attributable to the fact that the U.S. Drug Enforcement Administration considers CBD a Schedule 1 substance, along with drugs such as heroin and LSD. This classification makes it very difficult, although not impossible, for researchers to legally study CBD's safety and efficacy as a medical treatment.
In the absence of scientific testing, the U.S. Food and Drug Administration has launched a crackdown on CBD products that make unproven medical claims, such as curing cancer. "The promotion and use of these unapproved products may keep some patients from accessing appropriate, recognized therapies to treat serious and even fatal diseases," FDA Commissioner Scott Gottlieb has said.
Colorado is choosing to ignore the federal government's position and is allowing growers to extract CBD from hemp. California, on the other hand, has decided to follow the FDA's lead — condemning the extract but doing very little in the way of keeping it out of the hands of consumers.
When asked why the state has gone this route, a spokesman from the California Department of Public Health said that state law requires the agency to adopt federal laws and regulations around food, drugs, cosmetics and medical devices.
Los Angeles cannabis attorney Hilary Bricken noted that this approach — to wait for the legality of hemp-derived CBD to shake out on the federal level — is easier and less expensive for the state. But this strategy also invites risk for consumers, she said.
"The only modicum of regulation here is prohibition — 'buyer beware,'" Bricken said. "You really don't know what you're getting."
As of late October, the state's Bureau of Cannabis Control had not taken any action against businesses selling foods or supplements containing CBD.
Products infused with hemp-derived CBD are still being peddled throughout the Golden State. They're sold in corner stores and health food markets such as Lassens and Erewhon and in coffee shops that sling $8 lattes fortified with CBD oil. Although some stores stopped hawking ingestible CBD products after the state released its guidelines, others, like Topikal, say they will keep selling CBD goods until they are stopped.
"We know that we're doing good in the world. It's not like we're selling an actual drug," said 24-year-old Gary Avetisyan, who also noted that his CBD oil is purchased by some parents who believe it can treat seizures. "Our lawyer told us not to worry about it."
Local environmental health agencies are responsible for enforcing the state guidelines, but few counties are doing much in the way of actual enforcement. The Los Angeles County Department of Public Health, for example, had yet to issue any CBD-related citations as of late October. San Diego County has found one facility in violation. On the more heavy-handed side is Orange County, recording 10 violations during routine inspections.
Retail stores like Topikal, which are not inspected by health agencies, are unlikely to be cited.
So if hemp-derived CBD is still readily available, why does the state's posture on the stuff matter?
CBD advocates contend that the state is instituting a largely toothless decree when instead it should be exploring ways to regulate all products infused with the extract — not just those sold at dispensaries, and regardless of whether they come from marijuana or hemp.
"People are using it and people should continue to have access to it," said Geoff Whaling, chairman of the National Hemp Assn. "But wouldn't we all like to know what we're taking is what is claimed on the label?"
Consumers who purchase a CBD product from a non-licensed retailer in California are, in a sense, blindly trusting that its purity and THC levels are sound. But research shows that's often not the case. A 2017 University of Pennsylvania study found that up to 70% of CBD products sold online may actually be mislabeled. Out of 84 items surveyed, 18 had THC levels high enough to potentially cause impairment.
Greg and Gary Avetisyan of Topikal sell products they make themselves, such as CBD pain cream and emu oil salve (popular among those suffering from eczema and psoriasis, they say) as well as items from other companies. All of their products are tested by a third party to ensure they're pesticide- and metal-free and contain less than 0.3% THC, the legal limit for hemp-derived CBD.
One of these products is Vybes, a tea-like juice drink infused with 15 milligrams of hemp-derived CBD. Its blush pink label, stylistically spare in a way that signals it's being marketed to millennials, asserts that "Hemp CBD, a nutrient made by Mother Nature, can help heal your mind, body and spirit." L.A.-based Vybes launched in January and in a matter of months was being sold at many of California's natural foods stores.
The fledgling company took a big hit when the California Department of Public Health released its guidelines in July deeming hemp-derived CBD illegal, according to Vybes Chief Executive Jonathan Eppers. One of the product's distributors, fearing that the state would shut down its operations, dropped Vybes drinks shortly thereafter.
"We lost 60 stores that were buying tens of thousands of dollars of product from us, literally overnight," Eppers said.
Vybes is now focused on expanding in states that are friendlier toward CBD sales, such as Colorado. But even selling there is tricky. The city and county of Denver, for example, prohibit the sale of edible CBD products manufactured outside of Colorado.
Eppers said that despite these bureaucratic challenges, the company is still doing well and will not stop making the CBD drink. His lawyers contend that he is within his legal rights to do so. They point to Proposition 64, which not only legalized the recreational use of marijuana but also contained provisions authorizing the commercial production of industrial hemp in California.
They also cite the 2014 U.S. Farm Bill. In its current form, the bill allows industrial hemp to be grown for academic research and agricultural purpose only. Some states have chosen to interpret the law broadly and consider commercial activity as market research, opening the door for cultivators to begin stripping CBD from hemp.
Federal law may soon work in more explicit favor of hemp-derived CBD. This summer, U.S. Sen. Mitch McConnell (R-Ky.) added language to the 2018 Farm Bill that would remove hemp as a controlled substance. Lawmakers failed to vote on the bill before the Sept. 30 deadline, but CBD advocates hope that it could still pass in the lame-duck session after the midterm elections.
Regardless of the law, CBD continues to develop a reputation as a remedy to dozens of ailments, even though just one purported use for the extract — to treat epilepsy — has scientific evidence supporting it.
The hemp-derived CBD market is expected to top $591 million this year, according to Brightfield Group, a market research firm, and could grow to $22 billion by 2022 if the Farm Bill passes.
The Avetisyan brothers are riding that wave, but say they would welcome regulation on any level — state or federal.
"Whenever you're in a business of helping people and want to do it the right way," said Greg Avetisyan, "the regulations won't stop you."
laura.newberry@latimes.com | Twitter: @LauraMNewberry
Sign up for Essential California for news, features and recommendations from the L.A. Times and beyond in your inbox six days a week.
You may occasionally receive promotional content from the Los Angeles Times.