Kansas is struggling financially. But for Republican Kris Kobach, the race for governor is all about illegal immigration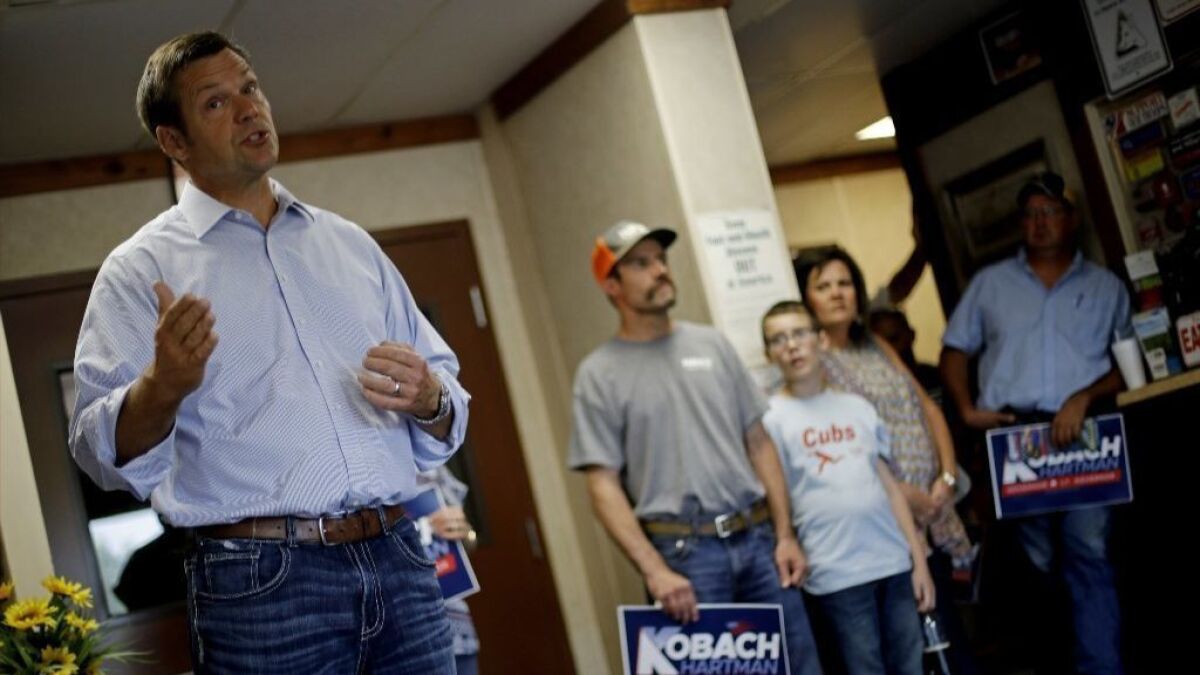 FORT SCOTT, Kan. —
Kris Kobach didn't mention the persistent budget woes plaguing Kansas. He said nothing about the documents released hours earlier that showed a commission he helped lead for President Trump uncovered no evidence to support claims of widespread voter fraud.
Instead, standing before ranchers huddled inside the muggy entrance hall to the Fort Scott Livestock Market on a recent evening, Kobach quickly got to the core issue of his candidacy for governor: illegal immigration.
"The status quo has become untenable," Kobach said, his voice rising. "It's time we stop illegal immigration in Kansas."
"Right on!" a man shouted.
Kobach's eyes widened, like a football coach giving a locker room pep talk, and he nodded. It would, he said, be a time for change.
For more than a decade, Kobach, who serves as Kansas' secretary of state, has waged a national campaign to combat illegal immigration. He's filed lawsuits, drafted controversial legislation and heralded Trump's promises of a strong border. Now, as he seeks the Republican nomination for governor here on Tuesday, Kobach hopes his tough-on-immigration views will carry him to the top job in Topeka.
The rhetoric often plays well, even if it doesn't match the demographic reality.
Kansas has about 2.9 million residents, about 87% of them non-Hispanic whites.
Fewer than 1% — or 75,000 — of the estimated 11.1 million immigrants living in the U.S. illegally lived in Kansas in 2014, according to the most up-to-date figures from the Pew Research Center derived from federal survey data. The Pew report said from 2009 to 2014 the number of immigrants in Kansas illegally dropped by about 20,000.
For Kansas, arguably, more pressing issues persist.
Kansas and this country have been rewarding illegal immigration for a long time. Here in this state, that's going to stop the moment I take office.
— Kris Kobach
In 2012, then-Republican Gov. Sam Brownback approved steep tax cuts, promising a "shot of adrenaline" for the state's economy. Instead, the bold move by Brownback — now an ambassador for religious freedom in the Trump administration — tanked the state's economy.
Last year, facing dire budget shortfalls, the Republican-dominated Legislature voted to roll back the cuts. In June — for the third time in two years — the Kansas Supreme Court issued a blistering decision, saying the state was violating its constitution by spending far too little on public education.
Even so, Kobach focuses on immigration, not state finances. It's a strategy that caters to the party's far-right base. Some political analysts believe that if Kobach secures the nomination, it could turn off moderates and drive more Democrats — who last won a gubernatorial race here in 2006 — to the polls.
Kobach characterizes his chief rival for the GOP spot, Gov. Jeff Colyer, as weak on immigration, saying Colyer lacks his years of experience on the issue. In reality, the two share similar views on most issues, including immigration, and polls — which have been limited — show a close race.
During a bus tour along the eastern edge of the state, in rural towns that border Missouri, Kobach hammered immigration again and again. Among his targets: the Deferred Action for Childhood Arrivals program, which offers protections to young immigrants who came to the U.S. illegally as children.
"We have to be a nation of laws," Kobach said. "Kansas and this country have been rewarding illegal immigration for a long time. Here in this state, that's going to stop the moment I take office."
Kobach says his concern about illegal immigration was driven by the passage of a Kansas law in 2004 granting in-state tuition to students in the country illegally. As an attorney, he represented nearly two dozen out-of-state students who sued Kansas to overturn a measure he viewed as violating federal law.
"The kids were being treated unequally because they were U.S. citizens," Kobach said. The suit failed, and the law remains in place.
Kobach's efforts on immigration, which won him notoriety nationwide, have had mixed results. In 2010, he helped craft Arizona's controversial immigration-enforcement legislation — Senate Bill 1070 — often called the "show me your papers" law. Critics said it hinged on racial profiling, and the Supreme Court eventually stuck down many of the provisions.
He helped local officials in Hazleton, Pa., draft a 2006 ordinance that banned landlords from renting to people in the country illegally. The ordinance faced strong pushback and several legal challenges, and was never implemented.
Shortly after the 2016 election, Trump appointed Kobach to his immigration policy team. Months later, Trump tapped him to team up with Vice President Mike Pence to head a commission on voter fraud.
It's fear mongering. It's less about immigration and more a question of where these people are coming from and what they look like.
— Nathaniel Birkhead
At times brash and unapologetic, especially on immigration, Kobach is in many ways a mini-Trump. Like the president, critics say, he uses immigration to manipulate and terrify the electorate.
"It's fear mongering," said Nathaniel Birkhead, associate professor of political science at Kansas State University. "It's less about immigration and more a question of where these people are coming from and what they look like."
One thing is clear: Talking immigration has helped Kobach's pocketbook.
A recent report by ProPublica and the Kansas City Star outlined how Kobach has earned at least $800,000 over the years by drafting and defending rickety ordinances aimed at restricting immigration in small cities across the country.
"He is a snake-oil salesman," said Raymond Rico, an immigration attorney in Kansas City, Kan. Kobach, he said, "went from town to town peddling the illness of any and all small towns to be undocumented immigrants."
The candidate has faced setbacks in recent months.
Among them: In June, a federal judge struck down a 2011 Kansas law that Kobach said was aimed at ending voter fraud by requiring people to show proof of citizenship to register to vote. Opponents argued the law aimed to reduce registration of blacks and Latinos, who tend to vote Democratic. Recently, the same judge ordered Kobach to pay more than $26,000 in legal fees to the American Civil Liberties Union and a related legal team stemming from the fight over Kansas' proof-of-citizenship voting law.
Kobach, however, remains undeterred and is finding plenty of receptive ears for his message.
At the campaign stop in Fort Scott, Tyler Martin, whose parents own the livestock market, sat in a back office before Kobach arrived. A red "Make America Great Again" hat hung from a nail on the wall.
Martin helps negotiate sales between buyers and sellers of Angus and Hereford cattle. He said in western Kansas — where several slaughterhouses are located — people who are in the country illegally are taking jobs away from those here legally.
"I'm all for immigrants, but they have to come here legally — plain and simple," Martin said. "Honestly, it's surprising to me that so many people — mostly Democrats — are upset about Trump and Kobach wanting to enforce our immigration laws."
He didn't mind that Kobach was focusing his campaign mostly on immigration, not the budget or schools. Asked why he's supporting Kobach, Martin said it's easy.
"He understands that this country has a big problem with illegal immigration," he said. "He wants to make sure that problem doesn't hurt Kansas like it has the rest of the country."
Twitter: @kurtisalee
Must-read stories from the L.A. Times
Get the day's top news with our Today's Headlines newsletter, sent every weekday morning.
You may occasionally receive promotional content from the Los Angeles Times.