Las Vegas gunman targeted police responding to his shooting rampage, investigation now shows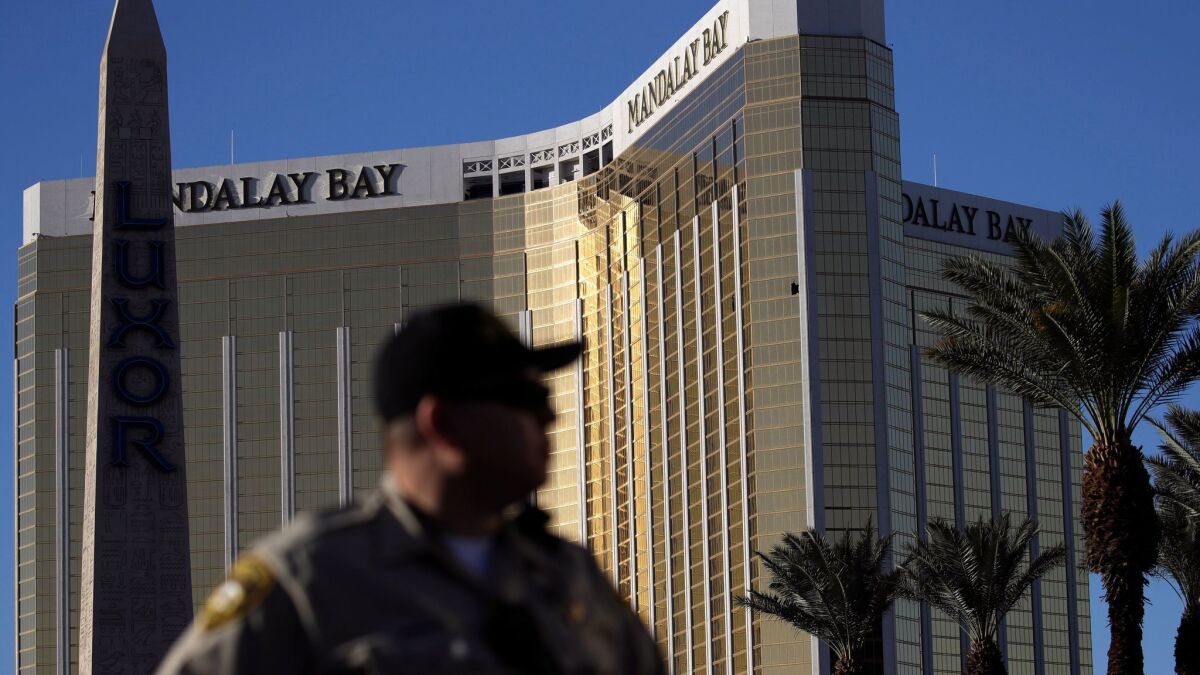 Reporting from Las Vegas —
Police have once again shifted their timeline of how the Oct. 1 massacre unfolded in Las Vegas, saying on Friday that a hotel security guard was shot only moments before the gunman fired on a concert crowd — not six minutes before the attack began, as they had previously stated.
But investigators' latest account still does not resolve questions about why it took police 12 minutes to find the gunman's hotel room when officers were already inside the Mandalay Bay Resort and Casino when the attack began. Nor does the latest account answer why officers searched other floors in the hotel first if they had received a report from hotel security that the gunman was on the 32nd floor.
In a news conference Friday, an emotional and defensive Clark County Sheriff Joe Lombardo praised the bravery of his officers. The investigation, he said, has determined that the gunman deliberately aimed his weapons at police as they arrived at the scene where 21,000 country music festival patrons were fleeing in panic.
But the sheriff declined to answer questions that have been mounting for a week over how police and hotel officials responded in the aftermath of the attack, which left 58 people dead.
"The dynamics of this investigation are far-reaching, are wide, are huge," said Lombardo, adding that he had provided preliminary information on the timeline early on in the hopes of keeping community members calm and informed, only to receive "cyberspace" criticism "questioning my integrity."
The Las Vegas Metropolitan Police Department's shifting accounts of the mass shooting have provided fuel for conspiracy theorists who, as with many such attacks, have spun unfounded theories about multiple gunmen.
In Friday's news conference, Lombardo amended a timeline he gave Monday in which he had said gunman Stephen Paddock, 64, of Mesquite, Nev., shot hotel security guard Jesus Campos at 9:59 p.m., six minutes before Paddock started shooting at a concert crowd across the street.
After hotel officials challenged the accuracy of the timeline, Lombardo said Friday that 9:59 p.m. was not necessarily when Campos was shot, but when he encountered a doorway leading to the 32nd floor from a stairwell that Paddock had blocked. The barricade forced Campos to take another route to enter the floor.
It is not known whether Campos called in a report at 9:59 when he had trouble accessing the 32nd floor.
Campos was shot in the leg "in close proximity" to when Paddock started shooting at the crowd at 10:05 p.m., Lombardo said, and Campos then reported the gunman via radio and using his cellphone.
Lombardo reiterated Friday that the first officers arrived on the floor at 10:17 p.m., too late to stop Paddock, who had ceased his 10-minute rampage at 10:15 p.m.
Hotel officials said in a statement Thursday that Campos had reported a gunman as early as 40 seconds before Paddock started shooting at the concert crowd. His report, they said, was received by armed hotel security and police officers who were in the building together and who "immediately" responded to the 32nd floor.
But records of police radio dispatches during the attack do not show any instance of officers at the scene being informed that a security guard had been shot inside the Mandalay Bay, let alone on the 32nd floor.
Radio recordings and previous police accounts indicated that police who zeroed in on the Mandalay Bay after the shooting had searched for the gunman on different floors first.
Officials continued to say that they had found no sign of a motive for Paddock despite hundreds of interviews, copious video footage and an ongoing search of Paddock's electronic devices, which is being undertaken with help from hundreds of special agents from the FBI.
A preliminary examination of the suspect's brain didn't reveal anything unusual, Lombardo said, but it has been shipped to a special lab for further analysis.
One thing that has become clear from the investigation, he said, is that Paddock seemed to specifically target police.
One of the responding officers, Brady Cook, was shot and "sustained a substantial wound to his shoulder, through his biceps, into his chest and out his back," said the sheriff, who, overcome with emotion, bowed his head and fell silent as he described officers who were injured while trying to help.
"The response of those individuals, I believe, saved lives," Lombardo said. Cook, Lombardo added, "asked me if he could go back and work today."
The bulk of the questions at Friday's news conference still seemed to center around the shifting timeline and the issue of what happened in the moments after Campos was shot. The injured security guard, who has not spoken to the media, withdrew from TV interviews he had scheduled for Thursday night, including an appearance on Sean Hannity's show on Fox News.
Lombardo declined to answer questions about the response from the hotel or its owner, MGM Resorts International, but emphasized there had been no agreement to keep important information secret.
"There is no conspiracy between the FBI and the LVMPD, MGM," Lombardo said. "Nobody is attempting to hide anything in reference to this investigation."
To underscore the complexity of the investigation, Lombardo once again revised the number of victims injured in the attack. Previously, the figure was fewer than 500; on Friday, Lombardo said 546 victims were treated at 17 medical facilities, with 45 victims still hospitalized, some in critical condition.
Paddock was found dead in his suite when police burst in.
Lombardo offered an explanation Friday as to why police had wrongly reported at first that the gunman had checked into the Mandalay Bay on Sept. 28, when he actually checked in on Sept. 25.
The confusion, Lombardo said, came from Paddock adding the name of his girlfriend, Marilou Danley, to the reservation — though she was in the Philippines during the attack. Danley has denied any involvement or advance knowledge of Paddock's plans.
Montero and Kaleem reported from Las Vegas and Pearce from Los Angeles.
ALSO
In Las Vegas, the casino is always watching — and yet it missed Stephen Paddock
What drove Las Vegas shooter to kill? We don't know, and it drives us crazy
Las Vegas looks to its new NHL team, the Golden Knights, as an anchor after tragic shooting
---
UPDATES:
2:15 p.m.: The story was updated with additional details from a news conference, including a report that police were specifically targeted during the attack.
The story was originally published at 12:20 p.m.
---
Must-read stories from the L.A. Times
Get the day's top news with our Today's Headlines newsletter, sent every weekday morning.
You may occasionally receive promotional content from the Los Angeles Times.