Actor Heath Ledger found dead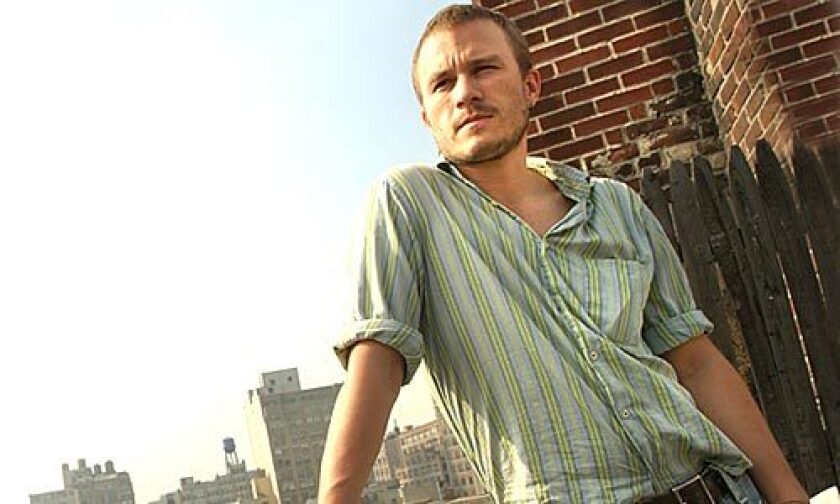 Los Angeles Times Staff Writers
Heath Ledger, whose chiseled good looks made him a heartthrob to millions and who won movie fame for playing a tragic homosexual cowboy, was found dead in a Manhattan apartment today, police said.
The body of the Australian actor, who won an Academy Award nomination for the 2005 movie "Brokeback Mountain," was found hours after this year's Oscar picks were announced.
Ledger, 28, was found unconscious at 3:26 p.m. and pronounced dead minutes later by emergency medical personnel, said Det. Madelyne Galindo, a spokeswoman for the New York Police Department.
NYPD spokesman Paul Browne said Ledger's body was discovered in the bedroom of his residence by his housekeeper and a masseuse who had an appointment with the actor at 3 p.m.
Contrary to early reports, the apartment where he was found does not belong to Mary-Kate Olsen, Browne said. The spokesman also said that preliminary reports that pills were found scattered around Ledger's body were also inaccurate.
Police did find prescription sleeping pills in a container in the bedroom and other pills in containers in the bathroom, but Browne said it was too early to establish a cause of death.
"We haven't made any determination," he said, though he added that there were no indications of foul play.
Minutes after the news of Ledger's death broke, a crowd of several hundred people gathered outside the SoHo apartment where his body was found. TV crews and residents were quickly joined by fans from around the city, including a trio of acting students from Brooklyn who took the subway over as soon as they learned of his death.
"It's sort of like James Dean died in this age," said Daniel Lonsbury, 18.
"Definitely, that's why we ran down after we heard about it," said John Payne, 20, who added that he feels like he grew up with Ledger.
The acting students rattled off the various films Ledger has starred in, remarking at the incredible range he demonstrated in his short career.
"So many actors get stuck in one image," Payne said. "He wouldn't let that happen. It was kind of inspiring, just seeing him grow. And talk about risks -- 'Brokeback Mountain.' "
As evening wore on, the crowd swelled as more and more people came to the scene, most twentysomethings. Fans climbed on scaffolding across the street from the building to get a better view, many of them holding up cellphone cameras to capture the spectacle.
About 6 p.m., an ambulance pulled up and the police began clearing the crowd away from the entrance to the building as they prepared to bring out Ledger's body.
The apartment where Ledger was found is in a posh section of SoHo known for its sprawling, high-ceilinged lofts. A listing for a 4,400-square-foot unit in the building at 421 Broome St. is on the rental market for $23,000 a month, according to a listing on Corcoran.com, which describes the unit as "a perfect evolution in modern luxury living."
Ledger was born to romance in Perth, in western Australia. His engineer father and French-teacher mother named him for the hero in Emily Bronte's classic "Wuthering Heights."
He got his first acting role playing Peter Pan at age 10 at a local theater company. After several independent films, Ledger moved to Los Angeles at age 19 and costarred opposite Julia Stiles in "10 Things I Hate About You," a teen comedy reworking of "The Taming of the Shrew."
"People just love to bash L.A.," Ledger told NW Magazine in 2000, according to IMDB, an online data base.
"People say it's so pretentious, so arrogant, so this and that. But it's truly a wonderful place. You don't have to go to the places where that stuff goes on. You don't have to go to Beverly Hills, you don't have to go to the parties," he was quoted as saying.
"You can live up in the lower canyon and live such a perfectly healthy, beautiful, fun life with all your friends. You can drive two hours one way and be at the Joshua Tree desert, two hours one way you're skiing at Big Bear. Sure, it can get full-on and that's why it's good to get out. But it's too easy just to say: 'Nup, I hate it. I'm not living there anymore.' "
Ledger's fame will always be tied to "Brokeback Mountain," the tender film of two cowboys and their tragic love.
Along with the Oscar nomination, Ledger won the love of costar Michelle Williams. They lived in Brooklyn with their daughter, Matilda.
They separated last year.
Before his relationship with Williams, Ledger had highly publicized relationships with actresses Heather Graham and Naomi Watts. He met Watts while working on "The Lords of Dogtown," about the growth of skateboarding in Santa Monica and Venice.
Ledger will appear as the Joker this year in "The Dark Knight," a sequel to 2005's "Batman Begins."
"The Dark Knight" is one of the most anticipated movies of 2008, and for months Batman fans have been debating the film's biggest wild card: the choice of Ledger as the Joker, a role that comes with the considerable challenge of filling the clown shoes so memorably worn by Jack Nicholson in 1989.
"The studio is stunned and devastated by this tragic news," said Alan Horn, president and chief operating officer of Warner Bros., and Jeff Robinov, president of Warner Bros. Pictures Group, in a statement. Warner produced "The Dark Knight."
"The entertainment community has lost an enormous talent. Heath was a brilliant actor and an exceptional person. Our hearts go out to his family and friends," they said.
Ledger also had starring roles in "A Knight's Tale" and "The Patriot" and played the suicidal son of Billy Bob Thornton in "Monster's Ball."
His latest film role was in "I'm Not There," in which he played one of the many incarnations of Bob Dylan. Also in the film was Cate Blanchett, whose performance in it earned her a supporting-actress Oscar nomination today.
Gold and Lieberman reported from New York. Times staff writers Michael Muskal, Jesus Sanchez and Geoff Boucher contributed from Los Angeles.
---
Must-read stories from the L.A. Times
Get the day's top news with our Today's Headlines newsletter, sent every weekday morning.
You may occasionally receive promotional content from the Los Angeles Times.