At the Made in America Store, it's a challenge to keep the aisles full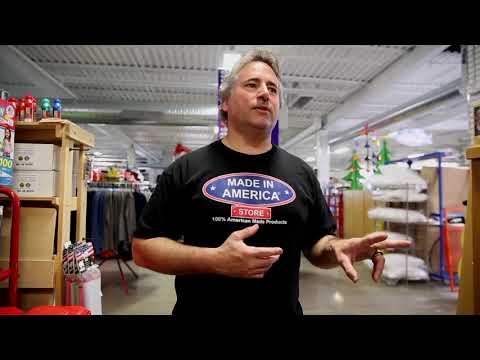 The Made in America store is the brainchild of Mark Andol, 50, an energetic, mile-a-minute talker with silver-tinged waved-back hair and a wispy mustache. (Video by Carolyn Cole / Los Angeles Times)
Reporting from Elma, N.Y. —
When you stroll the aisles of the Made in America Store, you might notice a conspicuous absence. There is not a single item for sale that requires a battery or a plug. That is because no electronics meet the strict guidelines of an emporium that stocks only products 100% made in America.
Still, American-made goods abound — socks and hiking boots, plastic lawn furniture, flags and decals, beer and barbecue sauce, mops and sponges. Toilet paper.
There are three aisles of toys, non-electronic, that veer toward the nostalgic: playing cards, horseshoes, marbles and jacks, boomerangs, Slinkies, perhaps their bestselling item. Checkers and Chinese checkers. (Not the kind made in China.)
The Made in America Store is the brainchild of Mark Andol, 50, an energetic, mile-a-minute talker with silver-tinged, waved-back hair and a wispy mustache.
Andol, the third generation of a Greek immigrant family, was raised on American manufacturing. His father was an ironworker employed at the Ford stamping plant in nearby Buffalo and his mother made xylophone keys for a subcontractor of Fisher-Price, the toy company headquartered in nearby East Aurora.
Andol was frustrated that his welding company, which made metal parts for industry, kept losing contracts to cheaper Chinese competitors. So on a whim, in 2010, he rented a vacant automobile dealership to showcase American products.
"Sure, Mark. The world is fully of crazy people. Go for it,'' Andol recalls he was told.
Filling the cavernous building proved more difficult than Andol imagined. At first he carried only 50 products. He had set a standard higher than the Federal Trade Commission, requiring that the products be 100% U.S. made "right down to the glue in the packaging.''
Andol was familiar with the certification procedures because he sometimes bid on military contracts, which give preference to U.S. suppliers under a 1941 law called the Berry amendment. He would pore over binders with letters certifying the origins of the components only to be crushed when he had to dump a product that did not make the cut.
"I was so excited to find tea from the United States because I'm a tea drinker, but then I found out the bags were made in Japan and I had to kick it out of the store," he said.
In homage to his mother's past making xylophone keys, Andol badly wanted to sell toys from Fisher-Price, which has its headquarters just two miles away.
"They used to have model builders, toy makers, engineers working here, but now they are all gone and only the corporate headquarters is here,'' Andol said. "I couldn't find one Fisher-Price toy completely made in America.''
Other retailers are trying an all-American approach, but it is a constant struggle. Today, Andol boasts that he stocks 7,000 items, although admittedly the numbers get a boost from some products that are essentially the same but come in different sizes or colors. He has opened several branch stores and sells online.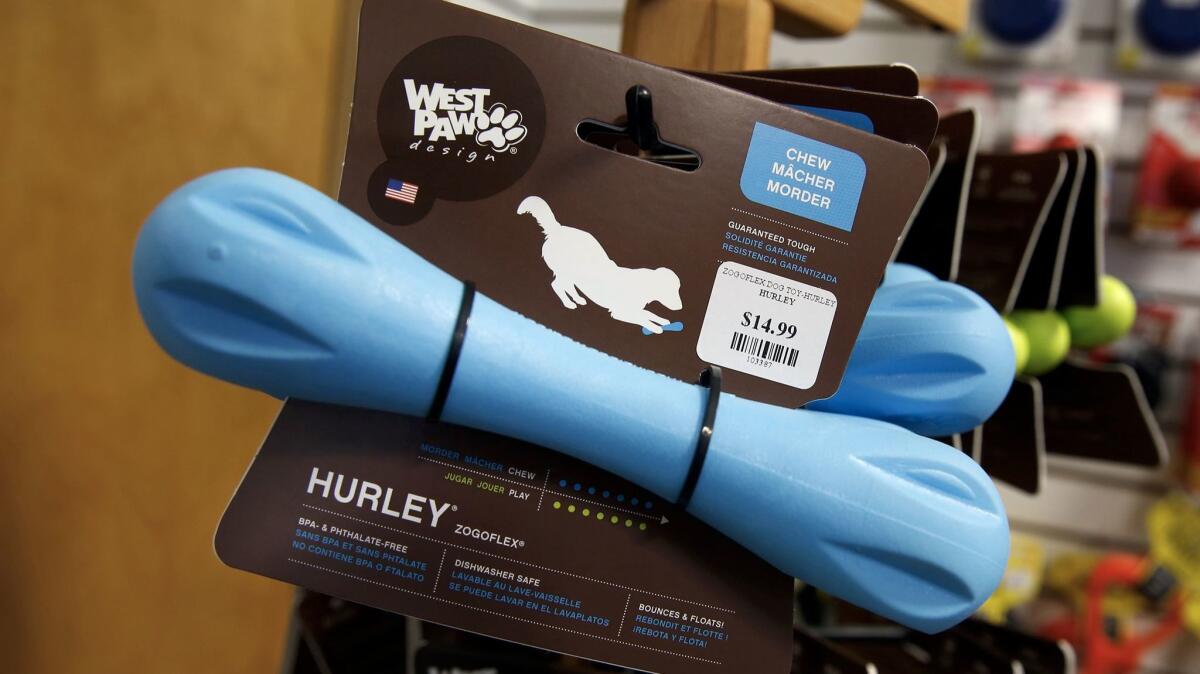 Shoppers in search of a specific item would be advised to head to Wal-Mart. But the novelty of shopping American is enough of an adventure that the Made in America flagship attracts more than 600 tour buses annually.
The store is decked out in an American theme, the walls covered with large completely American-made American flags. (The U.S. imports about $4 million in American flags from China each year.) T-shirts are plastered with the store's slogan, "Because China is a long drive to work!"
For all the anti-China rhetoric, some of the best customers are Chinese tourists.
"The Chinese go ballistic buying stuff in there because it is made in America, not made in China,'' said Eric Bateman, a tour bus operator from Conrad, Iowa, who brings tourists on their way to Niagara Falls. "Mark sells these great, simple things. You can buy a can opener and put it in the dishwasher and it doesn't rust.''
Bringing manufacturing back to the United States — and preserving manufacturing still here — is seen as the holy grail of economic revival for many policymakers and politicians. "My administration will follow two simple rules: Buy American, and hire American," Donald Trump declared at a postelection victory rally in Des Moines last year.
And yet they are elusive goals, many economists say.
"We live in a world today where you have very complex interdependent supply networks,'' said Willy Shih, a professor at Harvard Business School who has written extensively on the need for a U.S. manufacturing revival. "One of the challenges with technology is that you have a lot of high-value components from various sources."
From experience, Andol knows that hiring American labor can be as difficult as sourcing American products. At his manufacturing shop, he is struggling to find skilled welders, fabricators and engineers, and the people he hires are undoubtedly more expensive than foreign workers.
"If I took my $2.4-million payroll overseas, I'd be paying $400,000," Andol said. "But you need to support the country you live in too."
Andol is enthusiastic about President Trump's promises to bring back American goods, though a little disappointed that Trump and his daughter Ivanka had so much of the clothing they sell manufactured outside the U.S.
"I think it is very hard, but I personally know clothing can be made here… and some of what we sell is cheaper than the imports,'' he said.
To prove his point, Andol explains his own wardrobe. He wears Texas Jeans (which are actually made in Asheville, N.C.), Wigwam socks, Thorogood work boots. It's all made in American right down to the underwear, belt and the wallet he carries. The only notable except is what he always carries: the iPhone.
ALSO
In red and blue America, they watched the same Trump speech but heard completely different things
What does it take to get banned for life by an airline? Ask this Trump supporter
Jimmy Kimmel co-opts Trump's 'Make America Great Again' for the Oscars
Sign up for Essential California for the L.A. Times biggest news, features and recommendations in your inbox six days a week.
You may occasionally receive promotional content from the Los Angeles Times.