Six of the most powerful young speakers at March for Our Lives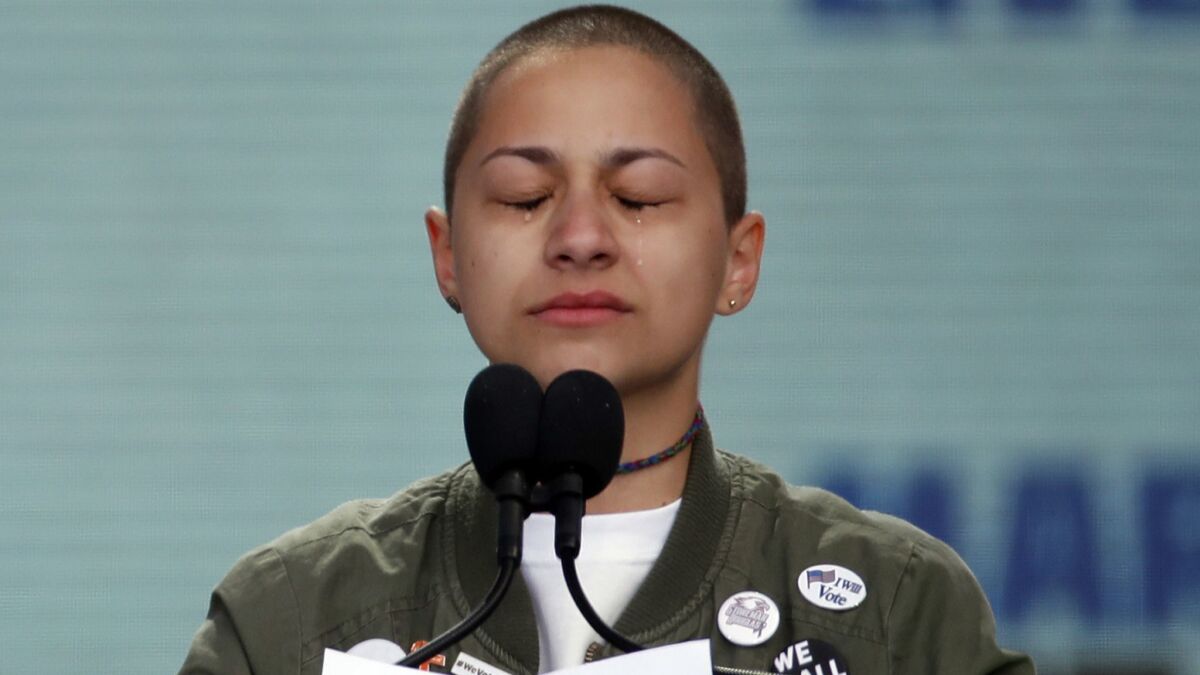 It was the Parkland student who silently stood on stage for several minutes. The 11-year-old's eloquent call for awareness about violence against black women. The South Los Angeles teen who asked the crowd to chant her dead brother's name.
The most powerful moments from Saturday's March for Our Lives in Washington came from student activists. Here are their speeches.
Emma Gonzalez
Tears rolled down Emma Gonzalez's face as she stood in silence.
Gonzalez, 18, one of the most recognizable faces leading the student movement on gun control, was not alone. Tears could be seen on many in the crowd.
She had begun timing six minutes and 20 seconds — the time it took a gunman to kill 17 students and teachers at Marjory Stoneman Douglas High School in Parkland, Fla., where she is a student.
"Fight for your lives before it's someone else's job," Gonzalez said before ending her speech.
Edna Chavez
Edna Chavez, a South Los Angeles resident, recalled the day her brother was killed.
"Ricardo was his name," Chavez said, asking the crowd to say his name. "Ricardo! Ricardo!" the crowd chanted in unison.
"I lost more than my brother that day. I lost my hero," Chavez said.
Earlier in her speech, Chavez talked about the normalcy of gun violence in her neighborhood. "I've learned to duck from bullets before I learned how to read," she said.
David Hogg
Parkland student David Hogg became a key voice of the movement after recording video of his classmates huddling in a small dark closet during the Feb. 14 shooting.
At Saturday's rally, Hogg called on Americans to come together and push for elected officials to take a stand.
"We are going to take this to every election, to every state and every city," he said. "When politicians send their thoughts and prayers with no action, we say, 'No more.' "
Naomi Wadler
Eleven-year-old Naomi Wadler has worked to raise awareness of the African American girls and women who have been victims of gun violence but overlooked in the national conversation.
"I am here today to acknowledge and represent the African American girls whose stories don't make the front page of every national newspaper," she said.
Naomi helped organize a walkout at George Mason Elementary School in Alexandria, Va., on March 14 to protest gun violence.
Like protests throughout the country that day, George Mason had a 17-minute moment of silence for the victims of Marjory Stoneman High. Naomi added an extra minute to honor Courtlin Arrington, an African American teenager fatally shot the week before at an Alabama high school.
Cameron Kasky
"Welcome to the revolution," Cameron Kasky, a student at Marjory Stoneman Douglas High School, told the crowd in Washington. "We are the change .… Represent us or get out."
He and other Stoneman Douglas students said their goal is a new ban on assault weapons and high-capacity magazines. The AR-15, the semiautomatic rifle used to kill 17 people at the high school, is one of the most popular guns on the market and has been used in a series of mass shootings.
Yolanda King
Yolanda King, the granddaughter of the Rev. Martin Luther King Jr. and Coretta Scott King, surprised the Washington, D.C., crowd with an appearance.
"I have a dream that enough is enough, and that this should be a gun-free world," King said to the crowd.
King was joined onstage by Jaclyn Corin, junior class president at Marjory Stoneman Douglas High School.
At the end of her speech, King asked the crowd to repeat the following words: "Spread the word! Have you heard? All across the nation, we are going to be a great generation!"
To read this article in Spanish click here
Videos by Florida Sun Sentinel
---
Must-read stories from the L.A. Times
Get the day's top news with our Today's Headlines newsletter, sent every weekday morning.
You may occasionally receive promotional content from the Los Angeles Times.