There is a renewed push to remove the McCarran name in Nevada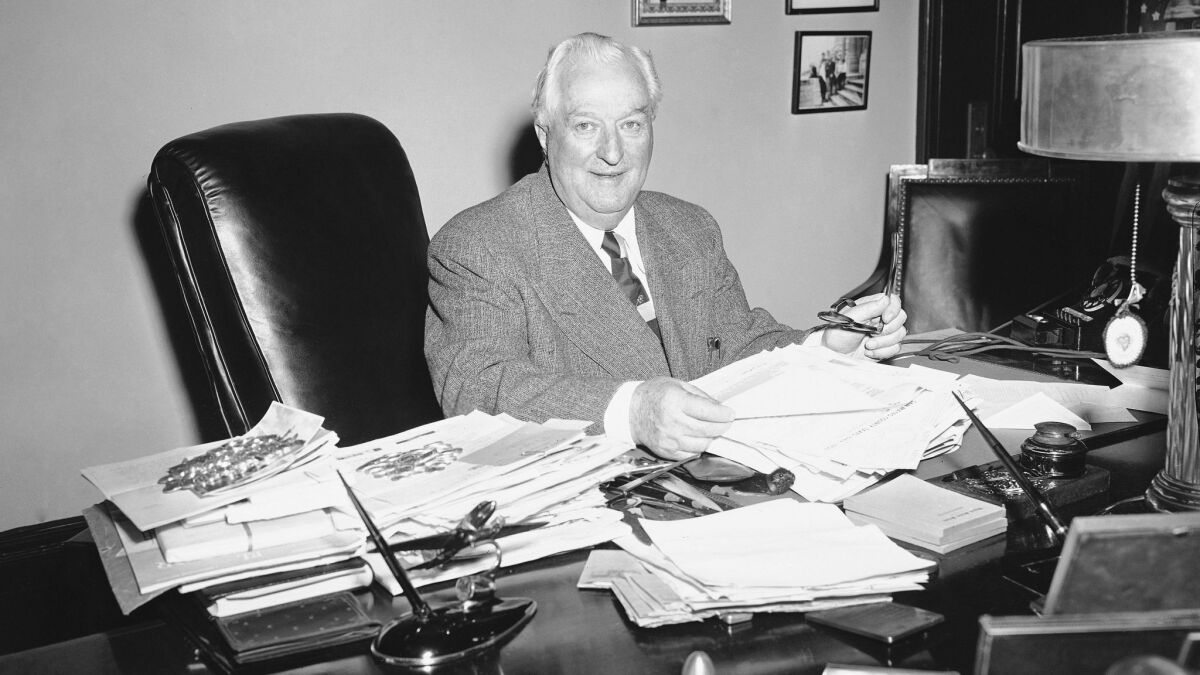 Reporting from Las Vegas —
Decades before Harry Reid was at his peak, it was hard to argue that Patrick McCarran wasn't the most powerful Nevada politician to emerge from the state.
He was elected to the U.S. Senate four times and carried heavy legislation during his tenure, including a 1934 act that helped establish a swath of safety regulations for aircraft. Before his years on Capitol Hill, he had served as a justice on the Nevada Supreme Court and in the state's Legislature. When he died in 1954, he was ranked as one of the most powerful senators in Washington.
His stamp on Nevada is deep and his honors high-profile — including having his name on the international airport at the south end of the Las Vegas Strip and a statue at the U.S. Capitol's Statuary Hall.
But concerns over McCarran's anti-Semitism have been brewing in recent years, and Nevada state and congressional lawmakers now are seeking to yank McCarran's name off the airport and remove the statue from the U.S. Capitol.
"It's an insult," state Sen. Tick Segerblom said. "I liken it to the Confederate flag flying over the state Capitol in South Carolina. We're not the same state we were back then. We're a majority-minority state, and to have his name on there is inappropriate for the times."
Segerblom is carrying a bill in the Legislature that seeks to change the name from McCarran International Airport to Harry Reid International Airport. His proposal had its first hearing on March 17, and it picked up support from officials with Caesars Entertainment, MGM Resorts International and Democratic members of Nevada's congressional delegation.
The bill must pass out of committee before the Legislature's mid-April deadline for bills seeking a floor vote. It has support from the majority leadership, with the state Senate president testifying on its behalf at the committee hearing.
The cost to change the name of Las Vegas' airport could be as high as $2 million, but Segerblom said it would be done through private donations instead of tax dollars. The airport, which served more than 47 million people last year, is one of the nation's busiest.
Even if the bill for the name change were to pass both legislative chambers, it would still have to be signed by Gov. Brian Sandoval, a Republican, whose spokeswoman said he was "listening to the debate" while remaining noncommittal.
If Sandoval did sign the legislation, the next stop would be Clark County, which owns and operates McCarran. It would need to approve a measure asking its director of aviation to submit a request to the Federal Aviation Administration.
Three members of Nevada's congressional delegation — all Democrats — have also pushed state officials to start the process of removing the McCarran statue from the U.S. Capitol.
Reps. Jacky Rosen, Ruben Kihuen and Dina Titus signed a letter singling out McCarran's past — noting that although he had fought for workers' rights and shaped the nation's aviation industry, he also left a dark legacy of racism and anti-Semitism.
In the letter, it said McCarran led anti-communist crusades, pushed for severe anti-immigration laws and helped pass the Internal Security Act, better known as the McCarran Act, which "tightened deportation laws and allowed for the exclusion of organizations, revocation of citizenship."
Michael Green, associate professor of history at the University of Nevada Las Vegas, said McCarran's policies were especially disturbing after World War II and the subsequent refugee crisis that afflicted Europe.
Green said McCarran sought to limit Jewish refugees coming to the United States after the war, tried to block President Franklin D. Roosevelt's nominees to courts and federal commissions because they were Jewish, and called new immigrants from Eastern Europe "hardcore, indigestible blocks which have not become integrated into the American way of life but which, on the contrary, are its deadly enemies."
Green said it was not entirely surprising that an anti-McCarran drive was again afloat in Nevada, given Democrats' success in the state amid President Trump's victory. The movement comes as Trump vows to build a border wall, loosen restrictions on deporting immigrants in the country illegally and bar refugees from Muslim-majority countries from entering the United States.
"I think it's a statement of going away from what Trump and the Republican Party are being criticized for," Green said. "I do think the message involves the idea of inclusiveness and diversity."
If McCarran's name was removed from the airport, it wouldn't be a first in Nevada. The Reno airport was once Reno-Cannon International, after the late Sen. Howard Cannon, but was changed to Reno-Tahoe International Airport in 1994, while Cannon was still alive. As a concession, the passenger terminal was named after him.
Not everyone supports ridding the state of McCarran's name from the Las Vegas airport, which has borne it since 1948. The statue was dedicated in 1960.
Matthew Buehler, a Reno resident and U.S. Air Force veteran, said there should be a compromise that would rename the airport McCarran-Reid or designate one of the terminals in McCarran International Airport after Reid.
"It would truly be a travesty to rename the airport, thereby masking the accomplishments of this historic Nevadan," Buehler wrote in a letter opposing the proposed bill.
And Robert Frank, who represents the conservative NevadansCAN group, wrote a letter to the legislative committee urging it to not name the airport after Reid.
"His extremely partisan, win-at-any-cost, public performances for the past decades have not represented the hopes, desires and dreams of Nevadans or Americans," Frank wrote. "He has not earned such a public honor."
Reid retired from the Senate last year after serving for three decades — the final 10 years as majority leader.
Kihuen said he understood the Reid name might cause some consternation among Republicans, but he said he believed strongly that it was the right thing to do. Still, he said, he would be willing to listen to other suggestions.
He just wants to see the McCarran name gone, and without delay.
"That is our No. 1 priority," Kihuen said. "We can't have a racist, anti-Semitic former elected official being the face and name to our state."
Twitter: @davemontero
---
Must-read stories from the L.A. Times
Get the day's top news with our Today's Headlines newsletter, sent every weekday morning.
You may occasionally receive promotional content from the Los Angeles Times.