The unarmed man crouched and cried in fear before the policeman shot him five times. But the officer was acquitted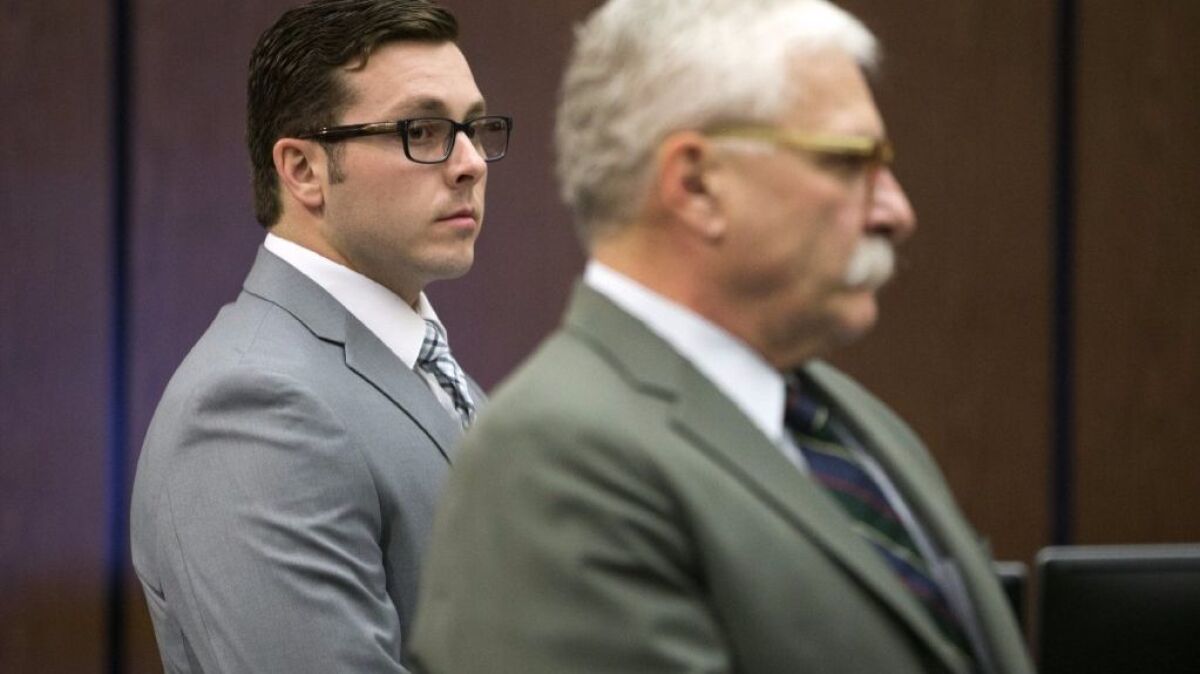 The man knelt in the hotel hallway and pleaded with the officers: "Please do not shoot me."
It was January 2016 and police in Mesa, Ariz., rushed to a La Quinta Inns & Suites in response to reports of a man pointing a firearm out a window. When Philip Brailsford and five other officers arrived, they sprinted through the hotel until they found a man and a woman in a hallway.
"Hands up in the air!" an officer shouted, according to police body-camera footage. The officers then commanded that the man and woman slowly crawl toward them. The man — a 26-year-old hotel guest named Daniel Shaver — appeared confused, dropping his hands and then raising them.
"You do that again," an officer barked, "we're shooting you."
Video then shows Shaver, who was crawling toward officers, reaching backward, seemingly toward the waistband of his shorts. A moment later, Brailsford shot Shaver five times with his AR-15 rifle. Shaver, unarmed, died on the scene.
On Thursday, a Maricopa County jury found Brailsford not guilty of second-degree murder — the latest officer to be set free after shooting an unarmed person. The eight-member jury also found Brailsford, 27, not guilty of a lesser charge of reckless manslaughter.
Hours after the verdict, the judge overseeing the case released the video, which had been withheld from the public. (Warning: The video below contains graphic content.)
Mark Geragos, an attorney representing the Shaver family, on Friday called the verdict a "complete travesty of justice."
"This criminal trial was akin to something you'd expect to read about in North Korea, not in a courtroom in the United States," Geragos said. "That's an execution pure and simple. The criminal justice system miserably failed Daniel and his family."
Shaver's parents and widow have filed wrongful-death lawsuits against the city of Mesa over the shooting.
The body-camera footage shows when officers first confronted Shaver and the woman in the hallway. Following officers' orders, they lay on the ground.
"Can you both hear and understand me?" an officer yelled. "If you make a mistake …there is a severe possibility you both are going to get shot. Do you both understand that?"
"Yes," they replied.
The officer ordered them to place their hands on top of their heads and interlace their fingers. With the couple prone on the carpet, the officer told them to cross their left foot over their right foot. Shaver appeared confused at the order, but eventually complied.
The officer asked whether they were intoxicated. Both said no.
"So you're not going to have any problems understanding anything that I tell you, right?" the officer asked.
"Yes," Shaver and the woman replied.
After taking the woman into custody, the officers turned their attention to Shaver.
"Young man, listen to my instructions and do not make a mistake," the officer barked.
As the incident unfolded, Shaver appeared to have more trouble complying with orders. At one point, while still facedown on the carpet, he crossed his arms and rested his head on top of them. The officer yelled at him to keep his arms straight out and on the ground.
Later, when Shaver complied with a command to push himself up into a kneeling position, he placed his hands behind his back, though the officer had repeatedly said to keep his hands out front.
"Hands up in the air!" the officer shouted. "You do that again, we're shooting you. Do you understand?"
Shaver begged officers not to shoot him.
"I'm trying to do what you say," he said.
On the officer's orders, Shaver began crawling forward. But as Shaver crawled, he moved his right hand near his waist, and Brailsford began to fire.
During the monthlong trial, Brailsford testified that he believed Shaver, of Granbury, Texas, was reaching for a gun.
After the shooting, police went into Shaver's hotel room and found two pellet guns he used in his job as a pest exterminator.
"If this situation happened exactly as it did that time, I would have done the same thing," Brailsford testified, according to the Arizona Republic.
Brailsford was fired shortly after the shooting for violating department policy in an unrelated incident.
A lawyer for Brailsford did not respond immediately to a request for comment.
Nate Gafvert, president of the Mesa Police Assn., a group that represents law enforcement officers, said the shooting was a lawful use of force.
"Officers should not be prosecuted based on perception and public appeal," Gafvert said after the verdict. "We are a nation of laws. And emotion and empathy cannot carry the day."
Brailsford is the latest in a number of police officers to be acquitted in high-profile shootings, despite being captured on body-camera video. Many of the shootings have involved unarmed black men. Shaver was white.
In May, an Oklahoma jury acquitted an officer who shot and killed Terence Crutcher as he stood with his hands above his head along a rural highway. In June, a Minnesota jury acquitted the officer who killed Philando Castile, an unarmed black man shot during a traffic stop, which was live-streamed on Facebook by his girlfriend. That same month, an Ohio judge declared a mistrial after jurors deadlocked, unable to agree on whether to convict a former University of Cincinnati police officer who killed Samuel DuBose in an incident captured on a body camera.
Brailsford's acquittal on Thursday came the same day that a white former South Carolina officer, who fatally shot an unarmed black man in the back as he fled after a traffic stop, was sentenced to 20 years in prison. Video of the shooting by a passerby played a decisive role in the case.
Maria Haberfeld, a professor at the John Jay College of Criminal Justice in New York, said it was important to remember that body cameras give only "a portion of the big picture."
"They do not reflect the totality of the circumstances — the fear of the officers, the overall environment," she said, adding that officers always have to consider the possibility that a person is armed.
Twitter: @kurtisalee
ALSO
Ex-South Carolina police officer who killed Walter Scott sentenced to 20 years in prison
Are more guns helpful? In Wal-Mart shooting, armed shoppers hinder police investigation
---
UPDATES:
3:15 p.m.: The story was updated with more details from the videotape of the shooting.
The story was originally published at 1:50 p.m.
Must-read stories from the L.A. Times
Get the day's top news with our Today's Headlines newsletter, sent every weekday morning.
You may occasionally receive promotional content from the Los Angeles Times.