Ex-South Carolina police officer who killed Walter Scott sentenced to 20 years in prison
Reporting from ATLANTA —
Michael Slager, the white former South Carolina police officer who fatally shot an unarmed black man in the back as he fled a traffic stop, was sentenced Thursday to 20 years in prison.
In a rare case of a law enforcement officer being imprisoned for an on-duty shooting, U.S. District Judge David Norton of the South Carolina District sentenced Slager after ruling that he committed second-degree murder when he shot 50-year-old Walter Scott in April 2015.
"This is the day that the Lord has made and I am rejoicing," Scott's mother, Judy Scott, said outside the downtown Charleston courthouse as she clutched a framed photo of her son. "My soul is rejoicing right now."
The killing was captured on video by a bystander, and civil rights leaders in South Carolina said it proved what many in the black community had long known — that officers used excessive force on African Americans when they thought no one was watching and tried to alter crime scenes to hide their misdeeds.
The video sparked protests nationwide and was held up by the Black Lives Matter movement and other groups as yet another example of police brutality against blacks.
But unlike some high-profile cases involving African Americans who died during encounters with police — such as Michael Brown in Ferguson, Mo., and Eric Garner in Staten Island, N.Y. — this case led to criminal charges.
David Harris, a law professor at the University of Pittsburgh who specializes in police misconduct, said Thursday's sentence was unusual, if not unprecedented. In 1999, a New York City police officer was sentenced to 30 years for sodomizing a black Haitian immigrant with a broomstick in a Brooklyn police station.
"The judge made a pretty powerful statement," Harris said. "The sentence tells us that this is taken seriously, and maybe some people won't think it's justice, but looked at in the universe of police shootings, with officers so rarely charged, it is significant."
Earlier this year, Slager, 36, pleaded guilty in federal court to violating Scott's civil rights by unjustly shooting him five times. As part of the plea agreement, prosecutors dropped state murder charges. Slager's murder trial in state court ended in a mistrial last December after a deadlocked jury was unable to reach a unanimous verdict.
"We started at the beginning trusting in the justice system, and today we made history getting justice," said his brother, Rodney Scott. "My heart goes out to all the families that didn't get justice, and there's a still a lot of work to be done."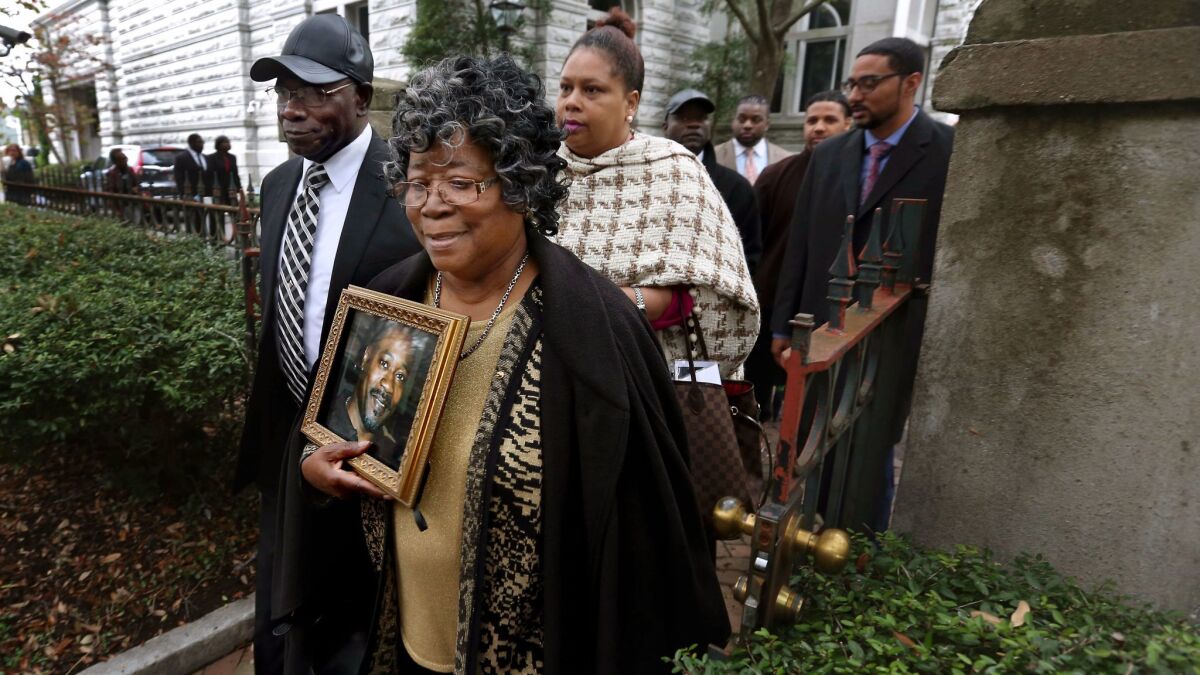 Standing with the family, attorney L. Chris Stewart celebrated "a historic day for civil rights, particularly in officer-involved shootings" and expressed hope that Slager's sentencing would "make the next officer think one second longer before pulling that trigger."
"All people crave is accountability," Stewart said. "People want accountability because when you have none, you have hopelessness, you have apathy, you have anger."
"Don't think this was given to us just because there's a video," he added. "Videos do not get you justice anymore. Anger and bricks do not get you justice. Determination, prayer, faith and being the forefront of a family like this and never giving up gets you justice."
In a statement after Norton handed down the sentence, Atty. Gen. Jeff Sessions said law enforcement officers who violate citizens' rights also violate their oaths of honor and tarnish the names of the vast majority of their fellow officers.
"Those who enforce our laws must also abide by them — and this Department of Justice will hold accountable anyone who violates the civil rights of our fellow Americans," he said in a statement. "On behalf of the Department of Justice, I want to offer my condolences to the Scott family and loved ones."
"This is an important day for our community," Solicitor Scarlett A. Wilson, who prosecuted Slager in the state trial, said in a statement. "We give police officers an incredible amount of power. With that great power comes great accountability. If we do not hold officers accountable for their crimes, our criminal justice system will fall apart, and we will live in chaos."
In urging for a lighter sentence, Slager's defense attorneys argued the former North Charleston police officer shot Scott in self-defense after Scott reached for Slager's stun gun. His actions did not amount to murder, but voluntary manslaughter, they argued.
The incident began April 4, 2015, when Slager pulled Scott over for a broken brake light. For reasons that are unclear, Scott ran off. After deploying his stun gun, Slager fired eight bullets at Scott as he ran away.
Scott was struck in the back four times and a fifth round grazed his ear. He was pronounced dead at the scene.
According to incident reports from other officers, Slager said over the radio, "Shots fired and the subject is down. He took my Taser."
Slager was not charged with murder until a few days after the shooting, when a bystander released a grainy cellphone video that showed Scott was at least 17 feet away from the officer when Slager shot him in the back. Moments later, Slager picked up his stun gun and dropped it next to Scott.
The day of the video's release, Slager was arrested, and North Charleston's mayor, Keith Summey, held a news conference condemning him.
"When you're wrong, you're wrong," Summey said. "And if you make a bad decision — don't care if you're behind the shield or just a citizen on the street — you have to live by that decision."
After the sentencing, Shaundra Scott, the executive director of the ACLU of South Carolina, expressed relief that Slager had at last been held accountable and hope that more police officers would receive punishment for using excessive force.
"Our hearts still hurt for his family and the city of North Charleston for having to lose Walter Scott over nothing," she said in a statement. "We feel for the thousands of families across the country who never even get to see criminal charges, let alone trials, against the police officers whose excessive force robbed them of their loved ones."
Jarvie is a special correspondent.
---
UPDATES:
2:25 p.m.: This article was updated with comments from David Harris.
1:30 p.m.: This article was updated with additional background and comments from Judy Scott, Rodney Scott, L. Chris Stewart and Jeff Sessions.
9:42 a.m.: This article was updated with the judge sentencing ex-police officer Michael Slager to 20 years in prison and additional details.
This article was originally published at 7:55 a.m.
Must-read stories from the L.A. Times
Get the day's top news with our Today's Headlines newsletter, sent every weekday morning.
You may occasionally receive promotional content from the Los Angeles Times.