Migrant woman and 3 children are among those found dead near Rio Grande in Texas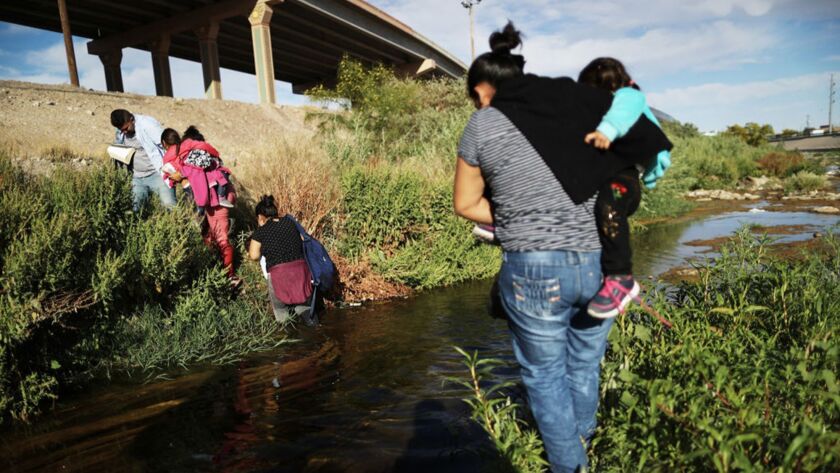 Reporting from Houston —
The FBI is investigating the deaths of what appeared to be a migrant woman and three children, whose bodies were found near the Rio Grande in south Texas, amid a surge in migrant families.
U.S. Customs and Border Patrol agents found the bodies late Sunday in the Las Palomas Wildlife Management Area, federal land near the town of Mission. It's a remote, wooded area near Anzalduas Park frequented by smugglers, authorities said.
The woman was about 20 years old, traveling with an infant and two toddlers, according to a tweet from Hidalgo County Sheriff Eddie Guerra and a statement released by Roseanne Hughes, a spokeswoman for the FBI San Antonio office, which is investigating.
"It's an incredibly heartbreaking situation, which seems to happen far too often," Hughes said.
The bodies had not been identified early Monday, she said. They appeared to be migrants who suffered dehydration and heat exposure, with no signs of foul play, but autopsies were expected to determine how they died, the FBI said.
The children appeared to be 3 or younger, and the bodies were found on the Gabrielson Land Tract, part of the South Texas Refuge Complex managed by U.S. Fish and Wildlife, according to Michelle Lee, an FBI spokeswoman in San Antonio.
Rene Gonzalez, chief deputy constable for a Hidalgo justice of the peace, said the area where the bodies were found has been a busy crossing point this year. "It was pretty bad," he said, describing migrant traffic in the area as "hot and heavy."
The area is near riverfront Anzalduas Park, known for illicit crossings and where President Trump stopped during a January visit to promote his border wall, joined by Texas Sens. Ted Cruz and John Cornyn. Wall construction started in surrounding Hidalgo County but stalled because of legal challenges.
Cornyn, in response to the deaths of the woman and three children, wrote on Twitter: "Sadly, this is what happens when infants are used as a ticket to enter the U.S. due to arcane laws."
He called on Congress to pass legislation he has proposed to speed the processing of asylum seekers. "Inaction is not an option."
The Texas Democratic party released a statement saying Cornyn was blaming the woman for the children's deaths and calling it disgusting, especially when the circumstances were still unknown.
Migrant deaths have continued along the river this year as the number crossing illegally has surged to nearly 600,000, more than half of them families. The influx has overwhelmed Border Patrol agents, whose leaders have said they are stretched thin.
In addition, providing shelter for the increased number of migrants has reached a tipping point. In some cases, there are 15,000 migrants housed in spaces designed for 4,000. The Trump administration has been erecting massive emergency tent shelters. The crunch is particularly tough in south Texas, the busiest crossings for migrant families, especially the Rio Grande Valley and El Paso.
Also on Sunday in the Rio Grande Valley, the bodies of a Salvadoran migrant and his nearly 2-year-old daughter were found on the Mexican side of the river south of Brownsville, Texas, Mexican media reported.
Tania Vanessa Ávalos, 21, told Mexican authorities that she had been trying to cross the river with her husband, Óscar Alberto Martínez Ramírez, 25, and daughter Valeria Martínez Ávalos, when the current swept them away and she was saved by a relative, reported the Mexican daily El Imparcial. A Border Patrol spokesman said they had received reports of the deaths but could not confirm them. Mexican immigration officials did not immediately respond to a request for comment.
Michael Benavides, a volunteer from Brownsville who crosses the border bridge daily to feed asylum seekers waiting in Matamoros, said he knew the family. They were among about 120 people U.S. immigration officials have forced to wait to cross the border legally to seek asylum, he said.
"They were waiting at the bridge," Benavides said. "I just can't wrap my head around someone that young and fit being unable to make it."
Migrants trying to cross legally and apply for asylum generally wait two to three months, Benavides said. A few months ago, when the line at the bridge was about as long as it is now, he said 30 migrants crossed the river illegally, were briefly detained and released with notices to appear in immigration court.
Texas Border Patrol agents have increasingly recovered migrants' bodies from the Rio Grande in recent weeks.
Last Thursday, agents patrolling by boat near Eagle Pass, Texas, found a decomposed body on the bank.
The week before, authorities in El Paso recovered seven bodies, including one of a girl, from flooded canals that migrants are known to cross.
And on June 5, south Texas Border Patrol agents revived a 6-month-old Salvadoran boy who had stopped breathing after he was swept underwater when the raft his mother was riding in capsized near Roma, officials said in a statement.
Last month, Border Patrol agents in Eagle Pass, Texas, found the body of a 10-month-old baby in the river after a raft that he and his family were attempting to cross in overturned. Five of the nine migrants survived.
Last year, Border Patrol responded to 4,300 emergencies along the U.S.-Mexico border, including 283 deaths, down from a high of 492 in 2005, including bodies found in the river, in ranches to the north and in western deserts.
---
Must-read stories from the L.A. Times
Get all the day's most vital news with our Today's Headlines newsletter, sent every weekday morning.
You may occasionally receive promotional content from the Los Angeles Times.