Riots in Milwaukee after police shooting: 'The people are fed up'
A man talks to police in riot gear as they wait in an alley after a second night of clashes between protestors and police in Milwaukee.
(Darren Hauck / Getty Images)
A couple pushes a stroller in front of a building burned on the first night of disturbances following a shooting death by police in Milwaukee.
(Darren Hauck / Getty Images)
Police officers patrol the BP gas station following a shooting death by police in Milwaukee.
(Darren Hauck / Getty Images)
Two girls run on the street as members of the Milwaukee County Sheriff's Department secure Sherman Park after a 6 p.m. curfew was enacted after a second night of clashes between protestors and police in Milwaukee.
(Darren Hauck / Getty Images)
A man speaks with police in a park in Milwaukee following a night of violence that left half a dozen businesses in flames.
(Jeffrey Phelps / Associated Press)
Law enforcement officers fence off Sherman Park in Milwaukee, after police faced off with protesters following the death of 23-year-old Sylville Smith, who officials say was armed.
(Cengiz Yar / AFP/Getty Images)
A car burns as a crowd of more than 100 people gathers following the fatal shooting of a man in Milwaukee.
(Calvin Mattheis / Associated Press)
Authorities respond near a burning gas station as dozens of people protest the fatal shooting of a man in Milwaukee.
(Gretchen Ehlke / Associated Press)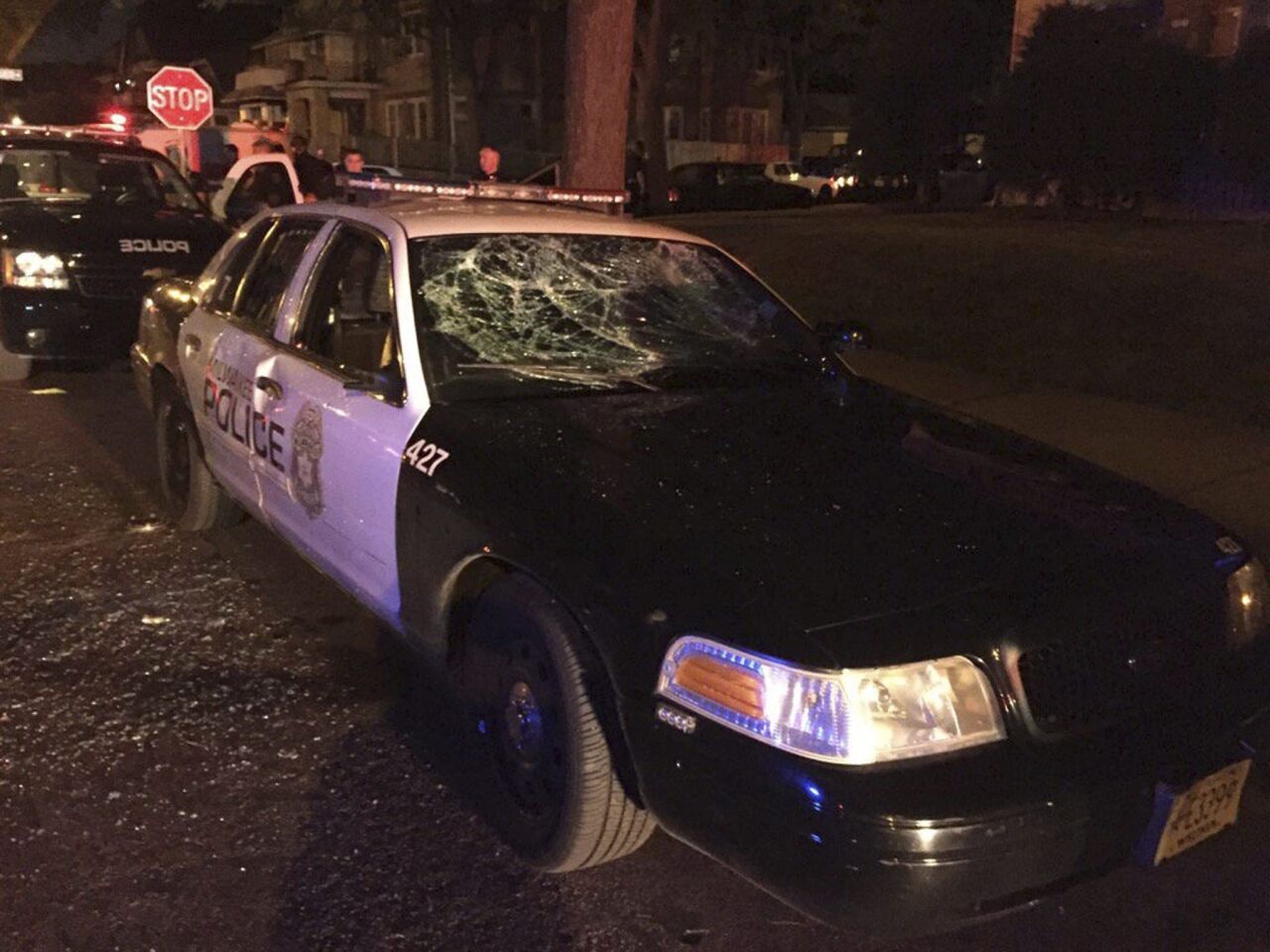 A damaged police car in Milwaukee after the officer-involved shooting.
(Milwaukee Police Dept. / EPA)
A bus shelter lies overturned after dozens of people protested the fatal shooting of a man in Milwaukee.
(Gretchen Ehlke / Associated Press)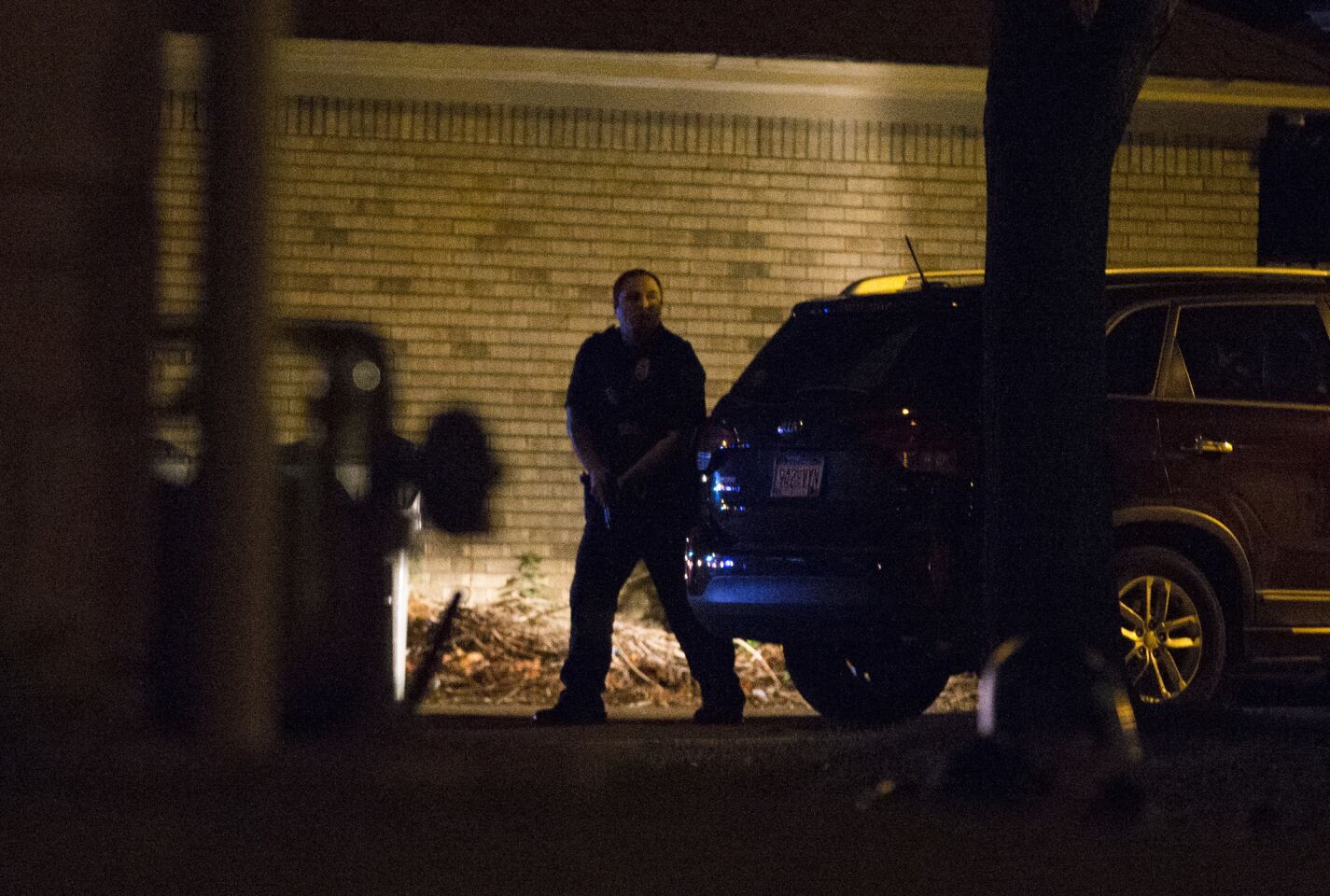 A police officer shelters behind a car as a crowd of more than 100 people gathers after the fatal shooting of a man in Milwaukee.
(Calvin Mattheis / Associated Press)
Reporting from Milwaukee —
Wisconsin Gov. Scott Walker put the National Guard on alert Sunday as Milwaukee grappled with the shooting of a 23-year-old black man by a police officer, an event that prompted fiery riots and gave rise to soul-searching among residents in one of the nation's most segregated cities, even as details of the man's death remained murky.
More than 150 police officers swarmed the small neighborhood of Sherman Park, the site of this weekend's unrest, as protesters and mourners gathered through the evening Sunday amid the charred facades left from the night before. Firetrucks circled streets, ready to extinguish any new blazes, as protesters rallied in front of a police precinct and next to a park.
Late Sunday night, one person was shot and taken to a hospital as protesters clashed with police. A police officer was taken to the hospital after a rock smashed through the officer's car window. Another car was set on fire but was later extinguished. Periodic shots were heard until around 1:30 a.m., when police retreated as protesters began to disperse. Police made several arrests.
The news of Sylville Smith's death had spread on social media Saturday, prompting angry residents to set fire to a gas station and bank and throw bricks at police. At the makeshift candlelight vigil Sunday near where Smith died, family and community members shouted over one another about the devastating loss and the way protesters responded to it.
"I don't care if he had a gun," Kimberly Neal, Smith's sister, said in tears. Police say Smith was armed, wouldn't let go of his gun after a traffic stop and ran from police.
"I don't care if the guy was black," shouted a friend of Smith's, referring to the news that it was a black officer who shot him.
"Stop burning everything!" Neal shouted. A man responded, "Why?"
A neighborhood resident asked, "If police say they have a body cam video, why don't they release it?"
The sequence of events began on Saturday afternoon when police pulled over what they described as a "suspicious vehicle." According to police, two men in it ran in different directions from an officer. One was armed and would not let go of his gun after being ordered to do so, police said, and was shot twice, in the chest and arm. The shots proved fatal.
The other man was arrested.
The chase and shooting happened in under a minute.
Walker said in a statement on Sunday that he wanted video from the officer's body camera to be released quickly and said that the incident was being investigated by the Wisconsin Department of Justice.
By Saturday evening, angry crowds had gathered and marched outside the police station in Sherman Park, on the main strip of Fond Du Lac Avenue, by businesses including a BP gas station and beauty salon that were set afire. Rioting quieted by early morning, and community volunteer groups came later in the morning to clean up.
But city leaders, residents and police, who said they had received threats, were on edge again by Sunday night.
Smith's death touched a nerve in a city with a history of racial tension and in a state where both the incarceration rate of black men and the income gap between blacks and whites exceed the national average. The 2014 shooting of Dontre Hamilton — a black man who fought with an officer who had roused him from a park bench — led to protests but no charges for the officer, who was fired for improperly escalating the situation. The U.S. Department of Justice is in the midst of a voluntary review of the city's police department.
As in cities that experienced civil unrest over police shootings before, including Ferguson, Mo., and Baltimore, the events in Milwaukee, which has a population of 600,000, have torn open tension between police and residents.
The shooting also came during a particularly violent 24 hours in the city, where five people were killed in three non-officer-involved shootings between Friday night and Saturday morning. Police reported that they were investigating another unrelated homicide Sunday afternoon.
"This isn't new. This isn't just my brother," Neal, Smith's sister, said at an emotional vigil Sunday. Shootings have "been happening again and again."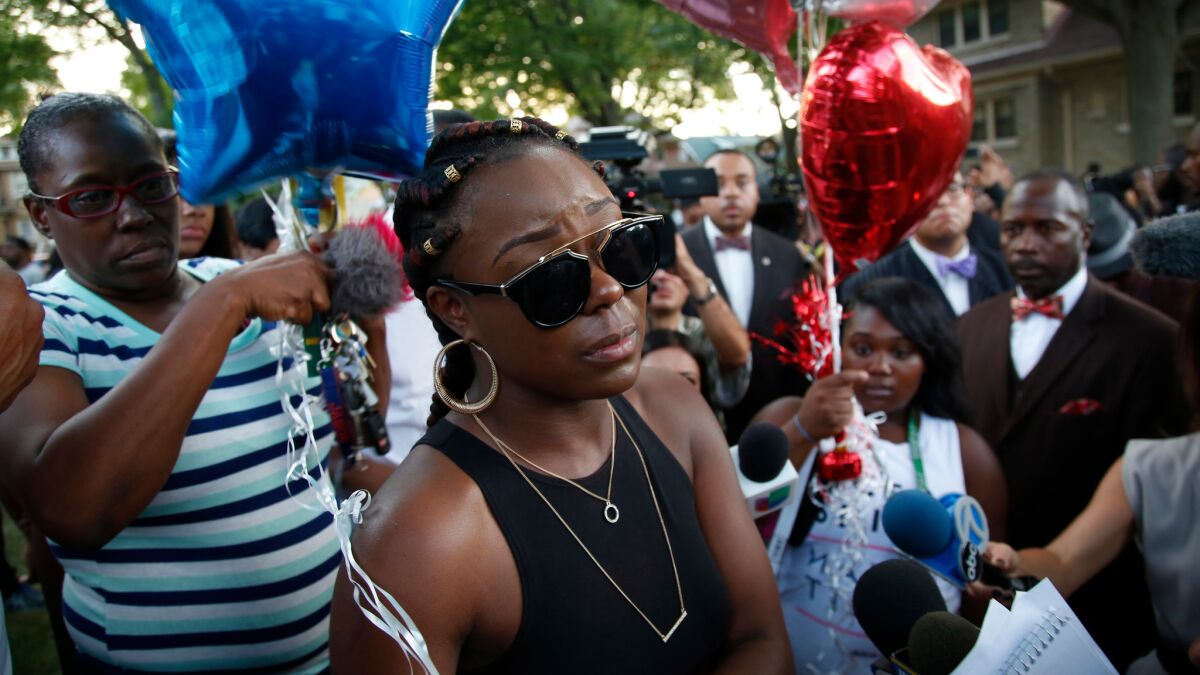 She pleaded for peace, even as she said his death was unjustified.
Speaking to reporters over the weekend, Alderman Khalif Rainey, whose district includes the site of the violence, said that the burning and other violent reactions were not justified but that he understood residents' frustrations. Black residents are "tired of living under this oppression," he said, adding that "nobody can deny that there are racial problems here in Milwaukee, Wis., that have to be rectified."
Last month, violence also hit Sherman Park, where 100 residents threw rocks and bottles at police officers, a public bus and the same gas station that burned over the weekend. The neighborhood, once a destination for middle-class and upper-middle-class black residents, has been hit hard over the years as factories have closed in the city, and it has lagged in recovering from the Great Recession.
Brian Rothgery, an activist and former campaign volunteer who has done political canvassing in the neighborhood where unrest broke out, described the scene Saturday night as "tense and unpredictable."
"I don't know if you would call it a protest. People were pissed and wanted to smash stuff," said Rothgery, 39, who heard of the commotion from friends and social media before leaving his home in Riverwest, about 45 blocks from the rioting, to observe.
"We spent 2 1/2 hours crisscrossing the neighborhood, watching the fires," said Rothgery, who is white. "This is the heart of the black city, and it's been hit so hard with deindustrialization, unemployment and institutionalized racism."
Police said gunshots by protesters prevented officials from putting out fires at the businesses on Saturday. One officer was hospitalized after being hit in the head with a brick thrown through the window of a squad car, police said, and three other officers were reported injured. Two police cars were totaled and four were damaged. Six businesses, including the hair salon and an auto parts store, were damaged.
People in the crowd also chased off journalists with the Milwaukee Journal Sentinel, shoving and punching one of them, the newspaper reported. At least one car was burned.
Milwaukee's police union said that it was outraged by the response to the shooting and that police officials granted its request to have officers ride in pairs. The union portrayed the man killed in the shooting as a hardened criminal, releasing a video with case numbers of Smith's court history.
"Leadership must denounce violent riotous behavior! There can be no appropriateness in rationalizing terrorist-like actions," the Milwaukee Police Assn. said in a statement. "The thugs that caused this are certainly terrorists and must be held accountable."
Smith had been in regular contact with police over the years, according to public records, including at least 32 mostly minor citations since 2010. The majority were traffic violations, including driving without insurance, not wearing a seat belt, reckless driving and driving with a suspended license. Last year, Smith was charged in a shooting with "recklessly endangering safety" and witness intimidation. Both charges were dismissed. Another case for shoplifting was also dismissed.
Miela Fetaw, a 21-year-old journalism student at University of Wisconsin-Milwaukee, found herself in the neighborhood Saturday because she was worried about her friends who live there.
"The feeling was a lot of anger and frustration," said Fetaw, who is black and lives a few miles from the area where violence broke out. "I saw tears and pain and confusion. Many chanting 'black power' or 'black lives matter.' Many people, many of the ones I knew personally, were angry about another death by the hands of police."
On Sunday morning, residents, clergy members and activists gathered to hold prayer circles where fires had burned the night before and to clean up the streets.
The Coalition for Justice, a group that formed in the wake of Hamilton's death, put out a call for the cleanup and said the violence had burst open after years of black residents' frustration over inequalities.
"What happened last night was a revolt and an uproar, not just a disturbance. The media have no problem to classify us at thugs but have been reluctant to call a spade a spade," the group said. "The people are angry. The people are fed up, and the people are demanding their freedom."
Dozens of protesters had gathered separately Sunday afternoon and evening on the street near the BP gas station that was set ablaze the previous night, as well as outside the District 7 police station in Sherman Park, chanting, "Black lives matter!"
Small vigils and protests of dozens of people, many peaceful, continued into the night. Several local and outside groups, including a Moorish organization, Black Panthers and church pamphleteers, converged in the streets, saying they were there to protest. Shots were heard in the night as some protesters faced off with police on streets around the neighborhood. Several threw rocks or bricks at officers and were arrested. Others were arrested for not dispersing after police announced that they were part of an "unlawful assembly."
About 10:45 p.m., police clashed with protesters near Sherman Park as protesters blocked a street and threw rocks at officers. At around 12:15 a.m., an officer was taken to the hospital from an injury after a rock went through his car window, and an 18-year-old was also taken to the hospital during the night after being shot hit, police said. A car in the neighborhood was set ablaze for at least 15 minutes before fire officials put it out after 1 a.m.
The weekend had shocked residents, who have become accustomed to news of violence but not of riots or arson. What happened over the weekend was "unlike anything I have seen in my adult life in this city," Mayor Tom Barrett said. "I hope I never see it again."
Kaleem reported from Milwaukee and Pearce from Los Angeles.
ALSO
Some African American cops say they're 'on both sides of the fence' in police-activist disputes
Cash-strapped Baltimore expected to spend tens of millions on Justice Department police reform plan
Georgia officer is fatally shot, and the suspect is still on the loose
---
UPDATES:
Monday, 8:21 a.m.: This article has been updated with a revised number of people shot.
Monday, 1:10 a.m.: This article has been updated with news of arrests and additional incidents.
9:30 p.m.: This article has been updated with fresh clashes between police and protesters.
8:55 p.m.: This article has been updated throughout with evening events and additional background.
3:18 p.m.: This article has been updated throughout with additional reporting.
1:55 p.m.: This article has been was updated throughout with additional details.
12:30 p.m.: This article has been updated throughout with additional reporting.
This article was originally published at 11:40 a.m. Sunday.
---
Must-read stories from the L.A. Times
Get the day's top news with our Today's Headlines newsletter, sent every weekday morning.
You may occasionally receive promotional content from the Los Angeles Times.