Graphic videos, luring tweets — terrorism trial zeroes in on Islamic State recruiting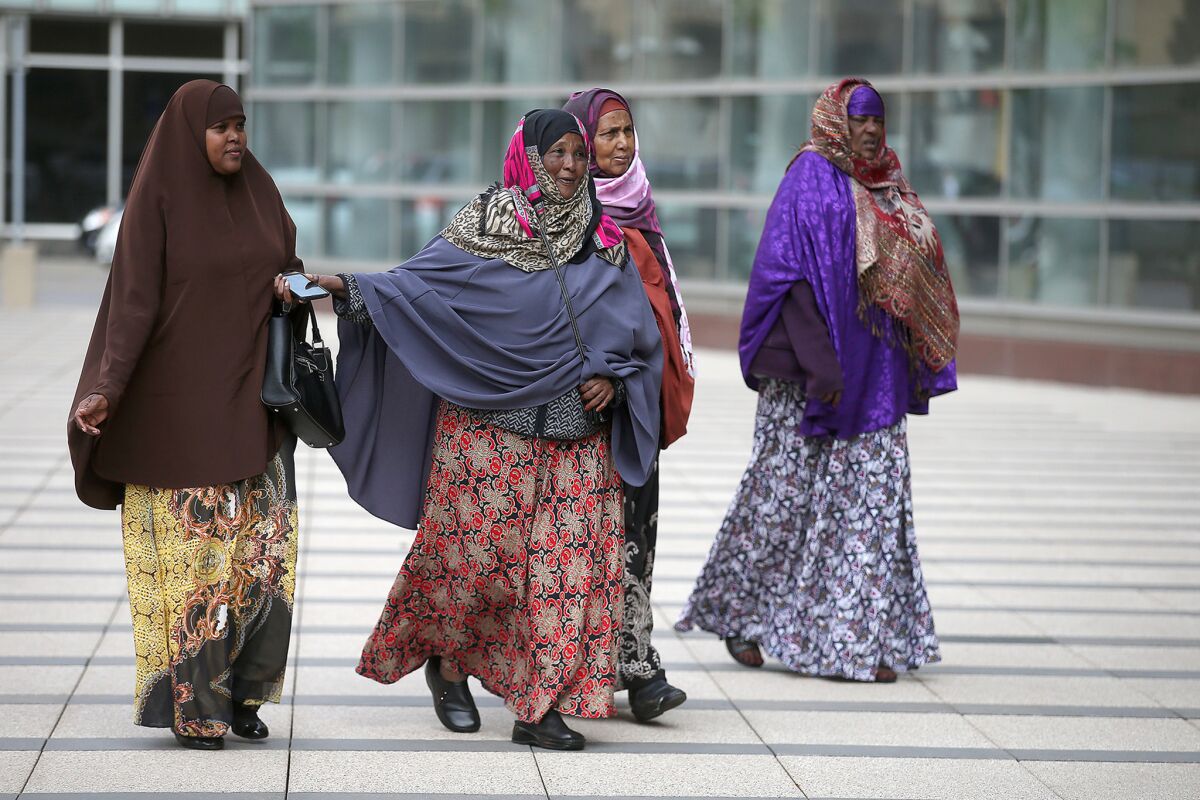 Reporting from Minneapolis —
Titles of Islamic State propaganda videos flashed across the screens positioned in front of the 16 jurors — "Flames of War," "Upon the Prophetic Methodology," "Changing of the Swords 4."
Then, federal prosecutors showed jurors a photo of several men whose freshly severed heads sat on the ground. The jurors stared. So did the three young Somali American men on trial.
You don't need to understand Islamic State's ideology, Assistant U.S. Atty. Andrew R. Winter told the jurors. All you need to know, he said, is that a group of young Somali American men in the Twin Cities area had watched Islamic State videos and wanted to go to Syria to take part.
"This is what the defendants wanted to do ... tried to do ... time and time again," Winter said.
Opening arguments began in federal court Wednesday in a case prosecutors say marks a significant moment in the effort to convict American men who have attempted to join and fight alongside Islamic State in Syria.
Women dressed in abayas — family members of the defendants — partially filled the gallery as prosecutors vowed to show how a group of young men from Minneapolis' large Somali American community were radicalized by Islamic State and Al Qaeda-affiliated propaganda and formed plans to leave the U.S.
Mohamed Abdihamid Farah, Abdirahman Yasin Daud and Guled Ali Omar face charges of conspiring to commit murder outside the U.S. and providing material support to a terrorist organization by joining Islamic State.
Officials said the men tried to leave the United States by taking buses to catch flights in New York or to cross into Mexico from San Diego to begin their journey to Syria.
At least two others have pleaded guilty to related charges and agreed to testify for the prosecution.
The case is likely to be presented as an example of how Islamic State propaganda strikes young Muslim men like a contagion, spreading through friends and relatives who have gone off to fight for the militant group.
The three defendants' attorneys acknowledged that the videos were repugnant and some of the defendants' statements inflammatory, but accused the government of not having enough evidence to prove the defendants intended to travel to Syria and fight for Islamic State.
"You've seen some really bad videos," Farah's attorney, Murad Mohammad, told the jurors. "Videos my client did not produce, did not watch."
Prosecutors said they would show how the young men tried to dupe their families, who sometimes took dramatic steps — such as seizing passports and car keys — to prevent their recruitment by Islamic State.
"We just have to act normal to our families," Daud told his fellow conspirators, prosecutors said.
Another defendant, Farah, allegedly bragged to his friends about getting his passport back from his family after they had seized it, suspicious of his intentions: "I hustled my grandma. I tricked her."
In the prosecution's opening argument Wednesday, Winter said the young Somali American men first became interested in going to Syria after two of their friends, Hanad Mohallim and Abdi Nur, made the journey to Syria. There, Nur and Mohallim began posting Islamic State glamour shots of themselves on social media, posing with Kalashnikov assault rifles and rocket-propelled grenades, prosecutors said.
In one Twitter post shown by prosecutors, Nur sent what he called a message to America from Islamic State: "We love death more than you love life."
Bruce Nestor, a defense attorney, hinted that the trial would examine the persuasiveness of Islamic State propaganda and the alarm that the brutal Syrian war raised among Muslims.
In 2014, about 30 Somali American men began meeting to talk about Islamic State and about what they called the Syrian government's war crimes, Nestor told jurors.
Some had jihadist beliefs and others "were just talkers," said Nestor, who called his client, Daud, "a talker, not a doer."
"He was 21 years old," Nestor said. "His mind was a stew of conflicting desires and intent. ... Mr. Daud did not have murder on his mind."
Nestor and defense attorney Glenn Bruder took specific aim at the government's use of a paid informant, Abdurahman Bashir, whom they accused of making a deal to avoid prosecution for his Islamic State sympathies and then goading others to travel to Syria while wearing a recorder.
Bruder, who is Omar's attorney, told jurors that Bashir was an "ISIS sympathizer" who was "trying to enrich himself at taxpayer expense," taking more than $100,000 in compensation. ISIS is a commonly used acronym for Islamic State.
Omar, Bruder said, was "all talk and no action." He added: "Guled Omar never left Hennepin County — he always had an excuse, he always had a reason."
Bruder said the FBI stopped Omar at the airport in November from traveling to California, where he said he was planning to vacation. (Prosecutors think he was actually planning to travel to Syria via Mexico.)
Bruder acknowledged that some of Omar's comments captured on tape were "embarrassing" but said the tapes will show that Omar rejected Bashir's suggestions to travel to Syria.
"You're just going to be another statistic, bro," Omar told Bashir of the Syrian war, adding that they wouldn't be able to help other Muslims "if we're locked away," according to Bruder.
After the trial adjourned for the day, the defendants' mothers told reporters they hoped the trial would be fair.
"My son Guled [Omar] is a very good young man," Fadumo Hussein said through an interpreter. "One of those young men you can trust.... He never did anything wrong and never will."
The mothers also expressed concerns that the jury was all white.
"Although there are no people of color on the jury, we are still expecting them to be fair," Daud's mother, Farhiyo Mohamed, said through an interpreter.
ALSO
Oregon wildlife refuge occupier arrested on weapons charge
Deadly 2013 Texas fertilizer plant explosion was criminal act, officials say
Ex-S.C. officer to remain free on bail after federal indictment in Walter Scott shooting
---
UPDATES:
5:57 p.m.: This story has been revised throughout for additional details and for clarity.
3:38 p.m.: The story was updated with comments from the defendants' families.
2:07 p.m.: The story was updated with comments from defense attorneys.
Must-read stories from the L.A. Times
Get the day's top news with our Today's Headlines newsletter, sent every weekday morning.
You may occasionally receive promotional content from the Los Angeles Times.