Will Cindy Hyde-Smith's 'public hanging' comment make a difference in Mississippi's Senate runoff?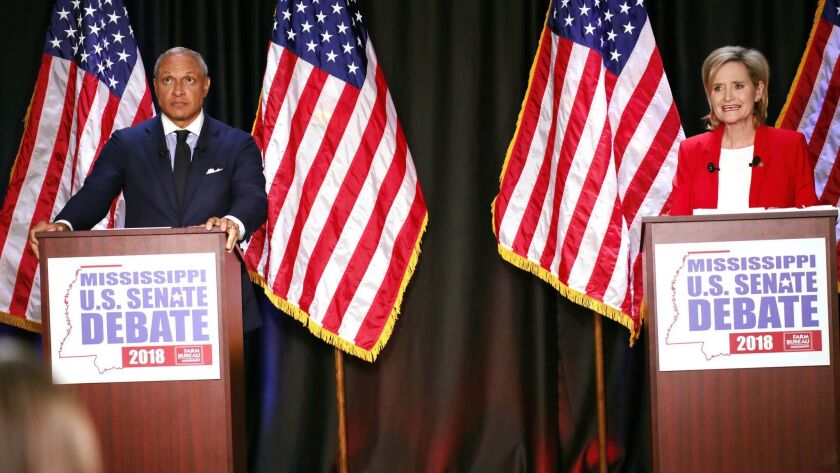 Reporting from Jackson, Miss. —
In the first round of Mississippi's special election for a U.S. Senate seat, Cindy Hyde-Smith was widely seen as the moderate Republican.
But after a video emerged in which Hyde-Smith said that if a supporter invited her "to a public hanging" she would be in "the front row," her campaign has been wobbled by accusations that she is too extreme to represent the state.
Her comment, which she said was meant to show high praise to the supporter, has opened deep wounds among African Americans in this Deep South state with the highest number of documented lynchings in the nation. And it brought unwanted attention to Mississippi as national news outlets delved into Hyde-Smith's views on race ahead of Tuesday's runoff election in which she hopes to keep her appointed Senate seat.
Democrats see it as a chance for Mike Espy — an African American former congressman and agriculture secretary under President Clinton — to win in a state that has not elected a Democrat to the Senate in more than 35 years. They've focused on Hyde-Smith's comments, saying her views would give Mississippi "a black eye."
But what may bring charges of racial insensitivity or even racism in many parts of the country, and ever larger pockets of the Southeast, is not necessarily so contentious to conservative voters in Mississippi.
"I think she is a good person," said Joe Vaught, a 70-year-old retired nurse from Brandon, a town 15 miles east of Jackson, the capital. "We all make stupid mistakes."
"The Democrats are just trying to slander her," said Kim Bolding, 51, a marketing officer for a faith-based rehabilitation center who lives in Flowood.
"It's being blown out of proportion," said Robert Norwood, 68, a retired accounting manager from Crystal Springs. "I watch a lot of cowboy shows. They used to hang a lot of people. Why does everything have to be about race?"
While some have pitched the runoff as a battle between the Old South and the New South, political observers say the state remains more conservative than its neighbors and has not undergone the same accelerated economic development.
"Mississippi is not a part of the New South," said Marvin King, associate professor of political science at the University of Mississippi. "Political change is harder in Mississippi, because we don't get the churn of new people and new ideas."
Predominantly rural, Mississippi falls just short of 3 million residents, with fewer than 600,000 living in the Jackson metro area. Unlike Atlanta, Jackson is not home to a mass of Fortune 500 companies or a burgeoning black middle class. It does not have a nascent tech industry like Nashville does, or a major banking industry like Charlotte.
Even though Mississippi has mostly moved on from the stereotypes of the Old South, King said, it still has vestiges of it. The state is the only one in the nation that still incorporates a Confederate battle emblem on its state flag.
Political observers say the odds are against Espy, 64. A recent poll by RRH Elections shows a 10-percentage-point lead for Hyde-Smith, who was appointed in April to replace retiring Sen. Thad Cochran.
"Are people jumping up and down and saying, 'This changes everything'?" said Dallas Breen, executive director of the John C. Stennis Institute of Government at Mississippi State University. "I don't see it."
Still, the dynamics of the race changed. After widely being seen as a shoo-in, Hyde-Smith, 59, was pushed on the defensive. For days, she disappeared from the campaign trail and refused to comment or apologize as major corporations such as Walmart, Aetna, AT&T, Union Pacific and Pfizer asked her to refund their campaign contributions.
Shortly after the public hanging remark, a video showed Hyde-Smith on the campaign trail appearing to joke about suppressing votes at some colleges. It was a "great idea," she told supporters, to make it "just a little bit more difficult" for "liberal folks in those other schools" to vote. Critics suggested she was referring to the state's historically black colleges.
Then more details were dredged up, including a 2014 photo Hyde-Smith posted on Facebook showing her posing with a Confederate cap and musket at the opening of a museum dedicated to Jefferson Davis, the president of the Confederate States of America, and her 2001 attempt as state senator to pass a bill naming a stretch of highway in her district after Davis.
Last week, the Jackson Free Press, a local alternative newspaper, reported that Hyde-Smith attended a "segregation academy," a private school founded by white parents to avoid having their children enroll in desegregated schools.
But with a large swath of Mississippians untroubled by Confederate imagery, Espy's campaign has focused on Hyde-Smith's potential to deter sorely needed economic investment in the state.
"She's bad for business," Espy said Friday shortly after his campaign released a new television ad dubbing Hyde-Smith a disaster for Mississippi's economy.
It's a line of attack that has alarmed the moderate, establishment wing of the Republican Party.
"Cindy Hyde-Smith was supposed to be the safe conservative who would not embarrass the state and would not seem hateful or drive investors away," said Ted Ownby, a professor of history and director of the Center for the Study of Southern Culture at the University of Mississippi.
"Now people aren't so sure she's safe. They're thinking: 'We don't know this person. Is she going to be attracting a lot of attention Mississippi doesn't need?'"
In recent decades, Republican respectability came to rest, in part, on an ability to be conservative without seeming hateful, Ownby said. Conservatives found new ways to talk about law and order — voicing support for prisons and strict sentencing, rather than public hangings — although "there's always that suspicion that behind the language of conservatism is something much more harsh."
At the outset of the campaign, Hyde-Smith was not perceived to be as far right as her hard-line conservative challenger, tea party darling Chris McDaniel.
A former Democratic state senator who switched parties in 2010, Hyde-Smith soundly defeated McDaniel during the Nov. 6 special election with 41% of the vote to McDaniel's 16% and Espy's 40%. Even though she did not secure enough votes to avoid a runoff, Republicans considered her victory assured when McDaniel urged his supporters to rally behind her.
But her "public hanging" comment raised questions. It was not until a televised debate with Espy last week that Hyde-Smith offered a half apology.
"For anyone that was offended by my comments, I certainly apologize," she said, reading from a script. "There was no ill will, no intent whatsoever, in my statements."
She then went on the offensive.
"This comment was twisted, was turned into a weapon to be used against me, a political weapon used for nothing but personal and political gain by my opponent," she said. "That's the type of politics that Mississippians are sick and tired of."
Gently, Espy pushed back.
"Well, no one twisted your comments because your comments were live," he said. "You know, they came out of your mouth. I don't know what's in your heart, but we all know what came out of your mouth."
Throughout the campaign, Espy has presented himself as a moderate who will put "Mississippi first." Focusing largely on healthcare in a state that frequently comes last in national health rankings, his platform includes requiring insurance companies to cover preexisting conditions, shoring up rural health clinics and stopping price gouging by major drug companies. He has also called President Trump's tariffs a "wrongheaded policy" that hurts Mississippi farmers.
Hyde-Smith's campaign has countered by accusing Espy of corruption. In the 1990s, Espy was indicted on corruption charges over gifts and other favors he accepted from companies he was supposed to regulate. A federal jury eventually acquitted him of all charges.
Her campaign has also slammed him for his work as a lobbyist, referring repeatedly to $750,000 Espy made in 2011 representing Laurent Gbagbo, a former Ivory Coast dictator.
In a sign of how worried Republicans are, Trump, who won nearly 58% of the vote in Mississippi in the 2016 presidential election, campaigned for Hyde-Smith in Tupelo and Biloxi on Monday night.
To win, Hyde-Smith needs to get her base, as well as conservatives who voted for McDaniel, to the polls. Espy's campaign must mobilize strong turnout among African Americans, as well as rally 25% of white voters, according to Danny Blanton, a spokesman for Espy.
"We want the black vote, but we can't win with black votes alone," Espy told reporters on Friday. "We've got to have a healthy crossover, so I'm appealing to everybody: Democrats, Republicans, independents."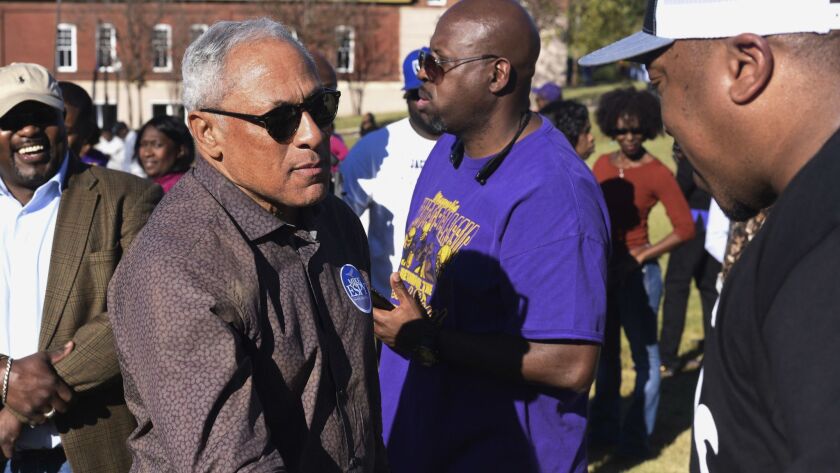 The day after Thanksgiving, many shoppers at the Northpark Mall in Ridgeland, a suburb north of downtown Jackson, said they felt bombarded with negative political campaign ads and were trying to tune out the noise.
Joe Vaught, politically independent, said she had nothing against Espy and did not approve of Hyde-Smith's remarks. Still, she planned to vote for her because she wanted to see a woman represent Mississippi in Congress. Vaught did not judge Hyde-Smith for her reluctance to fully apologize or speak to the media.
"The more you stir the pot," she said, "the bigger the mess gets."
For many black Mississippians, Hyde-Smith's words dredged up the past.
Tonquese Lacy, 46, a government worker who lives in Canton, about 25 miles north of Jackson, said elderly deacons at her Baptist church delivered emotional speeches to her congregation last week, saying people of color needed to get out and vote.
Lacy said she grew up hearing her parents and grandparents speak of being forced to use separate bathrooms and eat at separate restaurants. Hyde-Smith's words "brought all of that up again," she said.
"Mississippi has changed," she said. "But, you know, sometimes the more things change, the more they stay the same."
jenny.jarvie@latimes.com
@jennyjarvie
---
The Latinx experience chronicled
Get the Latinx Files newsletter for stories that capture the multitudes within our communities.
You may occasionally receive promotional content from the Los Angeles Times.