Must Reads: Workers in this town may become victims of Trump's trade war, but they're behind him 'no matter what'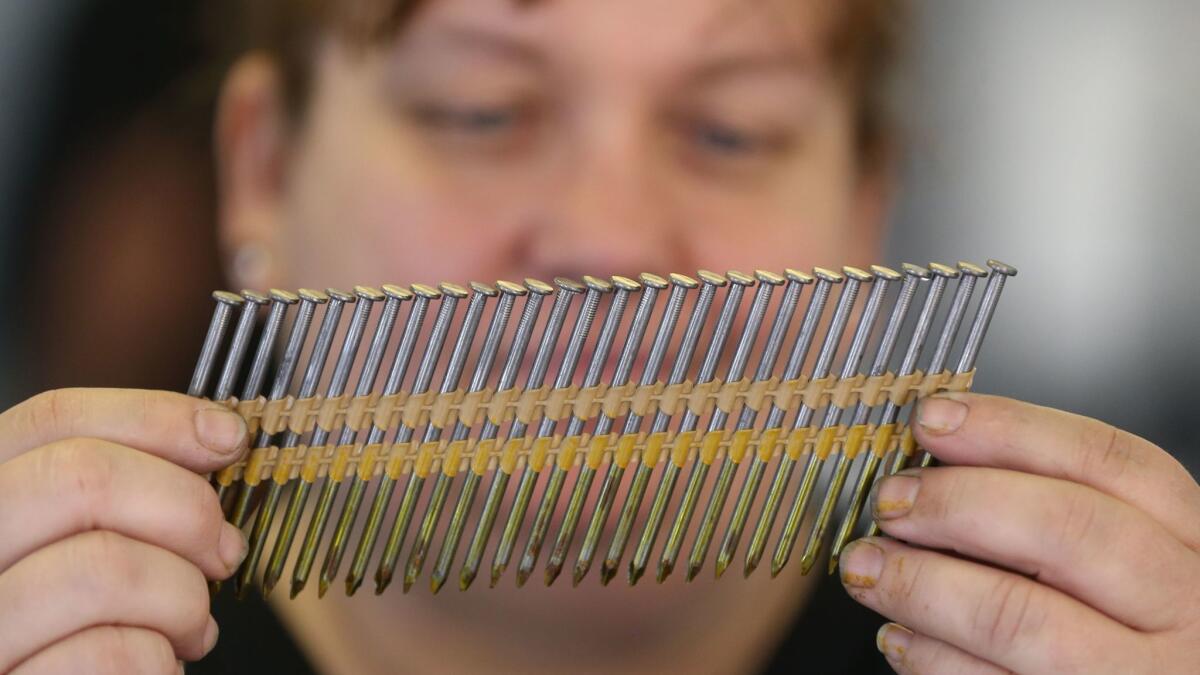 Reporting from Poplar Bluff, MO. —
Jimmie Coffer, a machine programmer at the nation's largest nail-making plant, voted for Donald Trump partly because he was confident he would bring manufacturing jobs back to America.
So the 39-year-old factory worker was shocked last month when 60 of his co-workers were laid off after the Trump administration imposed a 25% tariff on the steel his company imports from Mexico. Now, as his bosses cut back hours and warn they may have to let 200 more workers go in the coming weeks, he worries he may lose his job as a result of the president's policies.
But Coffer is still gung-ho about Trump.
"I support him 100%," he said last week. "In fact, I'd like to shake his hand. He's doing a great job."
Across Poplar Bluff, a struggling town of 17,000 in a remote pocket of southeast Missouri, many residents are reluctant to criticize Trump as they grapple with the prospect that their community could be one of the trade war's first casualties.
"Most workers are behind Trump, no matter what," said Diane Brogdon, 54, a machine operator who has worked for the company for 12 years.
Trump won 79% of the vote here in Butler County and, while many were surprised to discover the tariffs are hurting their town, they still believe Trump is on the right track and firmly support his goal of pouring life back into dilapidated manufacturing communities — even if they end up losers.
"It's just one big mess," said Brogdon, who fears she may struggle to keep the large, brick home she bought just a few months ago. "He's looking at the big picture, and I understand that. But he's got to stop and look at the small towns around here that are really going to get hurt."
For Mid Continent Steel and Wire, which does business as Mid Continent Nail Corp., the crisis began June 1 when the Trump administration imposed tariffs on steel and aluminum imports from Canada, Mexico and the European Union as part of its strategy of boosting American manufacturers.
Founded in 1987 by two local brothers and taken over in 2012 by a Mexican company, Mid Continent imports 70% of its steel from Mexico. When the tariffs forced the company to raise prices 19% to cover higher costs, orders plummeted. Within two weeks, it had idled one of its production plants and laid off dozens of contract workers.
"You would think as long as houses are being built and pallets are being made we would be secure," said Sean Hughey, 51, a machine shop supervisor who has worked for the company for eight years. "All of sudden, it just came to a crashing halt."
Hughey continues to back Trump, even as he worries that if the company shuts down, he will not be able to make his $800 monthly mortgage or come up with $700 a month for payments on his Dodge pickup, Chrysler sedan and Harley-Davidson Street Fighter.
"I feel like maybe the tariff policy might have been just a tad misguided, you know?" he said. "Maybe they didn't think it through."
Last week, officials at Mid Continent took pains to praise Trump as they ran a full-page ad in the local newspaper, warning Trump in an open letter that 500 jobs here are in jeopardy and urged him to save the company.
"More than any president in our time, you have shown compassion for U.S. manufacturing workers," the letter began. "It is in your power to keep our plants running and save our jobs."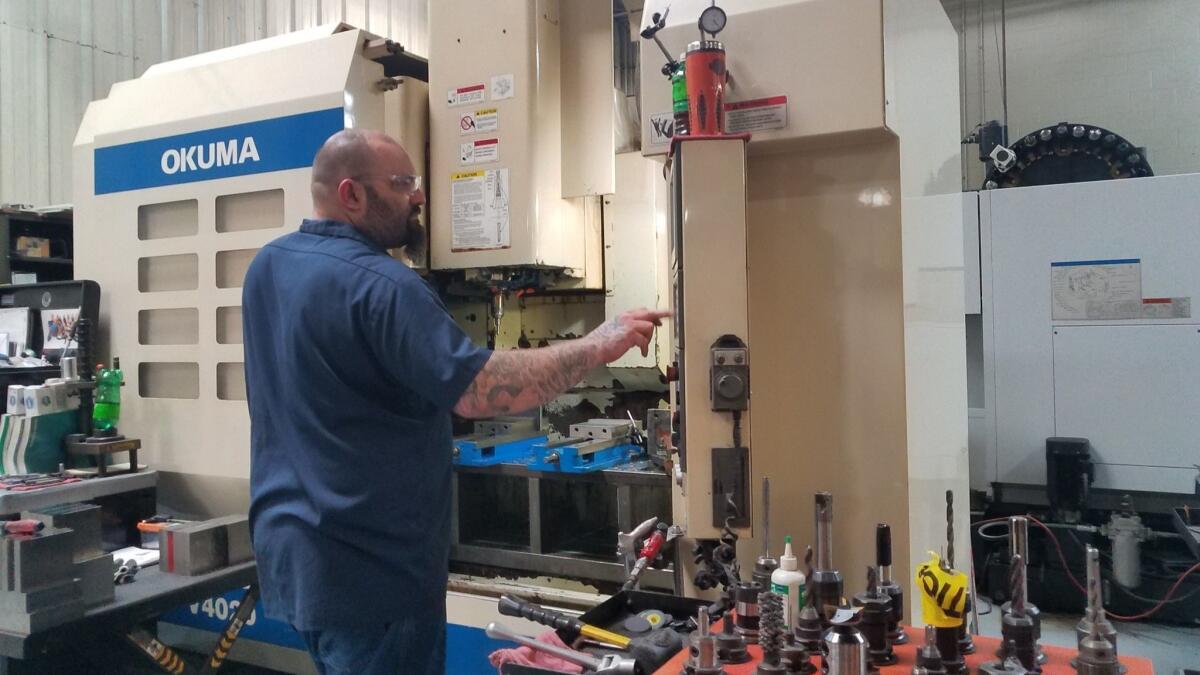 While the company has requested exclusions from the tariff, the Department of Commerce has a backlog of more than 20,000 requests. So far, it has issued 42 exclusions.
As Mid Continent pleads for relief, local officials in Poplar Bluff have been conspicuously silent about the fate of hundreds of assembly line workers. The mayor, the city manager and city council members did not respond to phone calls or emails about the potential closure of the town's second largest employer.
"You won't get a lot of people speaking around here," Steve Halter, the president of the local chamber of commerce, warned as he declined to comment.
As a steady stream of workers stopped at the Munch-N-Pump gas station near the nail plant last week to pick up sodas, cigarettes and sausage-and-cheese biscuits, they said supervisors had told them not to talk to the media.
Yet there is fear that hundreds of workers could be laid off, a potentially staggering blow to a town where a quarter of the population lives in poverty and the median household income is just $31,675.
"It's really going to hit the community hard," said RayAnna Krogstad, a 28-year-old supermarket clerk, as she grabbed a Mountain Dew. "There are already job issues as it is, and a bunch of people flooding the market. … Some of them might be homeless by October."
Others accused the company of exaggerating the risks to workers and blamed the firm for importing steel from Mexico.
"Mass layoffs? I don't believe it's going to happen," said Randy Wade, 42, a supervisor for a local vending company, rolling his eyes as he filled a cup with Coca-Cola at the soda fountain.
"If they're going to do business in Mexico, they kind of deserve it," he added. "They need to deal with Americans."
Some were reluctant to publicly question Trump's policies, afraid they'd be harassed on social media. Others were suspicious that the media — and their Democratic U.S. senator, Claire McCaskill — had descended on the town only to score points at the president's expense.
McCaskill, who is facing a tough reelection bid this year, was scathing about the Trump administration's handling of tariffs when she toured the nail plant last week.
"It's chaotic, and there's some incompetence involved," McCaskill told company officials. "They're chasing your customers into China's arms. … It just doesn't make any sense whatsoever."
Some companies across the country have celebrated the tariffs — U.S. Steel has announced plans to reopen two blast furnaces in Illinois, adding approximately 800 jobs — but trade experts say that overall, the measures are likely to bring more job losses than gains.
The Tax Foundation, an independent nonprofit tax policy group, estimates about 48,500 jobs will be lost as a result of the tariffs imposed on imports of steel, aluminum, washing machines, solar panels and $50 billion worth of Chinese goods. If Trump presses ahead with further tariffs, and other nations retaliate, it predicts 342,000 jobs could be lost.
Already, other businesses in Missouri are feeling the ripple effects of Mid Continent's slowdown. A local packaging company that provides boxes for the nail plant announced last week it had laid off four temporary employees.
Conspiracy theories and rumors also have spread. Some locals theorize the company's Mexican owners have long planned to relocate south of the border and are using the tariffs as an excuse to finally leave. (Company officials do not rule out relocating to Mexico — where they could buy steel and export the finished nails back to the U.S. without tariffs — but insist they are committed to remaining in Poplar Bluff.)
"This has nothing to do with tariffs — or Trump," Mark Orton, the owner of Bluff Barber Shop, said as he dabbed shaving foam on a customer's face. "It's smoke and mirrors. This Mexican company is just trying to blame Trump."
His client, a red-headed factory worker who declined to give his name, blamed politicians and newspapers for "banging on" Trump.
"They can't say anything nice about him," he griped. "If Trump ran into a burning building to pull out children, they'd say he's hurting firefighters."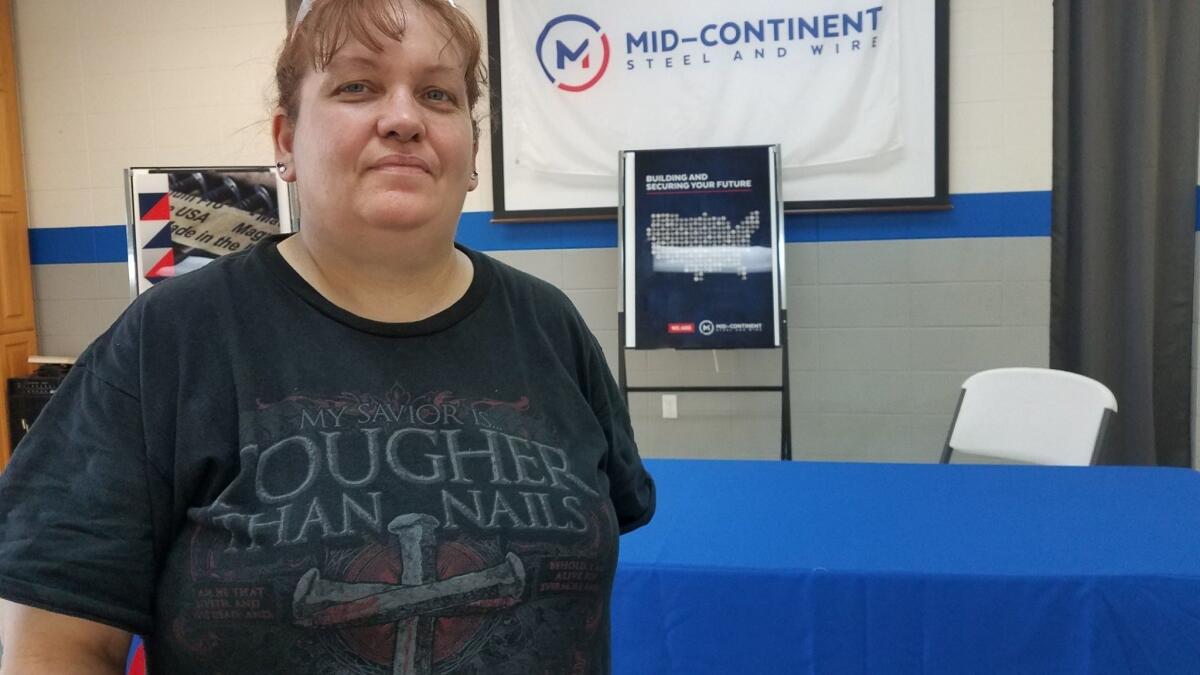 Asked whether she would rethink her support for Trump if she lost her job at the nail plant, Brogdon said probably not. The tariffs ultimately would be good for the nation — even if it left her unemployed.
"Overall, he's done good," she said. "I'm not going to be selfish just because of me."
Jarvie is a special correspondent.
Sign up for Essential California for news, features and recommendations from the L.A. Times and beyond in your inbox six days a week.
You may occasionally receive promotional content from the Los Angeles Times.