Mormons grappling with race issues 40 years after church's ban on black leaders was lifted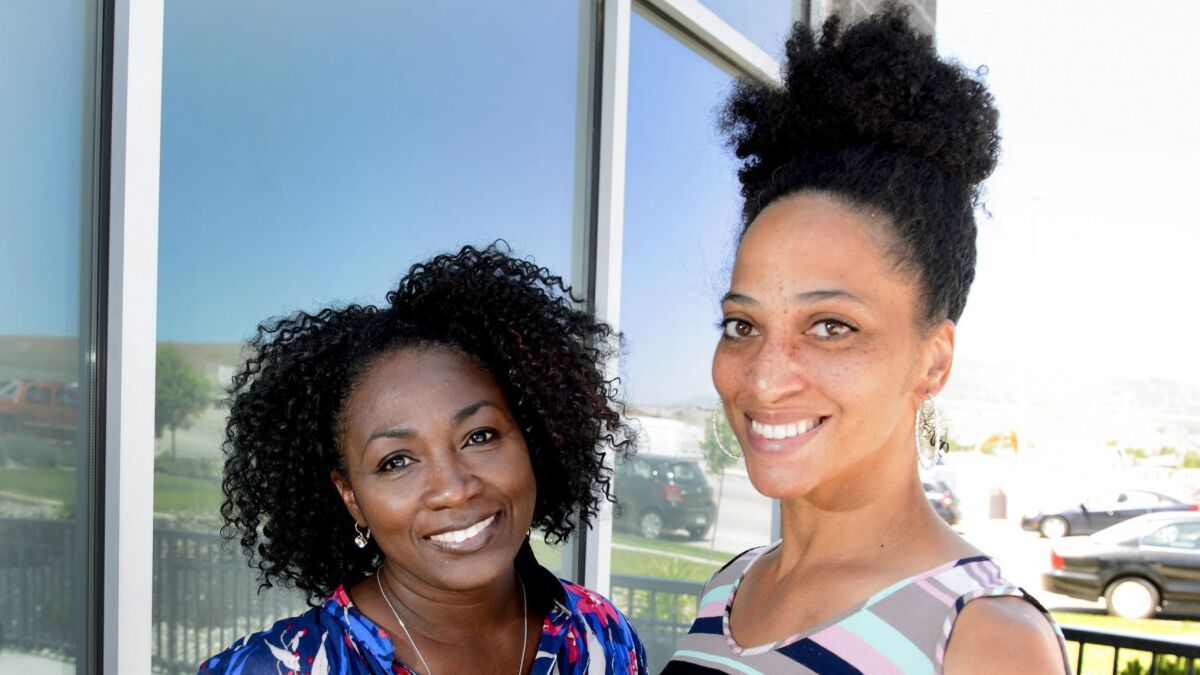 Reporting from SALT LAKE CITY —
The Mormon Church on Friday night prepared to celebrate the 40th anniversary of reversing its ban on black people serving in the lay priesthood, going on missions or getting married in temples, rekindling debate about one of the faith's most sensitive topics.
The number of black Mormons has grown, but still only accounts for an estimated 6% of 16 million worldwide members. Not one serves in the highest levels of global leadership.
The Church of Jesus Christ of Latter-day Saints has worked to improve race relations, including calling out white supremacy and launching a new formal alliance with the National Assn. for the Advancement of Colored People. But some black Mormons and scholars say discriminatory opinions linger in some congregations from a ban rooted in a belief that black skin was a curse.
In a 2013 essay, the church disavowed the reasons behind the ban and condemned all racism, saying the prohibition came during an era of great racial divide that influenced early church teachings. Blacks were always allowed to be members, but the nearly century-long ban kept them from participating in many important rituals.
Scholars said the essay included the church's most comprehensive explanation for the ban and its 1978 reversal, which leaders say came from a revelation from God.
But it didn't include an apology, leaving some unsatisfied.
"A lot of members are waiting for the church just to say, 'We were wrong,'" said Phylicia Norris-Jimenez, a 30-year-old black Mormon and member of the grass-roots Black LDS Legacy Committee, a group of women who are organizing a conference Saturday in Utah to honor the legacy of black Mormon pioneers.
Norris-Jimenez said nonblack church members still struggle with how to talk about the ban or understand the pain it causes. She said that the anniversary celebration honors something that should have never existed, but that it's a good gesture and hopefully leads to more talk about race.
A fellow group member, LaShawn Williams, said she finds comfort in her belief that the ban was a "policy of people, not a policy of God," made during an especially racist time.
She and her three children are the only black members of her congregation in Orem, Utah, and she tries to talk about race issues regularly with the teenagers she teaches in Sunday school.
Williams, an assistant professor in social work at Utah Valley University, would like an apology.
"If we preach repentance, we should definitely embody it," she said.
The theme of the anniversary celebration in Salt Lake City is "Be one," a reference to a Mormon scripture. Top church leaders will deliver a message, and Gladys Knight, one of the most famous black Mormons, will perform.
"This is a call to the entire church, and by extension, the entire world, to let go of prejudices and come together as one unified family," said Ahmad Corbitt, a church employee who led the effort to organize the event.
Corbitt declined to address a church apology, saying the faith is focused on a forward-looking approach to unity.
Darius Gray, co-founder of the Genesis Group that supports black Mormons, said the church and its doctrine aren't racist, but that racism lingers in the faith as it does in society.
He said he's been plagued by calls from Mormons concerned about how they're being treated, which he attributes to a rise in racism in the U.S. since President Trump was elected.
He said that he wouldn't be opposed to an apology for the ban, but that he's more interested in helping the faith make progress in rooting out racism. Gray, who helped plan Friday's event, said it's a step toward healing.
"An apology is here today and gone tomorrow," Gray said. "More significant is what an organization does long-term. The LDS church has been moving forward and changed its paradigm in massive ways."
Must-read stories from the L.A. Times
Get the day's top news with our Today's Headlines newsletter, sent every weekday morning.
You may occasionally receive promotional content from the Los Angeles Times.