From a severed pig's head to a bullet-riddled Koran, attacks on Muslims are rising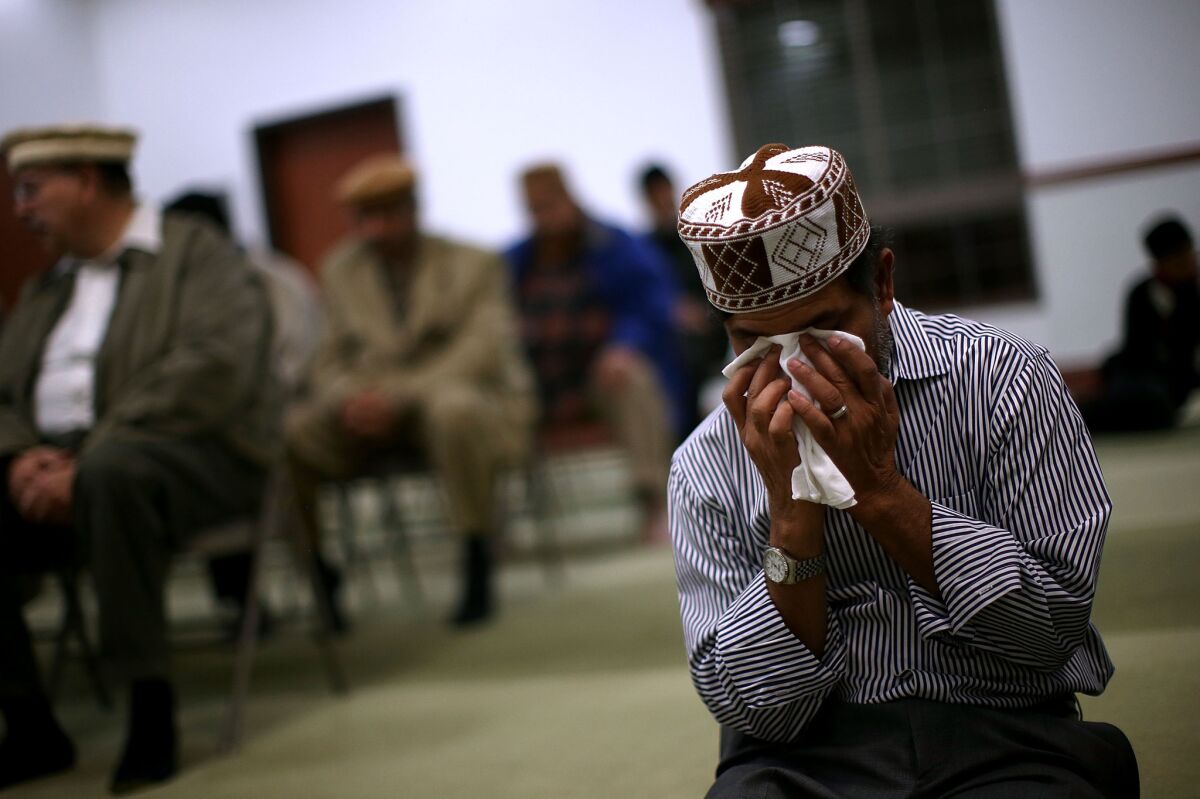 Attacks on mosques appear to have become more frequent and threats against Muslims more menacing since the terrorist attacks in Paris and the shooting in San Bernardino.
"A pigs head at a mosque in Philadelphia, a girl harassed at a school in New York, hate mail sent to a New Jersey mosque … I can't event count the amount of hate mail and threats we have received," said Ibrahim Hooper, spokesman for the Council on American-Islamic Relations.
Hooper said he witnessed a similar upswing in Islamophobia after the attack on the Charlie Hebdo offices in Paris in January, but nothing close to the litany of attacks, vandalism and racially-charged threats in recent weeks:
Dec. 8: Officials at a mosque in Jersey City, N.J., reported receiving a letter calling Muslims "evil" and telling them to "go back to the desert," one of a number of hateful messages in recent weeks. The letter referenced comments Donald Trump made about people in Jersey City celebrating after the Sept. 11, 2001, attacks.
Dec. 7: A caretaker at the Al Aqsa Islamic Society in northern Philadelphia found a severed pig's head on the doorstep (especially offensive because many Muslims do not eat pork for religious reasons). Police and the FBI are searching for suspects.
Dec. 7: The owner of Fatima Food Mart in New York said he was attacked by a customer who said, "I'll kill Muslims." Police arrested the customer, a white man in his 50s.
Dec. 2: An apparently bullet-riddled copy of the Koran was left outside an Islamic clothing store in Anaheim the day of the San Bernardino shooting.
Nov. 26: A 38-year-old Moroccan immigrant taxi driver in Pittsburgh was shot by a passenger who had asked him about Islamic State.
Nov. 21: A group of demonstrators calling themselves the Bureau of American Islamic Relations held an armed anti-Islam demonstration outside the Islamic Center of Irving, Texas, a Dallas suburb. A few days later, one of the protesters posted on Facebook the names and home addresses of locals identified as Muslims and "Muslim sympathizers."
Nov. 19: Two Palestinian Americans flying Southwest Airlines were ordered off a jet and their flight was delayed because a passenger said he was afraid to fly with them after hearing them speak Arabic. After questioning, the men were allowed to return to their flight.
Nov. 19: A Muslim student at San Diego State University reported to campus police that she was attacked in a parking lot by a white man who pulled on her headscarf while making hateful comments.
Nov. 19: A fake explosive device was left at the Dar al-Hijrah mosque in Falls Church, Va.
Nov. 18: A pregnant Muslim woman was allegedly assaulted in San Diego. The woman was wearing a headscarf and wheeling her child in a stroller when the assailant shoved the stroller back into her stomach.
Nov. 17: A sheriff's deputy had to intervene and halt a local government meeting to protect those proposing a mosque for the Islamic Center of Fredericksburg, Va., after audience members became irate, exclaiming that, "Every Muslim is a terrorist" and "Nobody, nobody, nobody wants your evil cult."
Nov. 19: A San Antonio man showed up at an Islamic center wearing military-style clothes and carrying an American flag and stomped on prayer rugs and cursed.
Nov. 16: Vandals painted an Eiffel Tower peace symbol on a wall outside an Islamic center in Omaha. It marked the third time the mosque had been targeted by vandals in the last four months.
Nov. 15: A young woman wearing a headscarf was taunted at a grocery store in Cincinnati and followed to her car, where a man tugged on her scarf.
Nov. 14: Multiple shots were fired at the Baitul Aman mosque in Meriden, Conn., penetrating three walls and striking prayer areas.
Sources: Police reports and the Council on American–Islamic Relations.
ALSO
Where Muslims (mostly) don't live
Casting call for Latino, Jew, Muslim and breastfeeding mom to star in anti-Trump video
Editorial: Donald Trump manages to make his demagoguery even uglier
Must-read stories from the L.A. Times
Get the day's top news with our Today's Headlines newsletter, sent every weekday morning.
You may occasionally receive promotional content from the Los Angeles Times.