Texas and Arizona say they'll send National Guard to the border, while Nevada and Oregon decline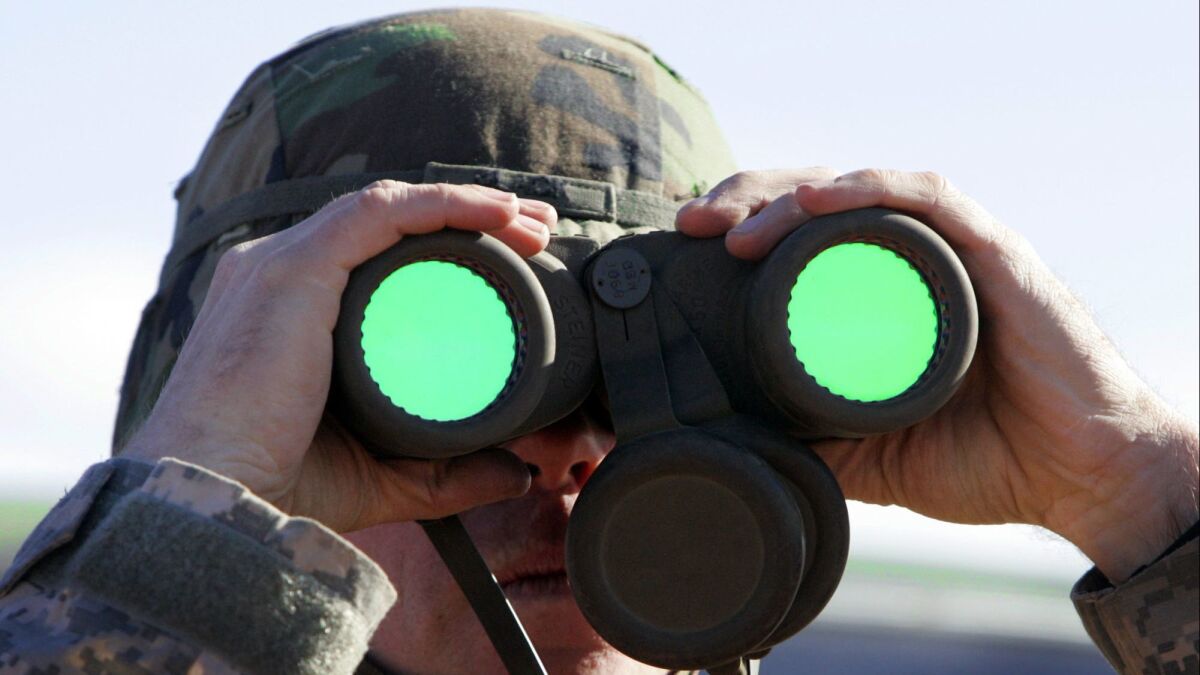 Reporting from AUSTIN, Texas —
Arizona and Texas announced Friday that they were preparing to deploy National Guard members to the U.S.-Mexico border in response to President Trump's call for more border security.
Arizona Gov. Doug Ducey said about 150 Guard members would deploy next week. And the Texas Military Department, the umbrella agency over the Texas' National Guard branches, said on its Twitter account that it would hold a Friday night news conference on its preparations, though further details were not immediately available.
Trump told reporters Thursday that he wants to send between 2,000 and 4,000 National Guard members to the border to help fight illegal immigration and drug trafficking.
That would be fewer than the roughly 6,000 National Guard members that President George W. Bush sent in 2006 during another border security operation, but more than the 1,200 Guard members President Obama sent in 2010.
A spokesman for Ducey, a Republican, said Friday that the deployment would be funded under a federal law called Title 32. Under that law, the National Guard remains under the command and control of each state's governor.
In North Dakota, GOP Gov. Doug Burgum said that if he's asked, he will contribute Guard members.
Nevada Gov. Brian Sandoval, also a Republican, on Friday became one of the latest leaders to oppose the plan. His spokeswoman, Mary-Sarah Kinner, said in an email that Sandoval does not believe the mission would be "an appropriate use" of the Nevada National Guard.
Oregon Gov. Kate Brown, a Democrat, has said she would deny Trump's request.
Department of Homeland Security officials have said Guard members could support Border Patrol agents and other law enforcement agencies. Homeland Security Secretary Kirstjen Nielsen said this week that Guard members could "help look at the technology, the surveillance," and that the department might ask for fleet mechanics.
From 2006 to 2008, the Guard fixed vehicles, maintained roads, repaired fences and performed ground surveillance. Its mission in 2010 and 2011 involved more aerial surveillance and intelligence work.
Former Texas Gov. Rick Perry, now Trump's energy secretary, also sent about 1,000 Guard members to the border in 2014 in response to a surge in the number of unaccompanied immigrant children crossing the Rio Grande. About 100 Guardsmen remain deployed as part of that state mission.
Also Friday, U.S. Atty. Gen. Jeff Sessions ordered a "zero tolerance" policy aimed at people entering the United States illegally for the first time on the Mexican border.
Sessions told federal prosecutors in border districts to put more emphasis on charging people with illegal entry, which has historically been treated as a misdemeanor offense for those with few or no previous encounters with border authorities. Smugglers and frequent offenders are usually charged with more serious crimes.
His one-page order lacks specifics on how the policy will be carried out but signals that major change is in the works. He tells prosecutors to ask for additional resources if needed to prosecute cases.
---
Must-read stories from the L.A. Times
Get the day's top news with our Today's Headlines newsletter, sent every weekday morning.
You may occasionally receive promotional content from the Los Angeles Times.