Gunfire erupts at New Jersey arts festival; 22 wounded and suspect killed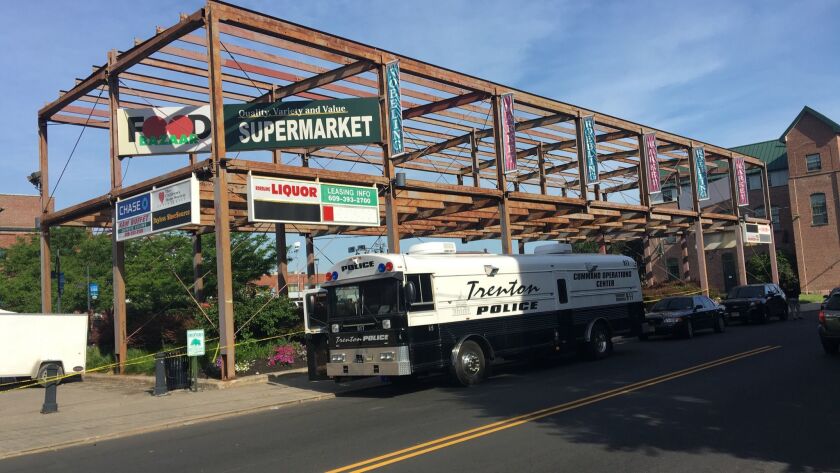 Reporting from TRENTON, N.J. —
Gunmen opened fire at an all-night arts and music festival early Sunday, sending people running over one another in the scramble to safety, authorities said.
One suspect was killed, and 22 people, including two suspects, were injured.
Of 17 people treated for gunshot wounds, four of them, including a 13-year-old boy, were critically injured, but three had been upgraded to stable by evening, leaving only one man believed to be a suspect in critical condition, Mercer County Prosecutor Angelo Onofri said.
The shots rang out about 2:45 a.m. as an estimated 1,000 or more people were attending the Art All Night-Trenton festival, which showcases local art, music, food and films.
Onofri said numerous fights inside and outside had prompted police to tell organizers that the event needed to be shut down because "there was a report that the mood inside the venue had been changing." Organizers were doing that when the shooting started, he said.
Authorities believe several neighborhood gangs had a dispute at the venue, and multiple suspects began shooting at one another, with police returning fire, Onofri said.
Tahaij Wells, 33, the suspect who was killed, had recently been released from prison and was on parole since February on homicide-related charges, Onofri said. Amir Armstrong, 23, listed in stable condition, was charged with a weapons offense. It was not immediately known whether he had an attorney who could comment.
Multiple weapons were confiscated, including a handgun with an extended capacity magazine containing more ammunition than is allowed under New Jersey law, Onofri said.
On Sunday, crime scene tape surrounded the site of the historic Roebling Wire Works building that now shares a parking lot with a supermarket, bank and laundry.
Police were also investigating an attempted carjacking that occurred in a nearby alley. Onofri said police were working to determine whether it's connected to the shooting.
Gennie Darisme was getting ready to leave the festival when she heard shots and saw people running.
"There were people trampling other people, cars hitting other cars," she said.
When she was walking back to her car after the shots stopped, Darisme said she saw someone bleeding on the ground in handcuffs.
"People were running to him, trying to see his face, to see if he's a family member or a friend," she said.
Theresa Brown, who has been volunteering at Art All Night for 12 years, said she was leaving her volunteer shift when she heard "pop, pop, pop. I thought it was a car backfiring," she said.
The remainder of the two-day festival has been canceled.
"We're very shocked. We're deeply saddened. Our hearts ache and our eyes are blurry, but our dedication and resolve to building a better Trenton through community, creativity and inspiration will never fade. Not tonight. Not ever," festival organizers posted on social media.
The injured were taken to hospitals, where some had been treated and released.
Trenton Mayor Eric E. Jackson said the violence can't be "discarded as just random violence; this is a public health issue."
---
UPDATES:
6:42 p.m.: This article was updated with the identification of two suspects and other information.
5:35 a.m.: Updated with the second suspect in custody.
5:10 a.m.: Updated with information from Onofri.
This article was first published at 4:45 a.m.
---
Must-read stories from the L.A. Times
Get the day's top news with our Today's Headlines newsletter, sent every weekday morning.
You may occasionally receive promotional content from the Los Angeles Times.