Must Reads: Beads, booze and babies? New Orleans' French Quarter debates whether to become more family friendly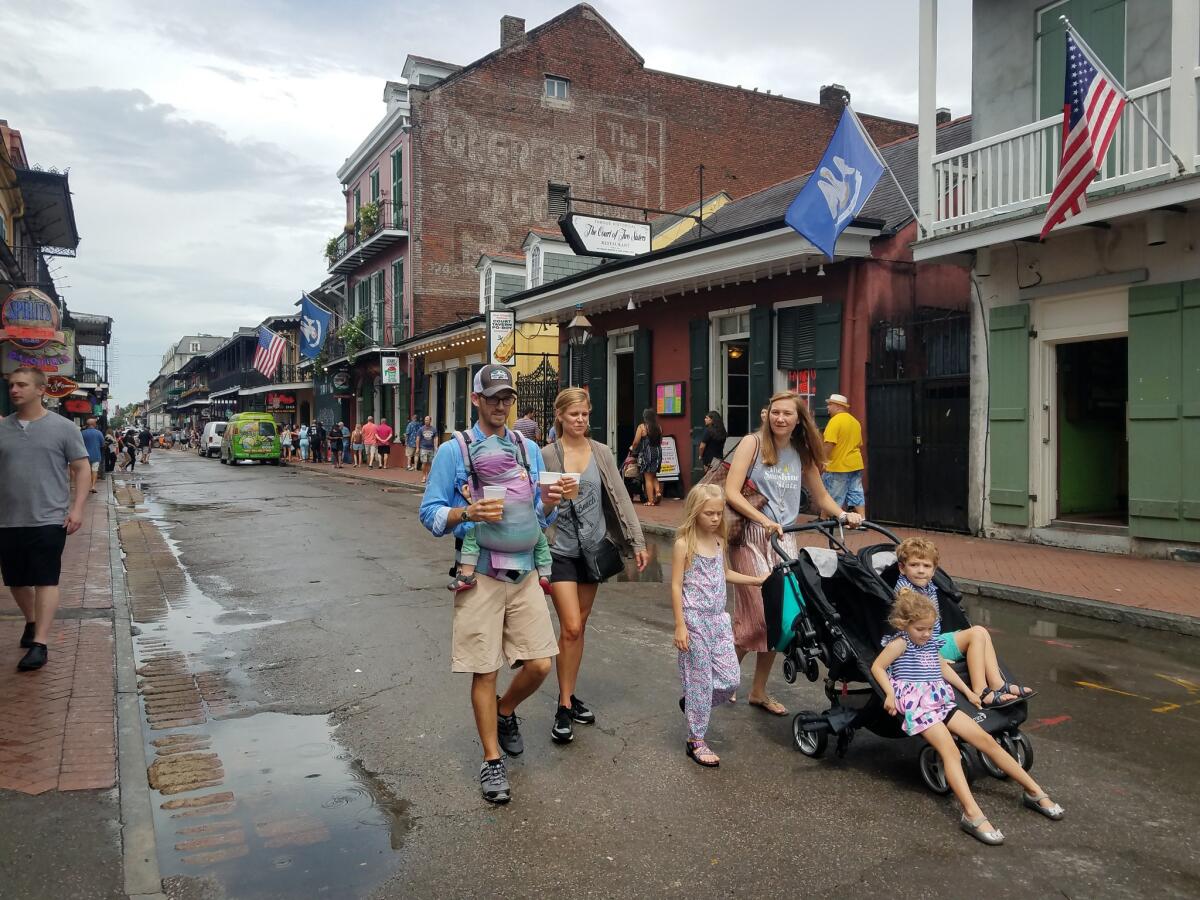 Reporting from New Orleans —
The family stepped warily onto Bourbon Street and hurried past a burlesque joint, an absinthe bar and neon signs touting "Leather Lingerie Love Toys" and "Hunk Oasis Male Strippers."
Heather and Chad Bruton, a clean-cut couple from Texas, didn't want to visit this historic city for the first time without witnessing its famed promenade of debauchery. But with three young children in tow, they didn't want to see too much.

For the record:
8:50 p.m. Aug. 17, 2018This article incorrectly says that Lyn Archer represents the Bourbon Alliance of Responsible Entertainers. Archer co-founded the group in November 2017, but is no longer an active member.
"How come that guy died on the street?" 3-year-old Cooper said as he spotted a barefoot man passed out on a sidewalk.
It was still well before noon, and the air reeked of stale beer, grease, vomit and bleach.
"We knew we weren't coming to Disney World," said Chad, 40, a director of analytics for a media company in Dallas. "But then again it could be cleaner ... couldn't they make it more safe and more clean?"
Louisiana Lt. Gov. Billy Nungesser wants to do just that.
The French Quarter is not the first place many Americans think of as a family tourist destination. For more than a century, it has offered a more risqué kind of leisure — a nightly spectacle of jaunty Mardi Gras kings, burlesque dancers, jazz musicians, hustlers, drag queens, tap dancers, second-line paraders and revelers strutting and shimmying for beads.
But the plain-spoken Republican believes the city, which attracted a record 10.9 million visitors last year, has reached a "critical point" in its struggle to maintain public safety in the quarter. His prescription: turning the French Quarter into a state park to make it more "family friendly."
"We don't want to attract only people who want to drink daiquiris or go to a strip club," Nungesser said. "We want to attract families from all over the world."
The idea appears to be a nonstarter because it would require cooperation with the city, and New Orleans' Democratic mayor, LaToya Cantrell, has said she has no interest in ceding control of the center of the city's $7.5-billion tourism industry.
Still, the proposal, which Nungesser raised this summer in a private meeting with Cantrell, has raised long-standing fears about attempts to sanitize the historic district and prompted plenty of ridicule from locals.
"The quarter is as clean as it needs to be," said Dr. Brobson Lutz, 70, a prominent socialite and private physician who has lived on Dumaine Street for decades and owns Tennessee Williams' former home. "The last thing I would want to see it become is a family vacation destination. That would ruin us!"
Lutz conceded the 78-block area might qualify as a sort of park already.
"We got a wetland around every bar," he said. "… You can see gay bears, you can see dancing fairies, predatory rats, the uptown elite, drunk college kids."
Lyn Archer, a stripper who represents the Bourbon Alliance of Responsible Entertainers, fears Bourbon Street could eventually become the kind of "historical" site where workers dress up in period clothing to simulate traditional trades and read diaries to tourists.
"Is this our future?" she said. "To perform under a facade of the past for the amusement of visitors?"
Nungesser put an emphasis on reducing crime in the French Quarter, envisioning more street lights and surveillance cameras, a clampdown on panhandling, and a park ranger on every corner.
In fact, the quarter is already one of the safest pockets in New Orleans. Police say violent crime has been falling there, even as the city's homicide rate remains one of the highest in the nation.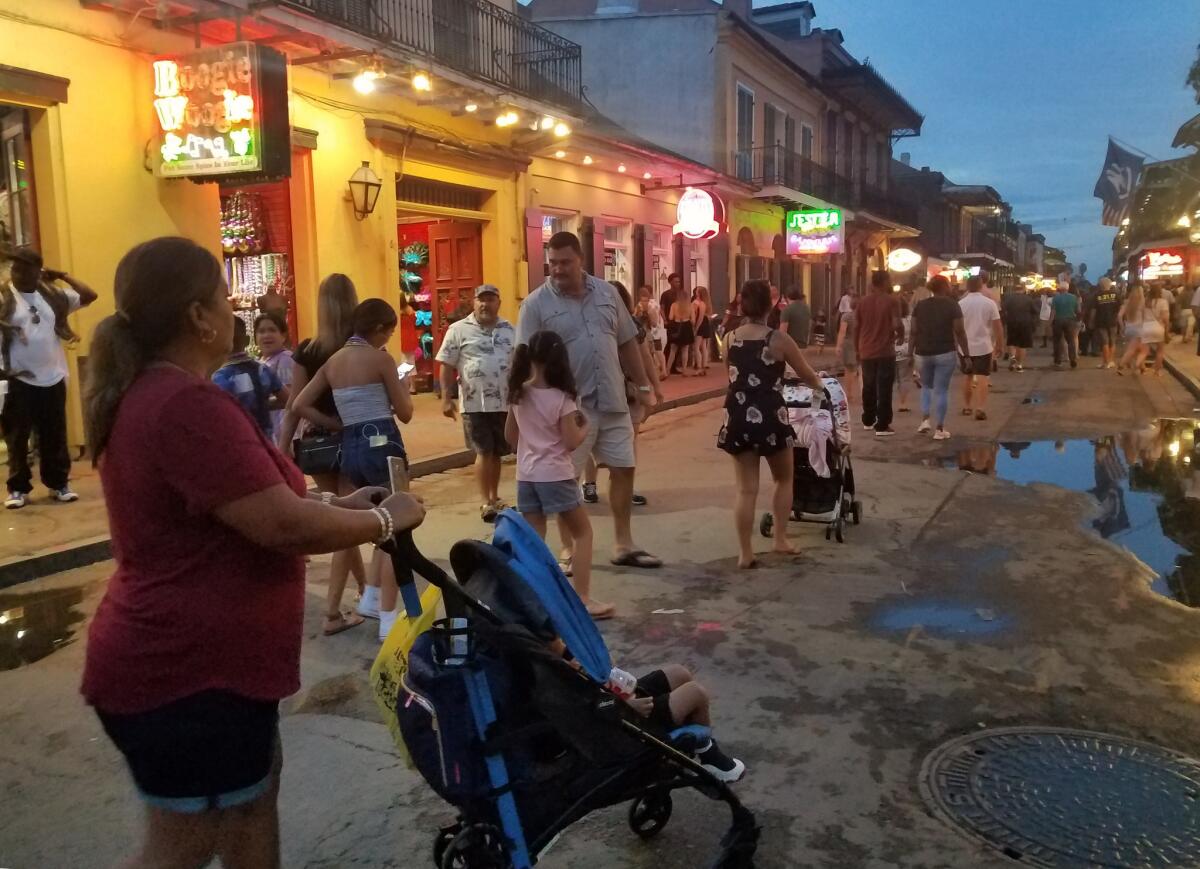 Nicholas Gernon, the commander of the police district that includes the quarter, credited the department's efforts to clamp down on illegal guns, the introduction of state troopers to patrol the area, and the creation of the French Quarter Task Force, a patrol that lets citizens report crimes and summon officers through a mobile app.
Day and night, officers parade up and down Bourbon Street on horseback and Segways.
The city has installed surveillance cameras along Bourbon Street and other areas this year as part of a $40-million public safety plan. Earlier this year several clubs were raided and cited for violations such as prostitution, lewd acts and drug sales, prompting hundreds of people to march through the quarter holding signs saying, "No new Bourbon Street" and "This is NOLA not Disneyland."
That's evident each morning when sanitation crews descend on the strip to sweep, haul and hose away a thick layer of party crud: plastic straws, Mardi Gras beads, vomit, chicken wings, feather boas, sandals, cigarette butts, lime wedges, giant plastic cups shaped as fishbowls, Red Bull cans, carrots, broken glass, pizza crust, orange peel and dollar bills.
Not that families aren't already visiting the French Quarter.
For many, Bourbon Street is just another stop between the aquarium and the insectarium, beignets and shrimp po' boys, a swamp tour and a paddle-wheel cruise.
"Nobody would come here if it wasn't a party," Alicia Allen, 67, said as she walked down Bourbon Street with her daughter after handing her three grandchildren — who were tired of walking — off to a relative.
As they crossed Bourbon Street, a man in a waistcoat and bow tie outside Stiletto's Cabaret beckoned them with a flourish of his cigar.
"It's family day at the cabaret!" he hollered in a sing-song voice. "Come on in!"
Almost any time of the day, parents can be seen pushing strollers and clutching toddlers as they pass throngs of bachelorettes in matching hot-pink wigs, drag queens tottering on stilettos, frat boys hollering "chug chug chug" and gutter punks holding signs saying, "Crack Don't Grow on Trees" and "Too Ugly To Prostitute Too Honest To Steal."
At dusk, the crowd got more giddy. A mother grinned as her preteen daughter danced in the middle of the street, waving her arms up at a balcony.
"Can you imagine letting your kids out in this?" a middle-aged woman drawled to her friend as they watched a pair of teenage girls giggle and snap selfies with a group of bare-chested boys playing drums on plastic buckets.
Many locals say that when it comes to making the quarter family friendly, the focus shouldn't be on tourists but on residents of the city.
A century ago, 20,000 families lived in the quarter. Today that figure is 3,300, and only 1 out of 70 residents is aged 14 or under. Many of the historic homes have been turned into condominiums and sold to outsiders as vacation properties.
"It's mostly an absent neighborhood," Louis Matassa, the 67-year-old owner of Matassa's Market, said as he walked outside his corner grocery store, founded in 1924 by his grandfather Giovanni, and surveyed the stretch of Dauphine Street he grew up on.
A block that once bustled with Sicilian and Filipino kids was still, except for a few retirees.
"Now it's all about the tourists," Matassa said. "The lieutenant governor might as well put a wall around the quarter and charge admission."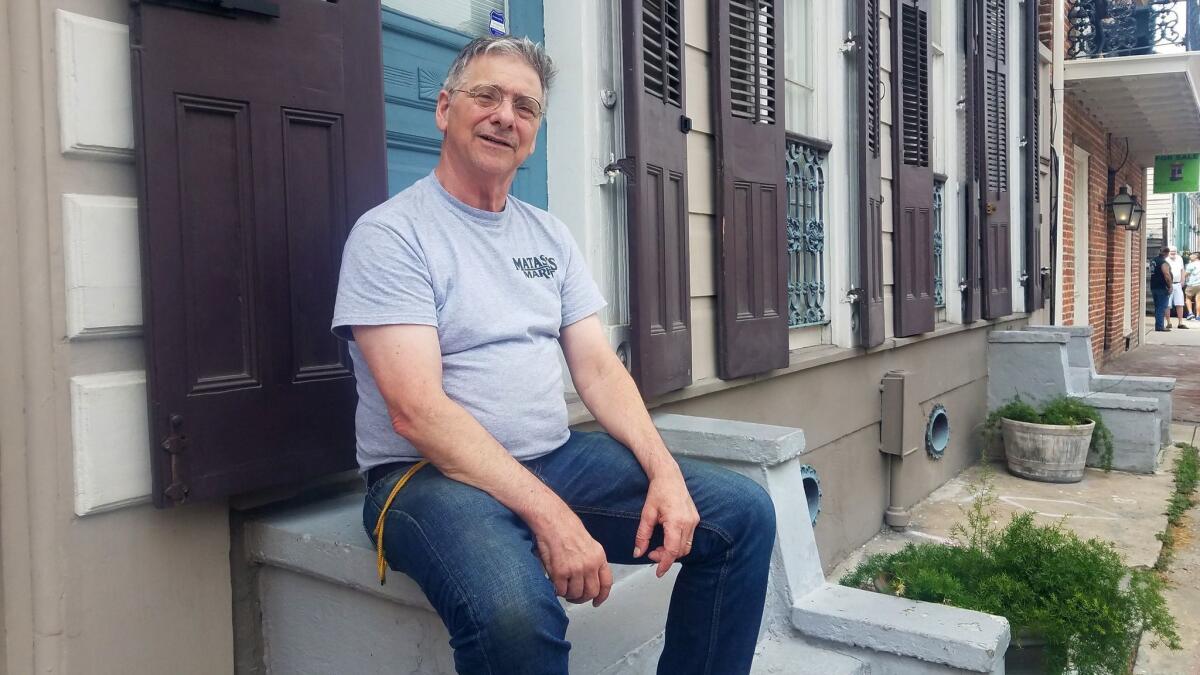 Sign up for Essential California for the L.A. Times biggest news, features and recommendations in your inbox six days a week.
You may occasionally receive promotional content from the Los Angeles Times.