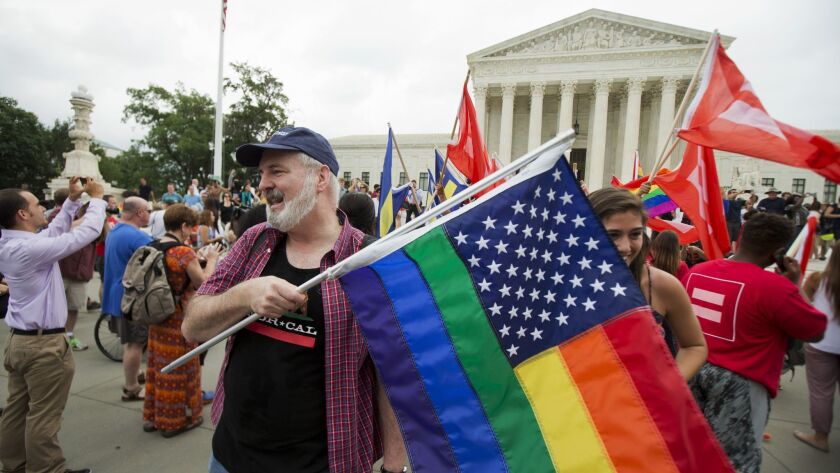 The U.S. Supreme Court went a long way toward settling the legal debate over same-sex marriage with a 2015 ruling that it was a fundamental right.
North Carolina apparently didn't get the memo.
This week, three conservative Republican state legislators there introduced a bill to ban people of the same sex from marrying one another in North Carolina.
Titled the "Uphold Historical Marriage Act," the bill argues that the Supreme Court ruling "exceeds the authority of the court relative to the decree of Almighty God" and that individual states should be allowed to make their own marriage laws.
It goes on to quote Genesis: "A man shall leave his father and his mother and hold fast to his wife, and they shall become one flesh."
Opponents of the legislation castigated it as an unnecessary step that will stoke division in a state still reeling from the fallout of a controversial bill regulating which bathrooms transgender people can use.
Democratic Gov. Roy Cooper criticized the bill on Twitter, labeling it "wrong" for North Carolina. "We need more LGBT protections, not fewer," he wrote.
North Carolina House Speaker Tim Moore, a Republican, released a statement Wednesday saying the bill would not receive a hearing this session.
"There are strong constitutional concerns with this legislation given that the U.S. Supreme Court has firmly ruled on the issue, therefore House Bill 780 will be referred to the House Rules Committee and will not be heard," it said.
Legal experts said the legislation didn't stand a chance.
"A city, town, state legislature can pass any law they like, but it has to be constitutional," said Karen O'Connor, a professor at American University who specializes in public policy and the Supreme Court. "This currently would not meet that bar."
Under the Constitution, federal law is the "supreme law of the land," she said.
Stephen Griffin, a professor of constitutional law at Tulane University, said the effort by North Carolina lawmakers was similar to tactics used in the 1950s and 1960s.
"This is reminiscent of the civil rights era, when Southern legislatures tried to defy the Supreme Court over the abolition of segregation," he said.
In 1957, three years after the Supreme Court's Brown vs. Board of Education ruling deemed separate public schools for blacks and whites to be unconstitutional, President Eisenhower had to send federal troops to Little Rock, Ark., to help desegregate Central High School.
North Carolina isn't the only place where legislators have sought to challenge the Supreme Court's 5-4 decision on same-sex marriage. Arkansas lawmakers floated a proposal last month to ban it, but gave up after strong resistance.
Nationwide, polls show support for same-sex marriage has increased in recent years. Even before the 2015 Supreme Court ruling, more than two dozen states allowed it.
Evangelical Christians have held out in opposition, with a 2016 poll by the Pew Research Center finding that 68% opposed it, while 27% were in support.
Rep. Larry Pittman, an evangelical from Concord, N.C., who is among the three sponsors of the same-sex marriage legislation introduced this week, could not be reached for comment. The message on his voice mail said: "Let Jesus be Lord of your life today."
The effort comes less than a month after North Carolina repealed House Bill 2, which banned transgender people from using the public bathrooms of their choice.
The 2016 bill led to a backlash from corporations, sports leagues and artists, who boycotted holding events in the state. Officials in Charlotte, the state's biggest city, estimated nearly $100 million was lost when the NBA moved its 2017 All-Star Game to New Orleans.
"North Carolina is not giving up on its discrimination against LGBTQ people," said Cathryn Oakley, senior legislative counsel at the Human Rights Campaign, a national group that advocates equal rights for the LGBTQ community. "Simply put: It's outrageous."
Twitter: @kurtisalee
ALSO
LGBTQ people now protected under Civil Rights Act, but some aren't OK with that
Arkansas prepares to execute 8 men in 11 days: Justice, or an 'assembly line of death'?
---