There aren't enough firefighters to fight all the Western wildfires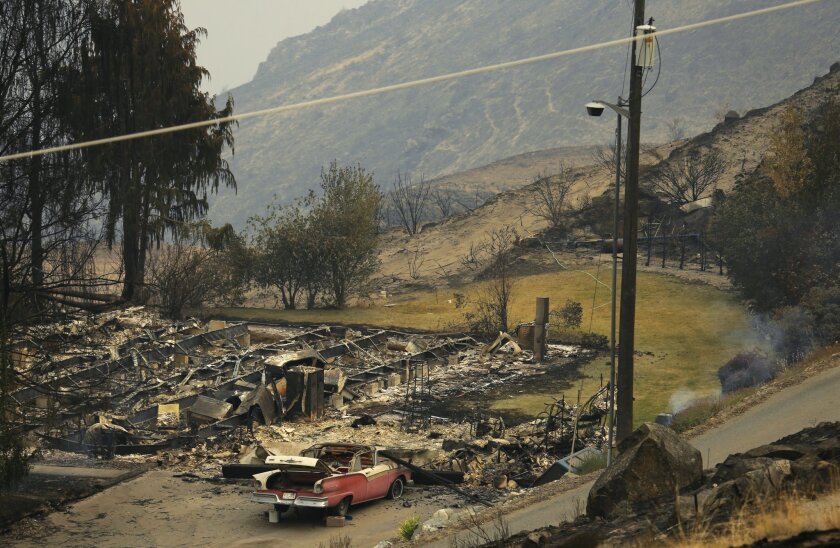 The wildfires torching the West have gotten so bad that the nation's military has stepped in.
For the first time since 2006, officials announced Tuesday that the Department of Defense would provide soldiers to help overextended fire crews battle wildfires that have collectively scorched 1.1 million acres in several states across the West.
"We're kind of stretched real thin right now," said Ken Frederick, a spokesman for the National Interagency Fire Center. Although the demand is not unprecedented, Frederick said, "the stage is set for [firefighter] accidents with all the people out and the number of hours they've been working."
Two hundred active military personnel from Joint Base Lewis-McChord in Washington have been selected to split up into 20-person fire crews, according to the National Interagency Fire Center.
The troops, selected from the Army's 17th Field Artillery Brigade, 7th Infantry Division, will have one day of classroom training and one to two days of field training before deploying to a fire on Sunday, officials said.
"We are committed to continuing to do everything we can to provide the firefighters, aircraft, engines and other wildfire suppression assets that Incident Commanders need to protect lives, property, and valuable natural and cultural resources to suppress the most challenging wildfires we've experienced in several years," Aitor Bidaburu, chair of the National Multiagency Coordinating Group, said in a statement.
Officials have not yet picked which fire the soldiers will fight, but they have plenty of options.
Interested in the stories shaping California? Sign up for the free Essential California newsletter >>
As of Tuesday, more than 100 large fires were burning across Oregon, Washington, Idaho, Montana, California, Nevada and Colorado as national fire officials stayed in their highest possible alert level, signaling that firefighting resources are near their limits.
"The last two weeks, the western United States, and generally the greater Northwest, has had multiple starts of new fires from lightning," said Frederick of the National Interagency Fire Center, blaming a combination of dried-out lands and hot, dry, windy weather.
"It's kind of the perfect storm of fire conditions," Frederick said.
Dozens of homes have been destroyed in a recent spate of lightning-sparked fires in Oregon and Washington, and help has been hard to come by.
"Typically when we have this number of fires, we can draw on folks around the nation, [but] the other geographic regions are also trying to draw on folks around the nation," said Koshare Eagle, a spokeswoman at the Northwest Coordination Center in Portland, which oversees fire efforts in Washington and Oregon.
One fire in rural Stevens County, Wash., that started last Friday destroyed 15 homes and 23 other structures, but with crews already battling other, much larger fires in the state, little help was available, Eagle said.
One area fire chief with a rural fire department put out a call for help to fight the Carpenter Road fire and "got nothing," said Stevens County District 1 Fire Chief Mike Bucy, who oversees a nearby district adjacent to Spokane. "Even my district, we already had units out on other fires. ... He pretty much got screwed."
A fire team arrived Monday night but has not yet set up command to battle the 5,170 acre Carpenter Road fire, which remained uncontained, said Eagle.
"One of the challenges they are facing on this particular fire is fatigue," Eagle said. "They've had firefighters out working day after day after day on initial and extended attack," which can potentially become a safety issue when firefighters get too tired.
"In some cases, the crews or engines have already been working 12 days, and if it takes a couple days of travel from where they are to where they are going … it has definitely stretched the resources available for fire," Eagle said. "Public and firefighter safety is the top priority. The challenge is we have so many fires where public safety is an issue."
Follow @MattDPearce for national news
ALSO:
Brush fire near San Luis Obispo grows to 2,000 acres as firefighters gain on 3 other blazes
370-acre Montebello blaze was rare brush fire in middle of urban area, officials say
---
Must-read stories from the L.A. Times
Get all the day's most vital news with our Today's Headlines newsletter, sent every weekday morning.
You may occasionally receive promotional content from the Los Angeles Times.