Here is where the Trump administration wants to expand offshore oil and gas drilling
President Trump has plans to expand offshore oil and gas drilling — big time.
On Thursday, the Trump administration released a proposal to open for exploration the largest expanse of the nation's offshore oil and natural gas reserves ever offered to global energy companies.
It includes, among others, large swaths of the Gulf of Mexico coast and much of coastal California.
"Responsibly developing our energy resources … in a safe and well-regulated way is important to our economy and energy security," U.S. Interior Secretary Ryan Zinke said in a statement. "Just like with mining, not all areas are appropriate for offshore drilling, and we will take that into consideration in the coming weeks."
Here are some of the proposed locations now up for discussion and review:
Gulf of Mexico
The proposal includes a dozen leases to companies looking to explore the Gulf of Mexico. For decades, oil and gas drilling have been well established in these waters. These leases would not be subject to congressional moratorium. These leases, if approved, would mark the first time a majority of the eastern edge of the Gulf of Mexico would be available for leasing since 1988, according to the Trump administration.
Alaska
The Trump administration is proposing 19 lease sales off the coast of Alaska — three in the Chukchi Sea, three in the Beaufort Sea, two in Cook Inlet and one sale each in 11 other program areas in Alaska. For years, drilling off the coasts of Alaska has ignited intense backlash from environmentalists angered that some of the nation's most pristine areas could be put at risk from an oil spill.
In December 2016, as he was preparing to leave the White House, President Obama withdrew leasing plans for the Arctic seas off Alaska. No sales are proposed in the North Aleutian Basin Planning Area that was placed under withdrawal by Obama in December 2014.
California / Pacific
The Trump administration is proposing seven lease sales in the Pacific — two each in Northern California, Central California and Southern California and one in the Washington/ Oregon area. There have been no new sales in the Pacific region since 1984.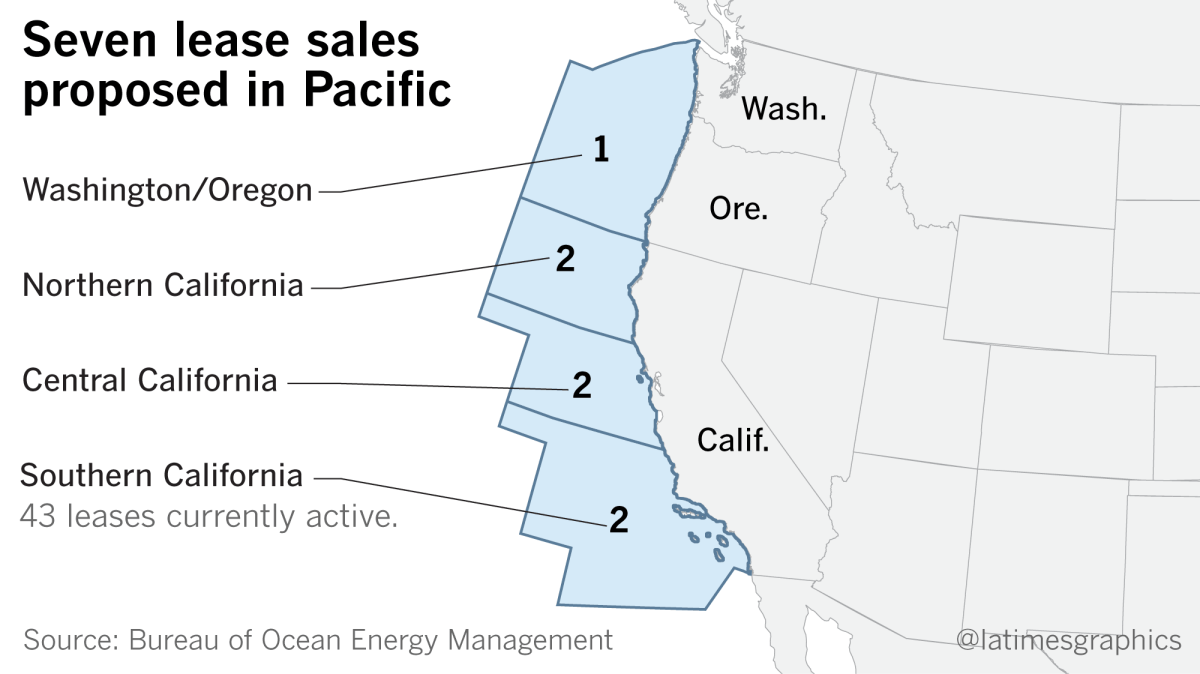 Atlantic
In the Atlantic, the administration is proposing nine lease sales — three in the middle Atlantic, three in the south, two in the north Atlantic and one off the Florida coast. This comes after the Obama administration in December 2016 rescinded drilling leases along the Atlantic coast. There have been no sales in the Atlantic since 1983, and there are no existing leases.
Must-read stories from the L.A. Times
Get the day's top news with our Today's Headlines newsletter, sent every weekday morning.
You may occasionally receive promotional content from the Los Angeles Times.