University of Oregon censures white professor for wearing blackface to Halloween party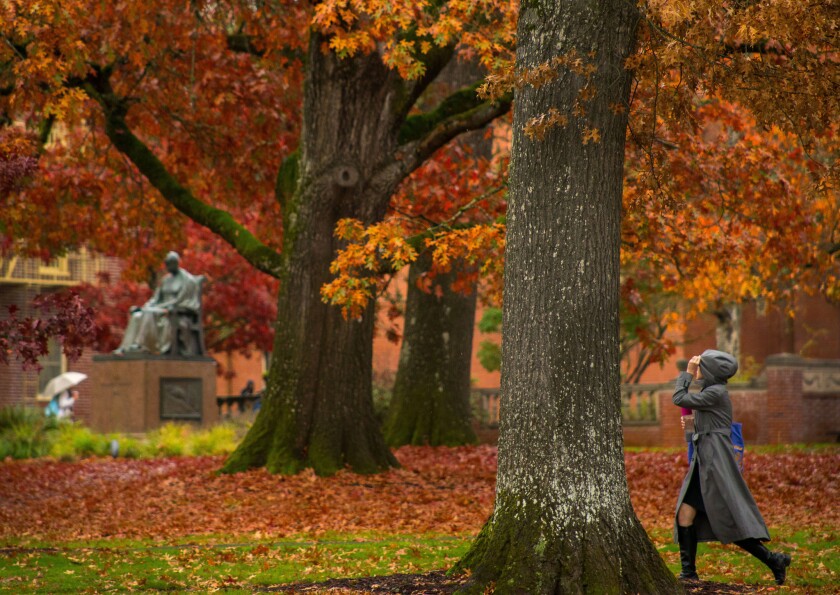 Reporting from Seattle —
A University of Oregon law professor and former chair of her department's diversity committee violated university anti-racial-harassment policies by wearing blackface at her Halloween party, an investigation has found.
The professor, Nancy Shurtz, a white woman, claimed she was portraying one of her favorite authors, a black man, and that she had been unfamiliar with the term "blackface."
Shurtz fought back Thursday, claiming the university's 29-page investigative report released this week was filled with errors and omissions in an attempt "to publicly shame me." In a statement, she said she had hired an attorney and noted that the university is legally prohibited from disclosing personnel matters.
An instructor at Oregon for 34 years, Shurtz entertained 25 guests, mostly law students and fellow instructors, at the Oct. 31 event in Eugene. She had announced the party in her classroom and said she would be dressed "as the title of a book."
The professor later said her costume was inspired by Damon Tweedy, the African American author of a bestselling memoir about conflicts of race and medicine, "Black Man in a White Coat."
Her costume included a white lab coat, stethoscope, black makeup on her face and hands, and a black Afro-style wig – although Tweedy is bald.
None of the guests confronted Shurtz about the makeup at the time, although many were stunned by it, according to investigators. Some found the sight "surreal" and others avoided "rooms where Shurtz was, declining participation in a group photo, and generally feeling like they could not say anything because they were in Shurtz's home," investigators say in the report released Wednesday.
After word spread, along with a viral photo of the costumed professor taken by an unidentified attendee, the incident sparked an uproar on campus, a public apology by Shurtz, embarrassing national headlines and some soul-searching by school officials. Students, educators and the public disagreed whether the professor's costume was a dumb mistake or offensive mockery.
Some agreed Shurtz was trying to show her support for Tweedy, as she insisted, while others felt she should be fired. An online petition urging her termination received about 1,200 signatures.
According to the investigation, done by a Portland law firm, interviews with Halloween partygoers "unanimously revealed that nobody told Shurtz during the event that her costume was inappropriate, that it was offensive, or that she should consider removing the black makeup. In addition, all those who were interviewed conveyed that Shurtz appeared to have worn the costume in earnest and that she did not seem to understand the ramifications of her costume."
In a statement, Oregon Provost Scott Coltrane said Shurtz's costume "forced our campus to face some very difficult truths about racism, ignorance, and the state of inclusivity on our campus. Her costume mimicked the historic stereotype of blackface, and caused offense to many who witnessed it."
Shurtz did not demonstrate "ill intent" in her choice of costume, Coltrane said, but her actions had a negative effect on the university's learning environment and constituted harassment under the school's anti-discrimination policies. Based on legal precedent, the law professor's "discriminatory harassment" outweighed constitutional free speech protections, he said.
The university said it would not release details of any disciplinary action taken against Shurtz, who has been on paid administrative leave and is now officially back at work — but has no current assignments — the school said.
The school's "press release and uncorrected Report act as a supremely public retaliation against me for seeking, even if clumsily, to raise issues of insufficient diversity in American professions," Shurtz said in her Thursday response. The report "ignored the anonymous grading process, the presence of many non-students as guests, and the deceptive emails that created a firestorm in the law school."
In her interview with university investigators, Shurtz said "she had absolutely no intention to offend or mock anyone," according to the report, "and that she wished emphatically that someone had said something to her, particularly given that she was in her home and would have easily been able to wash the makeup off or remove her costume."
She also "stated that she did not know the term 'blackface.'"
Anderson is a special correspondent.
ALSO
Failure to repeal 'bathroom bill' ensures North Carolina politics will remain deeply divided in 2017
The long and complicated road to understanding Jeff Sessions and matters of race
'It hasn't left me': How Black Lives Matter used performance to create unforgettable 2016 moments
---
Must-read stories from the L.A. Times
Get all the day's most vital news with our Today's Headlines newsletter, sent every weekday morning.
You may occasionally receive promotional content from the Los Angeles Times.