Rabbi prepares for funerals for seven people he knew and loved. 'I hope that God gives me divine inspiration.'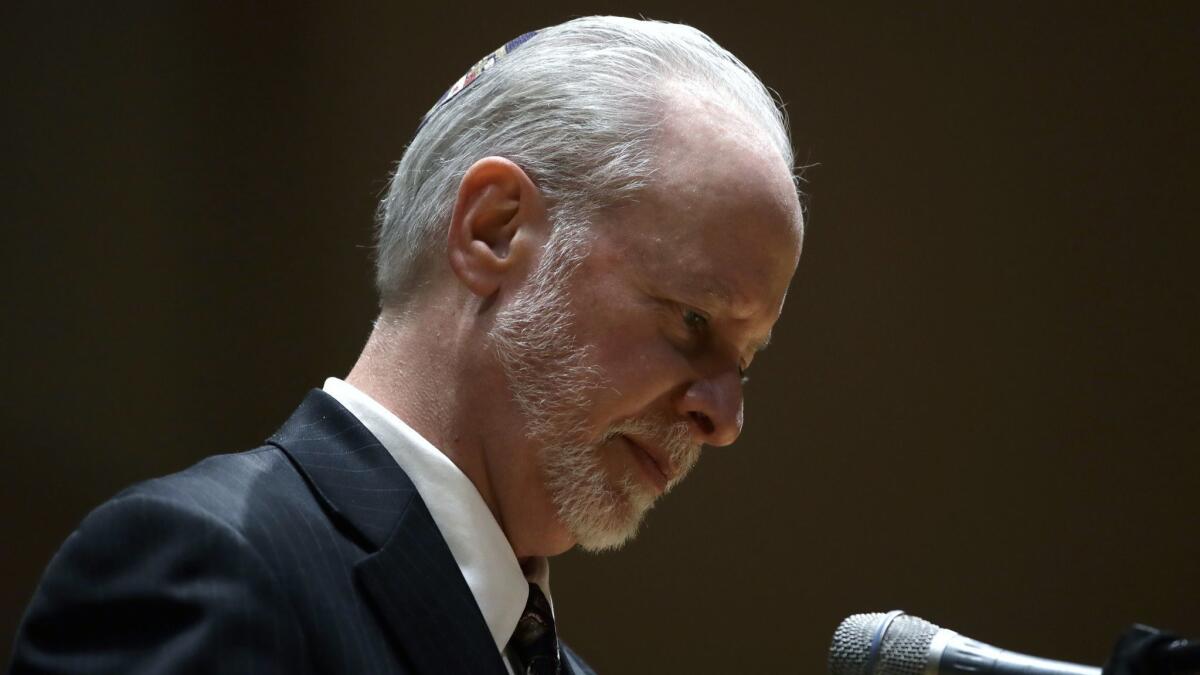 Reporting from Pittsburgh —
The rabbi didn't quite know how he was going to do it — though he knew he would have to find a way. Funerals for seven people he knew and loved. Tuesday would be the first: two brothers. He didn't yet know when the last service would be.
"I've never had this happen, so ..." his voice trailed off.
Rabbi Jeffrey Myers stood on the wet path outside the Soldiers and Sailors Hall Sunday night in Pittsburgh. It had just finished raining. The awfulness of what had happened at his synagogue had sunk in again. His spoke softly.
"This is a sort of different experience for any kind of clergy person to have to do something like this," Myers said.
Cecil and David Rosenthal's funeral would be first. The two brothers, 59 and 54 years old, were among the 11 shooting victims killed at the Tree of Life Synagogue Saturday. The youngest victim was David Rosenthal. The oldest was 97-year-old Rose Mallinger.
"They were good, sweet people," Myers said. "Not a bad bone in their bodies."
Myers had just spoken at a vigil so large, hundreds of people stood outside in the rain to honor the dead. Afterward, the rabbi was being tugged in several different directions. A television news reporter had him recount the moments during the shooting. He did. "This is just another example of hate in our country," he told the reporter.
A woman, crying, got a hug from him. There were handshakes. Lots of handshakes. He told a person he'd just met that he would be up early Monday morning — like always. He had a lot of work to do.
But for a few moments, he stood alone out in the dark awaiting another television interview. It wasn't his first time in the news. In July, he had lamented the "dizzying pace" of the nation's 24-hour news cycle that included a heavy dose of violence in a blog post titled "We Deserve Better."
The post got plenty of attention.
"Despite continuous calls for sensible gun control and mental health care, our elected leaders in Washington knew that it would fade away in time," Myers wrote. "Unless there is a dramatic turnaround in the midterm elections, I fear that the status quo will remain unchanged, and school shootings will resume. I shouldn't have to include in my daily morning prayers that God should watch over my wife and daughter, both teachers, and keep them safe. Where are our leaders?"
Myers came to Pittsburgh last year to lead the Tree of Life congregation, which is the Conservative synagogue in Squirrel Hill. The Rutgers University graduate holds a master's degree in Jewish education from the Jewish Theological Seminary, according to his bio on the synagogue's website.
Rodef Shalom Synagogue Rabbi Aaron Bisno remembered meeting him for the first time. They became friends easily.
"He's a really good soul and I think he feels things deeply," Bisno said. "He's also burying people that regularly attended Shabbat. These are people who are friends and the loss is deep and painful."
The loss hurt, Myers said. It was personally painful.
Myers said the two brothers were "the unofficial welcomers" at the synagogue. His eyes got moist as he talked about them outside the Soldiers and Sailors Hall. He managed a small smile when it was asked if the brothers had similar personalities, noting, "They were brothers, so they were different too."
His voice cracked a little.
"They loved everybody and everybody loved them," Myers said.
Bisno said he'd never faced a challenge like the one Myers had in front of him. The services for the brothers were going to be held at Rodef Shalom and were scheduled for noon.
Bisno cited a Hebrew idiom to make the point: "It asks, 'Mah la'sot?' And the answer is 'La'asot.' The translation is, ''What are you going to do?' The answer is to do it. There is no other option. And he will."
Myers said he will rely on his faith.
"How do you prepare?" he asked. "I hope that God gives me divine inspiration to figure that answer out. There is no written process — there can't be — because this isn't supposed to happen."
david.montero@latimes.com | Twitter: @davemontero
Sign up for Essential California for news, features and recommendations from the L.A. Times and beyond in your inbox six days a week.
You may occasionally receive promotional content from the Los Angeles Times.