Planned Parenthood head declares undercover videos a 'smear campaign'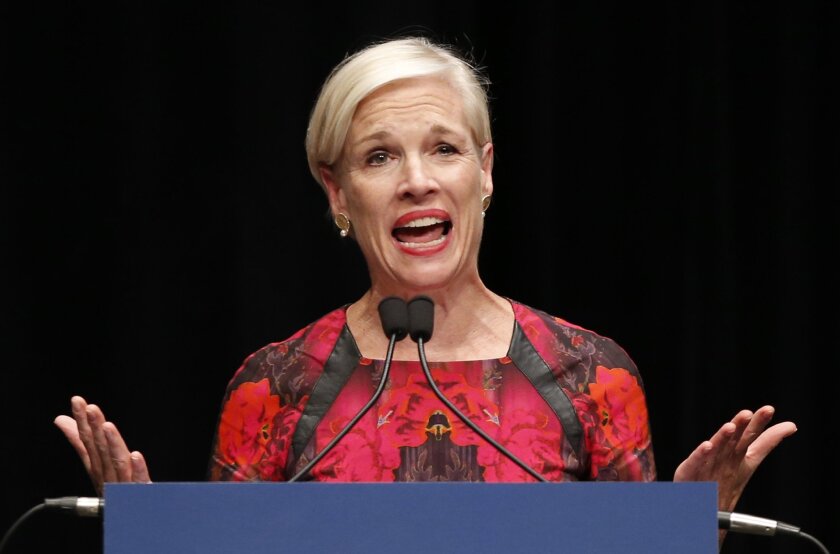 Planned Parenthood's leader vehemently denied any violation of laws involving fetal tissue, calling undercover videos recorded by a California-based group a "smear campaign" by "militant antiabortion activists."
In the videos, recorded by the Center for Medical Progress, Planned Parenthood officials are seen discussing the alleged sale of tissue from aborted fetuses.
"These tapes have been edited and they've tried to entrap doctors to say things," Cecile Richards, president of Planned Parenthood, said Sunday on ABC's "This Week." "I stand behind the healthcare that we provide at Planned Parenthood. Women trust Planned Parenthood."
The organization provides a variety of healthcare services, including cancer screenings, HIV tests and family counseling.
In the weeks since the videos' release, a political firestorm has erupted.
Several Republican presidential hopefuls have called for federal funding to be stripped from Planned Parenthood, and Democrats, such as California Atty. Gen. Kamala Harris, are reviewing the group behind the videos to see whether any state laws were violated.
One video shows Dr. Deborah Nucatola, a senior director of medical services for Planned Parenthood, discussing the process of donating tissue, which some clinics facilitate if the woman is willing.
She emphasized that the clinics do not profit from tissue donation, only that they charge a nominal fee for procuring it. But Nucatola's comments about how the tissue is obtained led Richards and other Planned Parenthood officials to apologize.
"You're just kind of cognizant of where you put your graspers, you try to intentionally go above and below the thorax, so that, you know, we've been very good at getting heart, lung, liver, because we know that, so I'm not gonna crush that part," Nucatola says in the video during a lunch meeting with members of the Center for Medical Progress, who were posing as buyers from a firm that procures tissue for medical research. "I'm going to basically crush below, I'm gonna crush above, and I'm gonna see if I can get it all intact."
Shortly after the first video emerged this month, Richards released a video apology for Nucatola's apparent lack of compassion, but stressed that the group has done nothing wrong.
Republicans, many of whom oppose abortion, have called for congressional hearings and state inquiries into Planned Parenthood's practices. Several states have announced investigations, including Louisiana, Arizona, Georgia and Texas.
Sen. Rand Paul of Kentucky introduced an amendment to the tax code that would prevent Planned Parenthood from receiving federal dollars.
"I think the time is now to discuss whether taxpayer dollars should be going to such a gruesome procedure," Paul, who is among a crowded field seeking the Republican presidential nomination, said Sunday on Fox News. "People are outraged by this and I think the American people deserve to have a vote on it."
Sen. Ted Cruz (R-Texas), one of Paul's rivals for the GOP presidential nomination, has called on lawmakers to investigate Planned Parenthood.
"There is no place for taxpayer funding of organizations that profit from taking away innocent life, much less profiting off the bodies of the lives they have stolen," Cruz said in a statement shortly after the first video's release.
Planned Parenthood receives about $500 million a year from the federal government to pay for healthcare services. Long-standing U.S. law prohibits any federal funding for abortion.
Congressional Democrats have called on U.S. Atty. Gen. Loretta Lynch to look into the Center for Medical Progress, which has an Irvine address. The center is run by David Daleiden, who previously was associated with the antiabortion group Live Action.
"This is a new low, even for antiabortion activists who will stop at nothing in their effort to undermine a woman's right to choose," Rep. Jan Schakowsky (D-Ill.) said in a letter she co-wrote with House colleagues to Lynch and Harris. "I believe the Center for Medical Progress may have broken the law in developing and executing this unbelievably elaborate and troubling scheme, and all Americans should have concerns about that."
Harris, a Democratic candidate for the U.S. Senate, responded that her office would "carefully review" the allegations to see whether any California statutes were violated.
Richards said Sunday that healthcare decisions should not be based on "highly sensationalized folks who are nothing but militant antiabortion extremists."
"This is part and parcel of a much longer campaign, over many decades," Richards said.
Daleiden could not immediately be reached for comment Sunday. He told CNN recently that Planned Parenthood's "only denial is that they make money off of baby parts."
"But that is a desperate lie that becomes more and more untenable as CMP reveals Planned Parenthood's business operations and statements that prove otherwise," he said.
Twitter: @kurtisalee
Times staff writer Lauren Raab contributed to this report.
NEWSLETTER: Get the day's top headlines from Times Editor Davan Maharaj >>
ALSO:
Bill Cosby team's PR move may be too late in court of public opinion
In Calexico, a former top LAPD official takes over a police force that had essentially ceased to function
In Alhambra, an Asian market replaces a Ralphs and stirs cultural anxiety
---
Must-read stories from the L.A. Times
Get the day's top news with our Today's Headlines newsletter, sent every weekday morning.
You may occasionally receive promotional content from the Los Angeles Times.