White House approves broad new powers — including use of deadly force — for U.S. troops on the border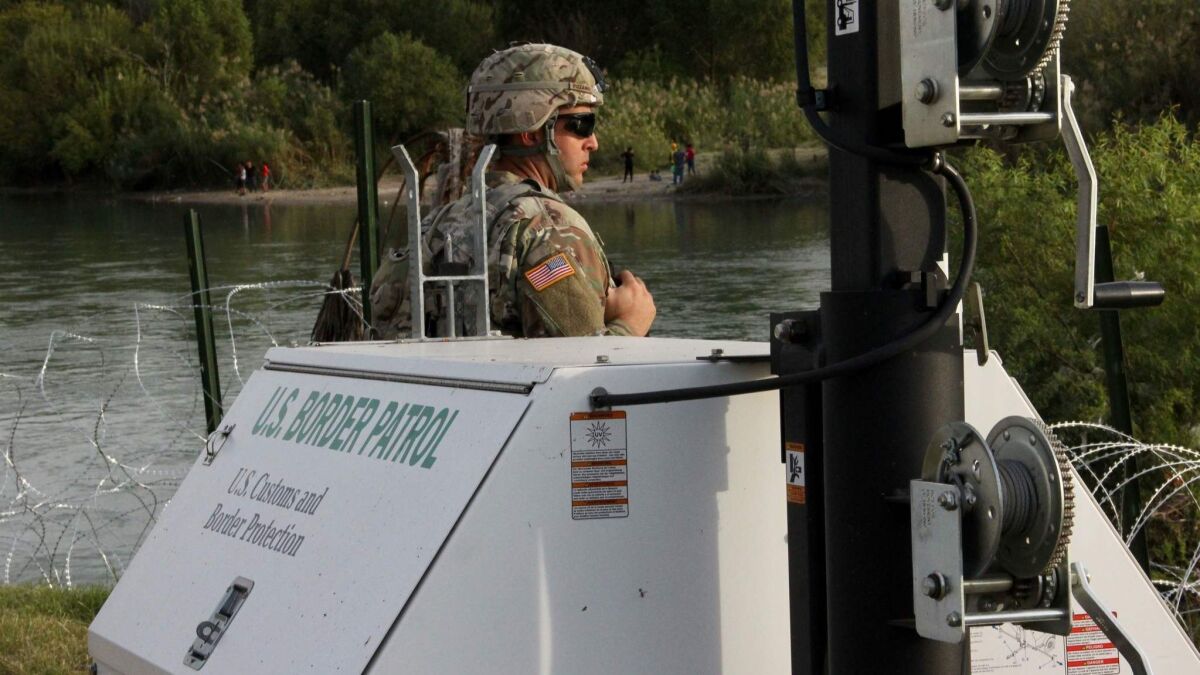 Reporting from Washington —
In a broad expansion of the controversial military mission along the southwest border, the White House has authorized extensive new powers for U.S. troops to potentially use against migrants, including searches, detentions, crowd control and, if necessary, deadly force.
A memo signed by White House Chief of Staff John F. Kelly authorized the 5,900 troops on the border to protect Border Patrol officers and other U.S. personnel. It could put U.S. soldiers or Marines in direct contact with migrants for the first time since President Trump rushed them to border posts in Arizona, Texas and California shortly before the Nov. 6 midterm election.
The four-page memo authorizes troops to conduct "crowd control, temporary detention and cursory search," as well as "a show or use of force (including lethal force where necessary) that are reasonably necessary to ensure the protection and safety of federal personnel."
Kelly signed the order late Tuesday. Trump left the White House earlier that day for a six-day holiday at his Mar-a-Lago resort in Florida, and the president spent Wednesday golfing.
Secretary of Defense James N. Mattis defended the unusual order in a hastily called news conference at the Pentagon. Kelly "has the authority to do what the president tells him to do," Mattis said. "He signed the memo out for the White House."
The Pentagon also authorized military medical personnel to conduct "medical screening" of migrants, a Defense official said, though that was done in a separate order.
Critics denounced the sharply expanded mission — and the atypical way it was authorized — as unwarranted and dangerous, saying the White House was using the Pentagon as a political prop to support the president's incendiary charges that caravans of migrants moving north through Mexico posed an imminent threat to U.S. security.
"It's not enough that President Trump asked American service members to spend Thanksgiving at the border in furtherance of a partisan agenda," said Michael Breen, president of Human Rights First. "Now the White House is upping the ante by authorizing those service members to use lethal force against refugees, migrants and others at the border.
"This legally dubious 'Cabinet order' creates confusion, undermines morale, and may very well lead to violence," Breen said.
The Truman National Security Project, a Washington public policy organization stocked with former Obama administration national security officials, called the White House order "illegal and unconstitutional" and called on Congress to block it.
"It is a long-standing policy and undisputed principle that the United States military cannot engage in law enforcement activity at home," the group said in a statement. "This policy cannot be allowed to stand."
The White House order is likely to spawn legal challenges from critics who contend that permitting troops to detain, search and use force against people on U.S. soil, even to protect government personnel, could violate a federal law known as the Posse Comitatus Act, which restricts the active-duty military in most cases from performing domestic law enforcement.
Mattis said that the troops' role along the border would be limited and that the new authority would be used only if the Border Patrol or other federal personnel were threatened by migrants. He also said the White House had not given troops authority to make arrests, although he did not address the difference between arrests and detention.
"There is no arrest authority under Posse Comitatus for the U.S. federal troops," Mattis said. "That can be done, but it has to be done in accordance with the law. That has not been done, nor has it been anticipated."
The Kelly memo, which was sent to Mattis and Secretary of Homeland Security Kirstjen Nielsen, specifies that troops "shall not, without further direction from [the president], conduct traditional civilian law enforcement activities, such as arrest, search and seizure."
The White House said the Justice Department had approved the memo.
Mattis played down the significance of the expanded mission. He said that the Department of Homeland Security, which includes U.S. Customs and Border Protection, had asked for the military to be given the broader authority — but had not yet asked for any armed troops to protect its personnel.
"There has been no call for any lethal force" from Homeland Security officials, Mattis said. "There is no armed element going in. I will determine [whether it's necessary] based on what DHS asks for and a mission analysis."
Mattis said that military police could be used for crowd control, but that they would be unarmed and carry shields and batons to assist the Border Patrol "if we had to back them up."
"We're not going to arrest or anything else. To stop someone from beating on someone and turn them over to someone else — this is minutes, not even hours, OK?" he said.
Until now, military police along the border have been among the only troops carrying weapons and have been restricted to protecting other troops.
The White House memo says that "credible evidence and intelligence" indicates that migrants heading to the Mexico border "may prompt incidents of violence and disorder that could threaten U.S. Customs and Border personnel and other United States government personnel performing the Federal functions necessary to secure and protect the integrity of the southern border."
Portions of the memo, which was not publicly released, were read to The Times.
In a statement, Hogan Gidley, the White House deputy press secretary, said Customs and Border Protection agents "willingly put themselves in extremely dangerous situations every day to protect Americans and their families. The president's authorization ensures the Department of Defense can step in to protect those who protect us."
Thousands of migrants have arrived in the Mexican cities of Tijuana and Mexicali and have clashed in recent days with Mexican protesters opposed to their presence. So far, there have been no attempts by the asylum seekers to rush the border en masse and no known violent clashes with U.S. Border Patrol officers.
Issuing a memo signed by the White House chief of staff, not the president, was an unusual method to direct the Pentagon to prepare for the broader mission. Pentagon officials have privately said for days that they expected Trump to sign an executive order, and it wasn't immediately clear why he handed off the responsibility to his aide.
New authority from the president was necessary to undertake the expanded security role, officials said. The Pentagon had turned down a broader mission, including potential use of deadly force, until now because its lawyers concluded they did not have legal authority under existing presidential orders.
Behind the scenes, Defense and Homeland Security officials engaged in extensive talks about widening the mission to include protecting Border Patrol officers, although they usually are armed and the threat to them does not appear severe.
Democrats in Congress and other critics of the border operation — including retired senior military officers — have accused Trump of exaggerating the threat on the border to rile up supporters before the midterm election. Trump has largely ceased talking about the issue since then.
Pentagon officials said early this week that most of the troops were wrapping up their mission to strengthen protections at border crossings, and some might soon return home. They are authorized to stay only until Dec. 15, although that could be extended.
Twitter: @davidcloudLAT
---
UPDATES:
2:30 p.m.: This story was updated with a White House statement.
This story was published at 1:30 p.m.
Must-read stories from the L.A. Times
Get the day's top news with our Today's Headlines newsletter, sent every weekday morning.
You may occasionally receive promotional content from the Los Angeles Times.