Justice Department official says the agency is changing how it approaches juvenile justice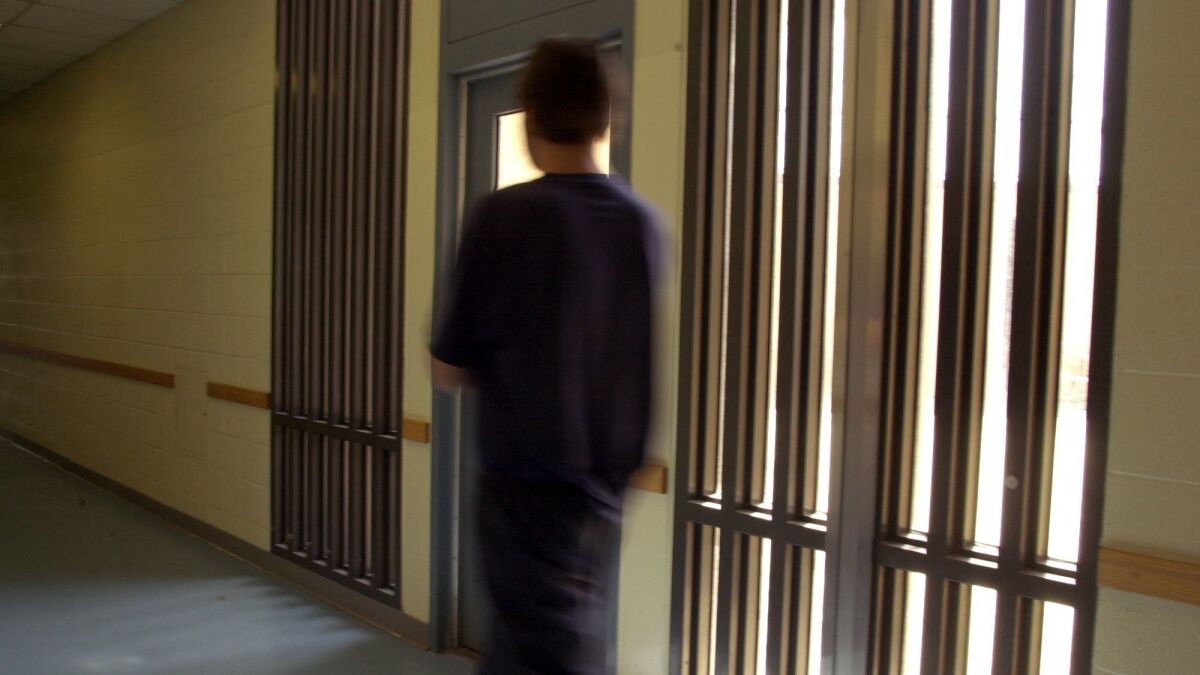 Reporting from Washington —
Although it is little known outside criminal justice circles, the Justice Department's Office of Juvenile Justice Delinquency and Prevention plays a key role in shaping national and local juvenile justice policies.
Caren Harp, a former prosecutor and public defender in Arkansas and a law professor at Liberty University, took over the office in early 2018.
She recently sat down for an hour-long interview to discuss her efforts to shift priorities in an office that administers more than $280 million in annual grants to states, localities and nonprofit organizations.
The following is a lightly edited transcript.
You are a former prosecutor. How does your experience inform the way you approach this job?
Juvenile justice and this office have kind of drifted into a very social-work kind of focus. They lost [the importance of] the rule of law, the interest of the victim and the protection of public safety. We lose touch with that as we begin to focus on just the kid in front of us, and that is what can't happen. It's a court system at the end of the day.
Congress last year reauthorized the Juvenile Justice and Delinquency Reform Act. It restricts the confinement of juveniles in adult facilities and requires states to better collect and analyze data on racial and ethnic disparities in juvenile justice systems, and to address such problems. How does it affect your agency?
The minimum allocation for [juvenile justice grants] to a state has been $400,000, with no ability to increase it. Now there is no upper limit to that. That is huge in our ability to change how we allocate money to the states.
Because some states are so grossly under-resourced, or the system is struggling and has lots of depressed communities and problems, they might really benefit from having an extra couple hundred thousand dollars. This act now gives our office the discretion to do this. That is significant.
How did the law strengthen protections for juvenile offenders?
It used to be that juveniles, once they were certified as adults, like a 16- or 17-year-old who is charged as an adult with armed robbery or a serious crime, they could be housed in the adult jail lock-up. This act now says you are not going to be able to do that anymore unless a judge rules it is in the interest of justice. This further restricts the ability to hold juveniles in adult facilities.
You have been criticized by advocates for reducing the amount of data your agency collects from states regarding the race and ethnicity of youth offenders, and for prioritizing public safety over racial equity. Does this law change the way you collect data?
For the 16 years prior to me being here, the national numbers [the rate minorities come in contact with the juvenile justice system] haven't moved. They just haven't. There haven't been any significant improvements.
The states were spending all their time collecting data and not doing anything to solve the problem. So we changed all that. We are asking them to come up with plans on how they propose to address [racial disparities] and their goals. A year later we are going to look at their numbers and see if [anything] moved.
How does it look nationally?
It depends on the jurisdiction. Aggregate numbers don't mean anything. It all comes down to the local jurisdiction. It's a local problem.
I think, depending on the jurisdiction, minority youth come into contact with the court system in numbers greater than you would expect to find [in terms of their representation in the population]. The question is why. There are so many reasons. It's just such a host of reasons, and it is different in each jurisdiction.
For one, the criminal conduct of youth. Why are they committing crimes? But then there are police policy and crime policy [decisions] that put [police] in areas with minority youth. Who knows? It's socioeconomic issues. It's race-neutral policies that have unintended consequences. Sometimes it's practices that can just be tweaked.
So what is your ultimate goal here?
We want states to have ownership of the problem and not see it as simply this is a federal thing, and feds are investigating it, and we are sending them all this data. That has kind of been how it is. That is not what it's about. These numbers are kids.
---
Must-read stories from the L.A. Times
Get the day's top news with our Today's Headlines newsletter, sent every weekday morning.
You may occasionally receive promotional content from the Los Angeles Times.