Trump heads to the home state of Sen. Jeff Flake, a vocal critic. But Flake isn't worried
Sen. Jeff Flake is among the most endangered Republicans running for reelection next year. But he's not exactly acting like it. (August 1, 2017) (Sign up for our free video newsletter here http://bit.ly/2n6VKPR)
Reporting from Gilbert, Ariz. —
For Arizona Sen. Jeff Flake, the political climate around him is far from ideal.
In recent days, the president, a fellow Republican, has taunted Flake on Twitter and even gone so far as to praise his rival in the state's Republican primary — a rare move in politics before Donald Trump came along.
But for a day at least, Flake ignored it all and let political bygones be bygones.
What did he think about Trump calling him toxic on Twitter, reporters asked Flake on Monday after speaking to a gathering of local business leaders?
"I don't worry about it at all," Flake said at an events center here in the suburbs east of Phoenix.
Is Trump right in offering aid and comfort to his primary challenger, former state Sen. Kelli Ward?
"That's not my realm. That's somebody else's. I just — I'm running my own campaign. It's going well. And what the president does, that's his prerogative," Flake said.
Flake's ability to blithely brush aside further insult may be sorely tested Tuesday, when the president swoops into Phoenix for a political rally that could offer more of Trump's caustic critique.
Throughout the 2016 presidential campaign, Flake, who did not vote for Trump, consistently condemned his rhetoric about Mexicans, Muslims and women. Last October, after a tape emerged in which the GOP nominee boasted about grabbing women's genitals, Flake was among those who called on Trump to withdraw from the race.
Since the inauguration, Flake has not stepped back.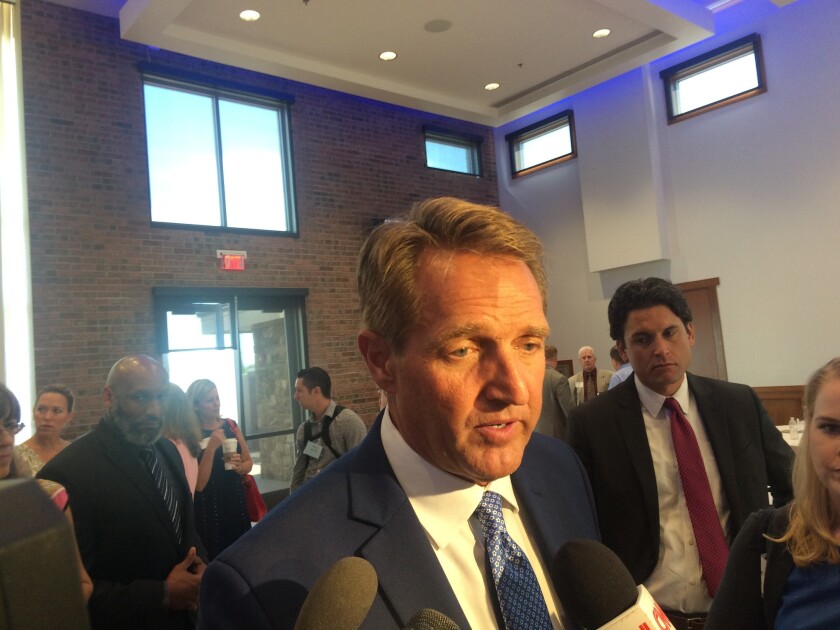 In May, after the president fired FBI Director James B. Comey, Flake said the president lacked "acceptable rationale" for the dismissal. This month, Flake released a book — "Conscience of a Conservative: A Rejection of Destructive Politics and a Return to Principle" — in which he criticized both the president and members of his own party for an "unnerving silence in the face of an erratic executive branch."
In recent days, as Trump has insisted that "both sides" were to blame for the bloody violence in Charlottesville, Va., between white supremacists and counter-protesters, Flake tweeted "we can't accept excuses for white supremacy & acts of domestic terrorism. We must condemn. Period."
Unlike Flake, his Republican colleagues have largely avoided direct criticism of Trump. While the president has low overall approval ratings, he still possess strong support from his GOP base. (In a recent Washington Post-ABC News poll, a majority of self-identified Republicans approve of Trump's response to the protests, while about 2 in 10 disapproved.)
Flake's pushback has drawn Trump's ire.
Last week, the president hinted at an endorsement of Ward, a provocative figure in the far-right movement who is challenging Flake.
"Great to see that Dr. Kelli Ward is running against Flake Jeff Flake, who is WEAK on borders, crime and a non-factor in Senate. He's toxic," Trump tweeted.
On Monday, Ward, a former Arizona state senator, released a digital advertisement centered on Flake's opposition to Trump.
"Arizonans deserve a conservative senator who shares our values and has a strong working relationship with the president to get things done that move our state forward," Ward said in the ad.
In Gilbert, Flake offered measured responses to questions from business owners about tax reform, energy and immigration.
A man who described himself as a local educator, stood and asked Flake a question he has grappled with when talking to his students: What — if anything — can be done about the lack of civility that seems amplified in today's politics? The question drew nods of approval from the buttoned-up crowd.
Flake paused, then thought back to June, when he and colleagues scrambled for cover as a gunman opened fire on a congressional baseball practice.
"Who could look out at a field of middle-age members of Congress playing baseball and see the enemy?" the Republican said to the business leaders. "We've got to come to a place where we don't look at other Americans as our enemies.… We have got to get away from calling our opponents 'losers' or 'clowns.' "
Brigette Peterson, a Gilbert city council member, attended Monday's event and said she was dismayed by some of the pushback the senator had shown toward Trump.
"I'm a Republican, we're all Republicans, and I just think the senator should give the president a little room," she said. "It's so early in his term and I do think everyone seems to be piling on Trump a bit."
But David Hull, who owns Sandcraft MotorSports, which sells parts for all-terrain vehicles and is based in Phoenix, said Flake was right in his criticisms.
"I voted for Trump, but some of this stuff he's been doing … I just think it's too much," Hull, 32, said. "He should put down Twitter.… There's a lot to be done."
Flake, who will be in southern Arizona when Trump arrives Tuesday, did not show any concern about the president's visit when he exited the event center into the 100-degree heat.
"He's coming to the state," he said as reporters shouted questions to him. "The president is always welcome in the state."
Twitter: @kurtisalee
ALSO
Here's why a growing number of states are pushing back against Trump's voter fraud commission
Trump and the Goldwater Rule: When is it OK to voice a professional opinion about the mental health of the president?
President Trump says the 'alt-left' was partly to blame for the violence at Charlottesville. Wait: What's the alt-left?
---
Must-read stories from the L.A. Times
Get the day's top news with our Today's Headlines newsletter, sent every weekday morning.
You may occasionally receive promotional content from the Los Angeles Times.