'Aloha also means goodbye': Trump leaves Hawaii amid cheers and protests ahead of Asia trip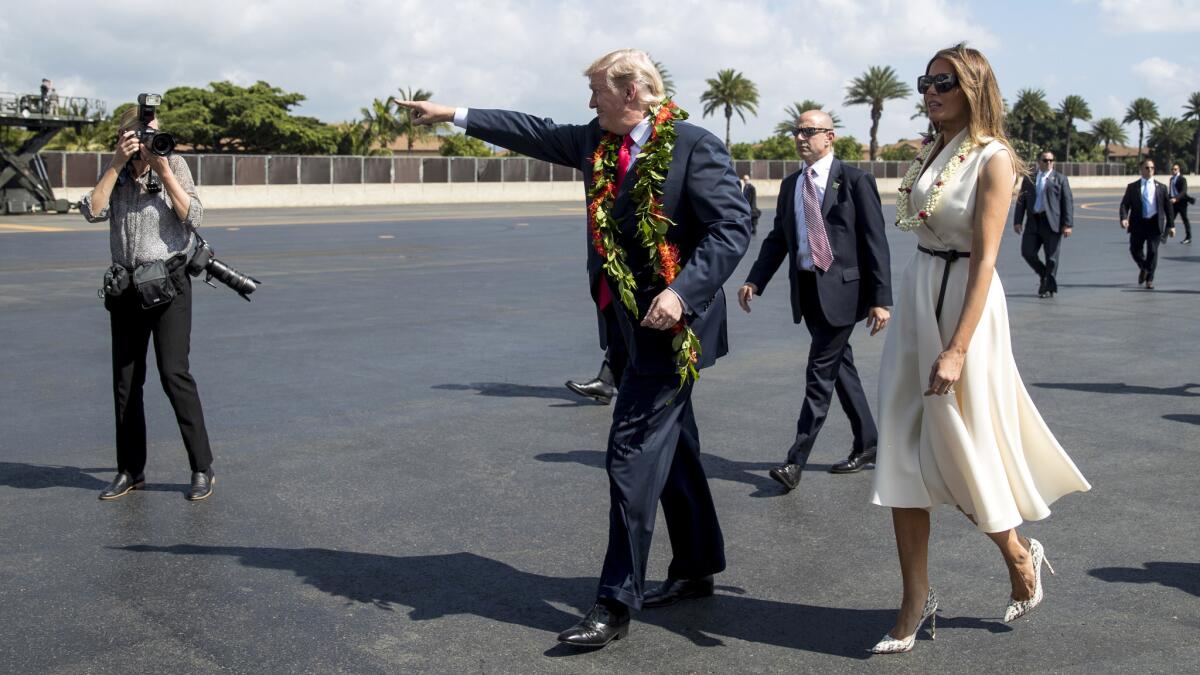 HONOLULU —
President Trump on Friday kicked off a nearly two-week Asia trip with a stop in Hawaii, visiting military and historic sites amid protests and growing concern over security threats in the state and U.S. Pacific territories.
The president, who was in Hawaii for the first time since his inauguration, appeared at times humbled and excited as he stopped for a briefing at Pacific Command, the U.S. military's headquarters for the Asia-Pacific region, and later toured the USS Arizona Memorial at Pearl Harbor.
Hawaii residents to Trump: "Wish you weren't here" »
The visit to a site honoring those killed in an attack that led the U.S. into a war in which it would drop nuclear bombs on Japan had new symbolism compared with previous presidential visits, due to the growing nuclear standoff with North Korea. Trump is expected to spend part of his five-nation tour in Asia honing security alliances as well as pushing U.S. economic ties. The president also met Friday with governors of U.S. states and territories in the Pacific to discuss the North Korean threat and local issues.
"I tell you, this is very special being in Hawaii," Trump said as he visited Pacific Command before traveling with First Lady Melania Trump to the Arizona memorial, where he took part in a wreath-laying ceremony. White House Chief of Staff Gen. John F. Kelly, national security advisor H.R. McMaster and Adm. Harry Harris of Pacific Command joined the president, who said it would be "exciting" to see Pearl Harbor.
"I've read about, spoken about, heard about, studied, but I haven't seen" the site, he said.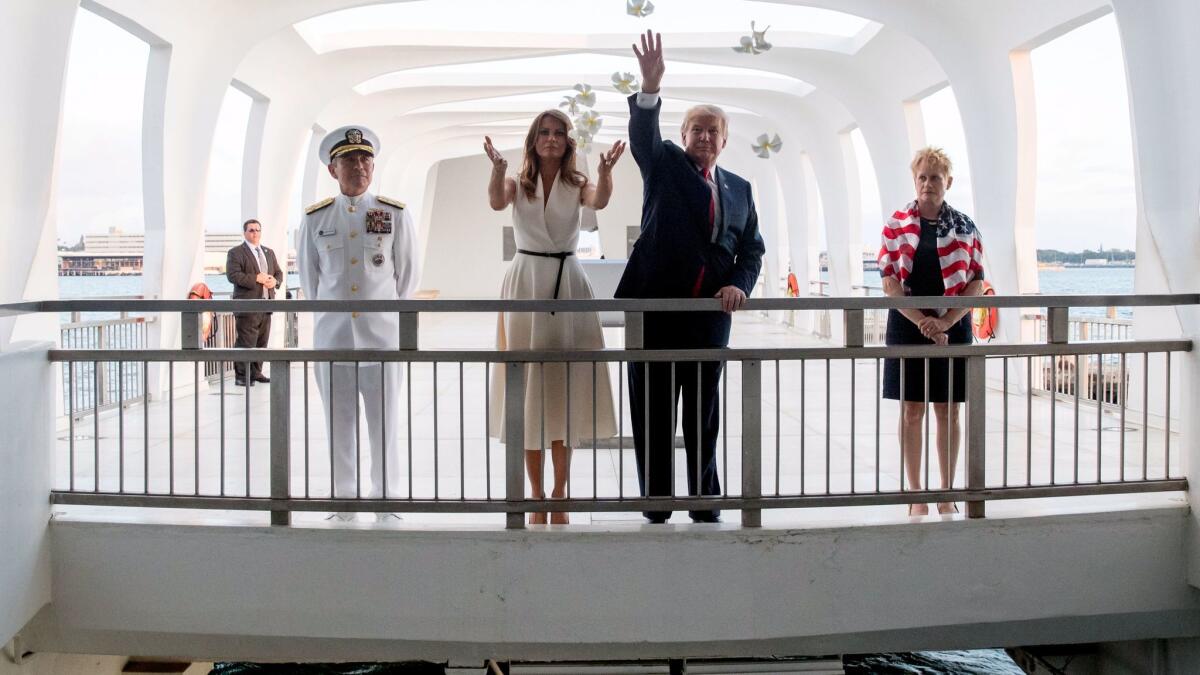 At the memorial, built above the Arizona's sunken hull, the president saluted as he entered and watched as sailors placed a wreath of white flowers near a wall bearing the names of those who died in the attack. Afterward, the couple threw white flower petals into the water outside. The president did not make a public statement at the ceremony.
About 100 supporters — a mix of military service members and civilians — cheered the president and first lady, who had been given traditional Hawaiian leis upon their afternoon arrival at Joint Base Pearl Harbor-Hickam. Trump supporters also gathered at the Ritz-Carlton hotel in tourist-heavy Waikiki, where the overnight presidential visit closed streets and snarled traffic before an expected early-morning departure.
The biggest crowds were the hundreds who protested the presidential visit in the state where Trump received the lowest electoral support, with only 30% of votes. The largest group gathered in front of the state Capitol, where demonstrators banged drums and chanted against Trump's travel ban — which a Honolulu-based federal judge struck down for the third time last month. Others held posters mocking Trump's years-long contention that former President Obama was not born in Hawaii.
"Welcome to Kenya" and "No, Trump, HI is Obama's birthplace," some of the signs read. "Aloha also means goodbye" and "So bad you make Bush look good," said others.
Kaniela Ing, a Democrat from the state's House of Representatives, was among the protesters.
"The idea of the aloha spirit is that we welcome everyone who comes here. But when there's a leader whose whole M.O. seems to be making America a less welcoming place for whole groups of people, that's where we need to draw the line," said Ing, a 28-year-old Native Hawaiian. "He's simply not welcome."
Honolulu resident Joe Dallin held a poster showing the president's name in a nuclear bomb's mushroom cloud.
"This is life or death in many ways. We're scared he'll provoke nuclear war, and we're out here living in the Pacific," said Dallin, a 44-year-old massage therapist.
Across the street, Edward Odquina, 42, was among about a dozen people who showed up to support the president. He wore a "Make America great again" red hat and held a sign with the slogan as he gave military salutes to cars passing by.
He said he came out to show that, even in liberal Hawaii, Trump has fans. "I like what he's doing to support the troops," Odquina said.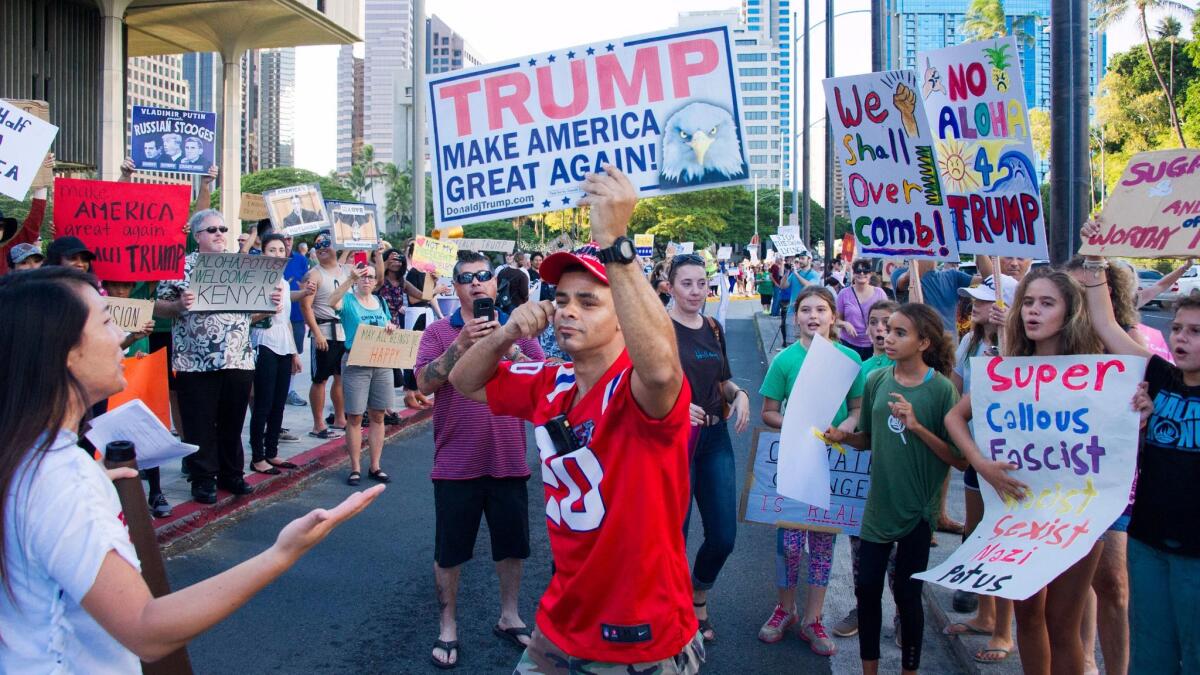 Trump's schedule Friday included face time with the governors of Hawaii, Alaska, Guam, American Samoa and the Commonwealth of the Northern Mariana Islands. The governors spoke to the president about local concerns, such as a federally funded rapid transit project under construction in Honolulu and complaints from the Guam leaders that the federal government is hurting the island's economy by restricting HB-2 visas for foreigners to work there. Alaska Gov. Bill Walker, who flew with Trump to Hawaii, said he would also join the president in Beijing to pitch an Alaska gas pipeline project to Asian investors.
The governors also discussed nuclear threats with the president. North Korean officials have said their nation could bomb Guam, and Trump has suggested that the U.S. may attack North Korea.
Tensions have grown in Hawaii, which next month will start testing a statewide bomb warning system that hasn't been used since the Cold War. Emergency preparedness officials in the state are holding seminars for residents in case North Korea develops the capability to hit the islands with nuclear missiles.
"We always look for the opportunity to engage the president. As you know, the people of island nations always have unique and different challenges," said Hawaii Gov. David Ige, a Democrat, before his meeting with the president.
"The people of Hawaii are safe.… We have a very good defensive team," he said.
Before his flight Saturday morning for Japan, Trump made a quick trip to the Trump International Hotel Waikiki. The hotel is branded with his name but the Trump family does not own it.
"The President stopped by the Trump Hotel on his way to the airport. It has been a tremendously successful project and he wanted to say hello and thank you to the employees for all their hard work," White House Press Secretary Sarah Huckabee Sanders said in a statement.
In Japan, Trump is scheduled to meet with Prime Minister Shinzo Abe and attend state events before traveling to South Korea, China, Vietnam and the Philippines. In Asia, the president will join meetings with the Asia-Pacific Economic Cooperation Economic Leaders group and the Assn. of Southeast Asian Nations.
Jaweed Kaleem is The Times' national race and justice correspondent. Follow him on Twitter, Facebook and Instagram.
---
UPDATES:
5:50 p.m., Nov. 4: This article was updated with details on Trump's meeting with governors from U.S. states and territories, the president's visit to the Trump hotel in Waikiki, and his departure for Japan.
10:15 p.m., Nov. 3: This article was updated with details of Trump's visits to military and historic sites and quotes from locals demonstrating in support of and against the president.
This article was originally published at 4:35 p.m., Nov. 3.
Sign up for Essential California for the L.A. Times biggest news, features and recommendations in your inbox six days a week.
You may occasionally receive promotional content from the Los Angeles Times.