Trump did 'nothing wrong' to warrant impeachment, Sen. Lindsey Graham says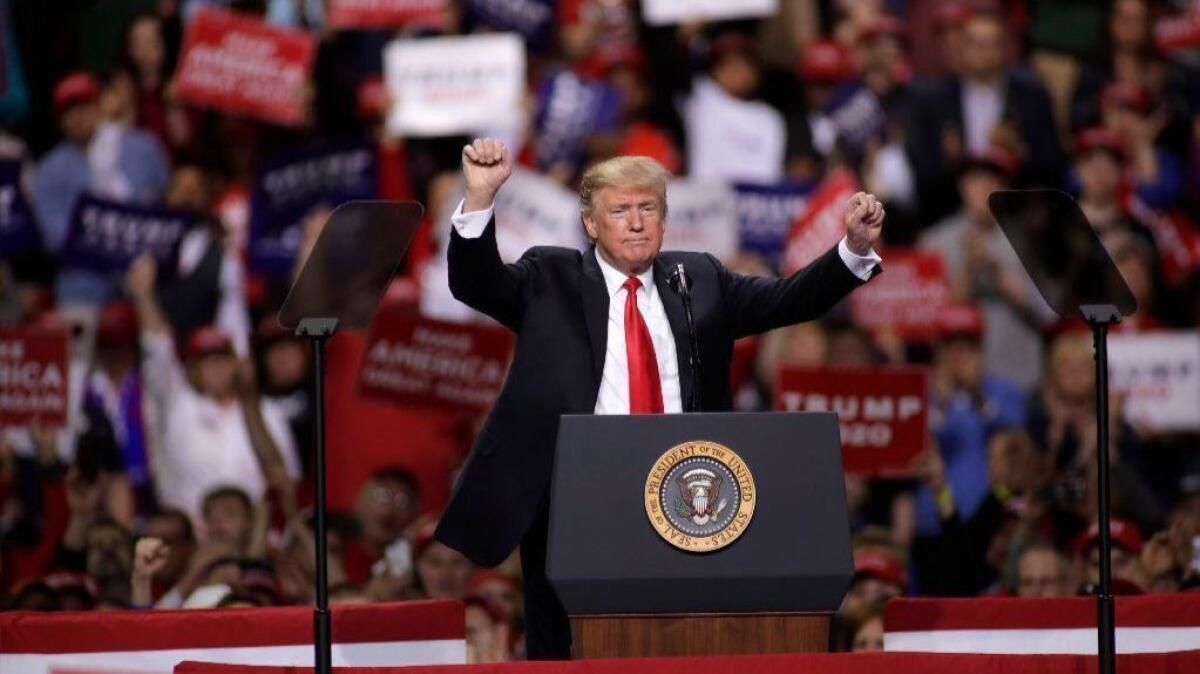 Reporting from Washington —
The Republican chairman of the Senate Judiciary Committee said Sunday that President Trump did "nothing wrong" to warrant impeachment and removal from office, pushing back at Democrats who want the House to consider proceedings.
Sen. Lindsey Graham of South Carolina, a stalwart Trump defender, had strongly advocated for impeachment of President Clinton in 1998 in the wake of an independent counsel report. The House approved articles of impeachment but the Senate did not convict.
Graham argued on CBS' "Face the Nation" that unlike Clinton, Trump had fully cooperated with the special counsel Robert S. Mueller III's investigation into Russian interference into the 2016 presidential election.
"What President Trump did here was completely cooperate in an investigation, a million documents, let everybody that the special counsel wanted to talk to be interviewed," he said, although Trump refused to be interviewed by Mueller.
"I believe the president did nothing wrong," Graham added.
According to the special counsel report, Trump twice directed Donald McGahn, then the White House counsel, to fire Mueller but McGahn ignored the instructions. Trump has disputed McGahn's account.
Graham appeared to lay out a different Republican strategy for questions about McGahn, essentially saying that Trump's efforts to fire Mueller did not amount to obstruction of justice because the special counsel kept his job.
"I don't care what happened" between Trump and McGahn, Graham said. "Here's what I care about. Did Mueller - was Mueller allowed to do his job? And the answer is yes."
Crimes often are prosecuted based on intent and behavior, not on whether they ultimately succeed.
A growing chorus of congressional Democrats say Mueller's report documents obstruction of justice by the president, even if few are ready to call for impeaching him.
"To me it looks like obstruction," Sen. Amy Klobuchar, a former prosecutor and presidential hopeful who sits on the Judiciary Committee, said on NBC's "Meet the Press."
But the Minnesota Democrat said there are "many ways" to hold Trump accountable, including congressional investigations already in progress.
Klobuchar said "the president is already stonewalling" by saying he would fight subpoenas issued by the Democratic-controlled House in connection with several investigations.
The White House offered fresh indications it might seek to block McGahn's testimony to lawmakers. Senior counselor Kellyanne Conway, interviewed on CNN's "State of the Union," said "executive privilege is always an option."
Legal experts have said invoking executive privilege to stop McGahn from speaking to Congress was undercut when the White House permitted McGahn to speak to Mueller for 30 hours under oath.
Conway argued the opposite — that McGahn's testimony, as recounted in the report, should be sufficient without him repeating it publicly. "This is just presidential harassment," she said.
Former acting attorney general Sally Yates, who was fired by Trump early in his tenure, said she has "personally prosecuted obstruction cases on far, far less evidence" than Mueller has collected.
Speaking on "Meet the Press," Yates said that if Trump were not president, "he would likely be indicted on obstruction." In his report, Mueller indicated that he had adhered to a Justice Department opinion that sitting presidents cannot be indicted.
Twitter: @laurakingLAT
Sign up for Essential California for the L.A. Times biggest news, features and recommendations in your inbox six days a week.
You may occasionally receive promotional content from the Los Angeles Times.