Heading into Putin meeting, Trump again bashes allies and avoids election-meddling issue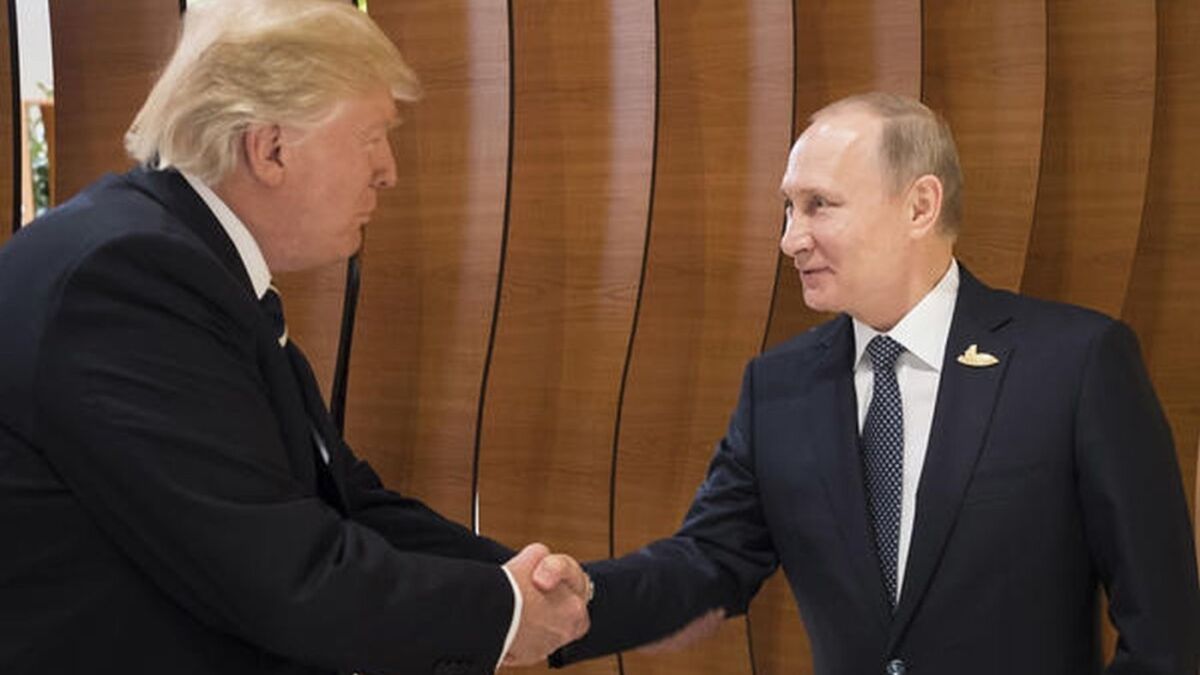 Reporting from Washington —
National security advisor John Bolton said Sunday that President Trump would raise the question of Russian interference in the 2016 election when he meets with Vladimir Putin later this month, even as Trump himself sidestepped a question as to whether he would do so.
Looking ahead to a Trump-Putin encounter, Bolton also brushed aside questions as to whether Trump had been too eager to accept the word of Kim Jong Un when he met with the North Korean leader last month, seeking to quell North Korea's nuclear ambitions. Trump tweeted after that encounter that there no longer was a nuclear threat from North Korea, an assessment that many diplomatic and nuclear experts dispute.
Interviewed on CBS, Bolton touted a U.S. timeline that he said called for the dismantling of North Korea's nuclear and ballistics programs within a year. But the national security advisor declined comment on a Washington Post report citing intelligence officials as saying in the wake of the Trump-Kim talks that North Korea had sought to mislead the United States about the size of its nuclear arsenal and hide the existence of some nuclear facilities.
In a separate interview on "Fox News Sunday," Bolton offered a testy assessment of critics who have questioned the president's negotiating style with foreign leaders — including a disastrous encounter with other members of the Group of 7 in May — as off-the-cuff, impulsive and ill-informed, with a tendency to flatter authoritarian figures while slapping down longtime U.S. friends.
"I don't think anybody ought to have a case of the vapors over discussions we have in NATO or the G-7, versus discussions we have with Putin or Kim Jong Un," Bolton said. "They're very, very different — the president treats them differently. He understands what the strategic interests are, and that's what he's trying to pursue."
Less than two weeks before a NATO summit in Brussels, Trump again struck a combative tone Sunday toward traditional U.S. allies, issuing a spate of fresh warnings on trade and declaring that "we spend a fortune on NATO." Speaking to Fox interviewer Maria Bartiromo, he also renewed criticism of the European Union, calling the bloc "possibly as bad as China" on trade.
In the interview, Trump was asked whether he would press Putin about meddling in the election, but he declined to answer, instead raising questions about the Democratic National Committee and the FBI investigation of Hillary Clinton's emails. Bartiromo did not return to the subject.
Bolton said on CBS that he himself had asked Putin about election meddling when he met the Russian leader last week. The national security advisor, who was previously known as a Russia hawk, made a distinction between Putin's previous flat denial of any Russian involvement, saying that this time, the Russian leader had limited his disavowal to any state interference in the 2016 U.S. presidential vote, implying that other actors were involved.
When interviewer Margaret Brennan expressed skepticism that a concerted campaign to aid Trump would have been done without Putin's knowledge and approval, Bolton said the notion was "worth pursuing — I'm sure the president will want to pursue it."
In fact, Trump has long preferred to avoid the issue and frequently has tried to cast doubt on whether Russia interfered at all, despite the conclusion of U.S. intelligence agencies. Special Counsel Robert S. Mueller III is probing whether Trump campaign officials participated in the Russian interference.
At least one senior Republican, Lindsey Graham of South Carolina, said Trump needed to press Putin forcefully on the election-interference question. The president has repeatedly suggested that he believes Putin's denials.
"I'm concerned when the president tweets, you know, 'Russia denies they meddled in our election,' " Graham said on NBC's "Meet the Press," adding: "When they say they didn't meddle, they're lying. So I'm glad the president is going to confront Putin. Show him the evidence you've got, Mr. President, because it's overwhelming."
But Trump appeared more interested in denying any coordination between his campaign and Russia. In his Fox interview, the president again railed against the Mueller investigation, saying it played into Moscow's hands.
"I don't like that because it's bad for the country," Trump told Bartiromo. "You know, if Russia is in fact looking to sow discord or chaos, they've got to be saying, 'This is the greatest thing we've ever done.' "
Trump also caused a stir last week when he appeared to open the door to recognizing Russia's 2014 annexation of the Crimean peninsula. Bolton, without directly addressing the president's comment, said that was "not the position of the United States."
Trump, who is spending the weekend at his golf resort in Bedminster, N.J., also predicted swift approval for the Supreme Court nominee he says he will unveil a week from Monday to replace Justice Anthony M. Kennedy, who announced his retirement last week.
Trump's opportunity to shape the balance of power on the court has led to intense speculation about the fate of the landmark 1973 Roe vs. Wade decision on abortion.
"I think it's going to go very quickly. I think we're going to have a lot of support," he said. "I'm going to pick the right person."
On Sunday, Sen. Susan Collins (R-Maine), a moderate Republican whose vote on the Supreme Court nominee will be key, said she would not support a prospective justice who pledged to overturn Roe vs. Wade.
"A candidate for this important position who would overturn Roe vs. Wade would not be acceptable to me because that would indicate an activist agenda that I don't want to see a judge have, and that would indicate to me a failure to respect precedent," said Collins, interviewed on ABC's "This Week."
But Collins appeared to leave open the possibility of supporting a court candidate who had been circumspect in his or her views about the ruling, though she said she would seek to find whether they considered Roe vs. Wade to be a matter of settled law.
Trump told Fox he would "probably" not ask a potential nominee directly for views on the case, though he would only put forth a conservative contender.
"I don't think I'm going to be so specific in the questions I'll be asking," the president said. "And I'm actually told that I shouldn't be."
Reproductive rights are not the only contentious issue surrounding the nomination. Sen. Maria Cantwell (D-Wash.), said on NBC that she also was concerned about high court cases potentially brought into play by the Mueller probe.
"Is the president able to pardon himself?" Cantwell asked. "I'm interested in hearing … if the president is under indictment, what is that nominee going to do about that?"
Trump has clearly signaled that he will use the court nomination outcome, together with polarizing issues like immigration, to keep his base fired up in advance of the November midterm elections. On Saturday, nationwide rallies were held to decry his harsh immigration policies and the failure to effect the promised reunions of parents and children separated at the Mexican border at the administration's behest.
In the Fox interview, Trump appeared to warn political opponents not to challenge his most ardent supporters.
"There's probably never been a base in the history of politics in this country like my base," he said. "I hope the other side realizes that they better just take it easy — they better just take it easy."
---
Must-read stories from the L.A. Times
Get the day's top news with our Today's Headlines newsletter, sent every weekday morning.
You may occasionally receive promotional content from the Los Angeles Times.