Twitter finds 201 accounts linked to Russian efforts to influence the 2016 election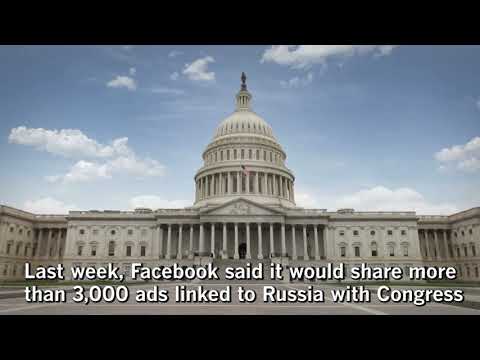 Twitter said it found 201 accounts linked to Russian interference in the 2016 election. (Sept. 29, 2017)
Reporting from Washington —
Twitter said Thursday that it had found around 200 accounts linked to Russian interference in the 2016 election, a further sign that Moscow secretly employed multiple social media platforms to influence American voters.
The company said in a statement that 22 accounts were closed after they were found to be linked to separate Facebook pages previously shown to have spread Russian-bought ads during the presidential campaign that focused mostly on social issues such as race, guns and immigration.
An additional 179 Twitter accounts were "related or linked" to the Facebook pages, Twitter said, adding that it closed "the ones we found in violation of our rules."
Twitter's disclosures, a week after a similar statement by Facebook, came in response to growing criticism of the company from members of Congress for not providing details about how Moscow might have used their platforms, ostensibly to help Donald Trump and harm his opponent, Hillary Clinton.
Company executives on Thursday briefed members and staff of the House and Senate intelligence committees on their findings in a closed-door meeting. But several Democratic lawmakers said the company's presentation left many questions unanswered.
Sen. Mark Warner (D-Va.), the top Democrat on the Senate Intelligence Committee, was even more critical, calling Twitter's disclosures "deeply disappointing" and "frankly inadequate on almost every level."
Twitter has remained mostly silent in public until now about Russia's use of its site. Like Facebook, the company revealed few details about the content of the tweets linked to Russia.
Rep. Adam Schiff (D-Burbank) said much of the information Twitter provided on Russian-linked accounts was derived from Facebook's analysis and did not address whether the tweets were targeted to particular voters in an effort to sway their choice for president.
"It is clear that Twitter has significant forensic work to do to understand the depth and breadth of Russian activity during the campaign," he said in an interview.
"Additional analysis will require a far more robust investigation into how Russian actors used their platform as a part of their active measures campaign and whether any of the targeting on Twitter suggests the possibility of assistance or collusion with any U.S. persons," Schiff said.
"Twitter's probably more important than we know," said Rep. Jackie Speier (D-Hillsborough), another member of the House committee. Compared with Facebook, "they've been, frankly, less cooperative so far."
In a statement, Twitter said it "deeply respects the integrity of the election process, which is a cornerstone for all democracies."
It said the company is "in dialogue" with congressional committees investigating Russian interference in the U.S. campaign. "This is an ongoing process and we will continue to collaborate with investigators," it said.
Use of social media was part of a broad effort by the Kremlin to influence the presidential election, U.S. intelligence agencies said in a January report. It concluded that Russian President Vladimir Putin had ordered the campaign to help Trump and to damage Clinton.
Since the election, tweets from Russia have continued to promote divisive subjects, according to the Alliance for Securing Democracy, an initiative of the German Marshall Fund, a Washington think tank.
Its monitoring of 600 Twitter accounts linked to Russia showed that 25% of the stories promoted by those accounts in the last week had a strong anti-American theme and about 15% criticized Clinton.
Like Facebook, Twitter has given its information to special counsel Robert S. Mueller III, who is leading a criminal investigation into whether any of Trump's aides coordinated with Russian authorities during or after the campaign. Trump has denied any collusion.
Executives from Twitter, Facebook and Google, another major internet advertising platform, were asked to testify in public before the Senate Intelligence Committee on Nov. 1. The House committee is planning its own public hearing, possibly next month.
The three companies haven't yet said if they will accept the invitations to testify in public.
Unlike Facebook, Twitter does not require users to submit personal information to set up an account. Company executives told lawmakers that made it harder to trace who was using the platform and their links to Moscow.
Twitter also said that Russia Today, a Kremlin-funded television and internet outlet that distributes content in the U.S. and other countries, had bought advertisements on Twitter targeted to U.S. consumers in 2016.
Three RT accounts, @RT_com, @RT_America, and @ActualidadRT, spent $274,100 to buy ads on Twitter, the company said.
The money was used to promote 1,823 tweets, "directed at followers of mainstream media," the company said.
Facebook is providing the House and Senate intelligence committees with copies of more than 3,000 ads linked to Russia that were purchased by 470 fake accounts traced back to the Internet Research Agency, a Russian firm known for using troll accounts to post on news sites.
Most of the ads did not name Trump or Clinton but a portion were geographically targeted, Facebook has said.
Many lawmakers have expressed concerns about the proliferation of anonymous "bots" on Twitter and their potential to spread misinformation.
Twitter vowed to strengthen its defense against spam, especially interference from foreign sources. But with hundreds of millions of users, "scaling these efforts continues to be a challenge," the company said.
Russia and other countries that were once part of the Soviet Union "have been a primary source of automated and spammy content on Twitter for many years," the company added.
To read the article in Spanish, click here
Twitter: @davidcloudLAT
Sign up for Essential California for the L.A. Times biggest news, features and recommendations in your inbox six days a week.
You may occasionally receive promotional content from the Los Angeles Times.