Heather Nauert's nomination to U.N. post reflects Trump's value of loyalty over experience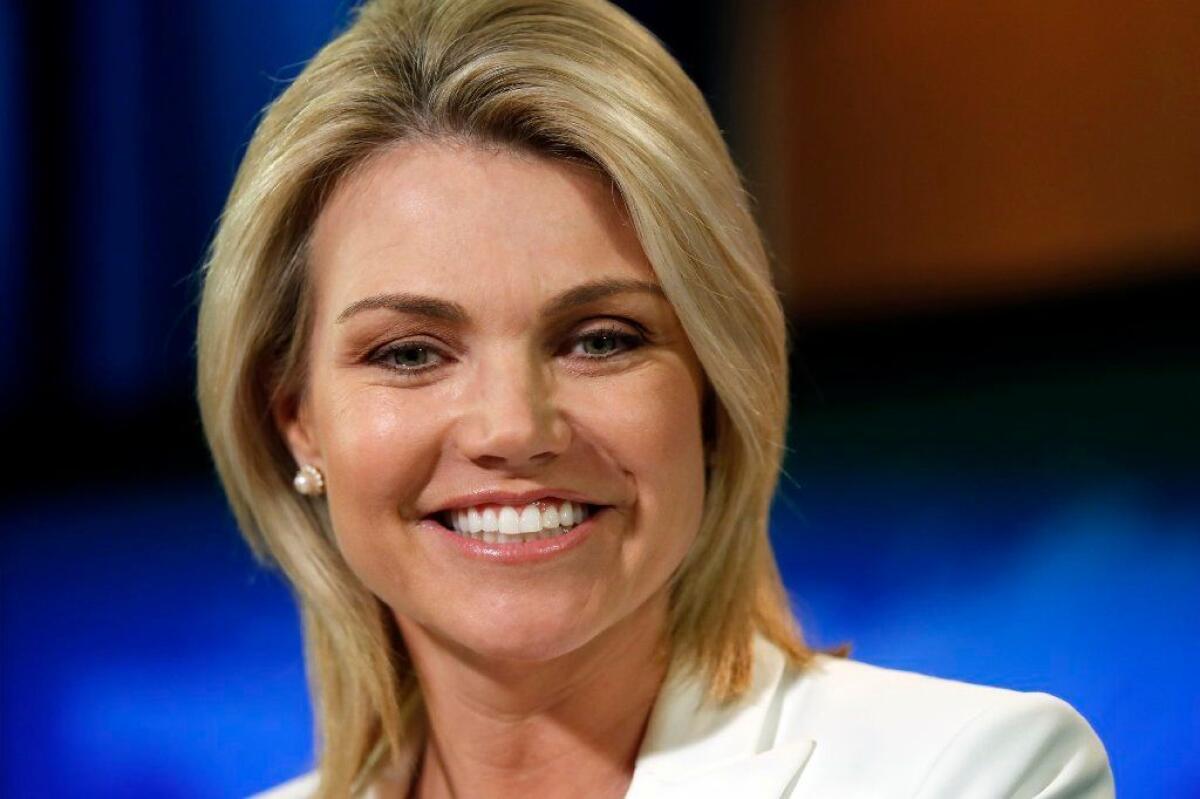 Reporting from Washington —
In her first year as the State Department spokeswoman, where she arrived fresh from Fox News, Heather Nauert was not always privy to the inner circles of diplomatic power. Then-Secretary of State Rex Tillerson did not trust her, viewing her as someone loyal first and foremost to the White House, not the foreign service.
Those loyalties eventually paid handsomely for Nauert. When President Trump fired Tillerson in March and replaced him with close ally Michael R. Pompeo, her star rose. She came to occupy the No. 4 slot at State.
And on Friday, Trump said he was nominating Nauert to replace Nikki Haley as U.S. ambassador to the United Nations.
Nauert, 48, brings no previous foreign policy experience to the job, a post held in the past by august statesmen, seasoned diplomats, former governors, scholars and even a former Supreme Court justice.
Her nomination reflects Trump's homage to loyalty over experience or qualifications.
It also underscores the administration's decision to downgrade the post from the Cabinet-level position Haley enjoyed.
Trump openly disdains multilateral organizations like the U.N., a sentiment echoed by his two senior-most foreign policy advisors, Pompeo and national security advisor John Bolton. Pompeo, in a speech earlier this week, questioned the relevance of the U.N.; Bolton, himself a former ambassador to the world body, once said it could be leveled and no one would notice.
For Trump, Nauert brings poise, telegenic visage and smooth communication skills — all traits he values. She will likely never stray from Trump's positions, as Haley on occasion did, nor show much independence.
"She's very talented, very smart, very quick and I think she'll be respected by all," Trump said Friday at the White House in announcing her nomination. When he first raised her name last month, Trump said Nauert was "excellent."
"She's been with us a long time. She's been a supporter a long time," Trump said.
Nauert, whose husband and two young sons remained in New York when she went to the State Department in Washington, will rejoin her family when she goes to work at U.N. headquarters in Manhattan if confirmed by the Senate.
She has shown herself to be fiercely protective of Pompeo, seeking to prevent even anodyne statements from being disseminated unless she can approve them. A former anchor on Fox News' "Fox & Friends" who did a stint at ABC News, Nauert is known to scold journalists who report stories she does not like or deems unfair.
In contrast to the months with Tillerson, Nauert is frequently at Pompeo's side and has accompanied him on trips to North Korea and Mexico City.
Nauert is able to seamlessly discuss Trump administration viewpoints even when they fly in the face of longstanding U.S. policy.
From the State Department podium where she conducts fewer and fewer news briefings these days, Nauert has refused to endorse a two-state solution between Israel and Palestinians, a shift from previous administrations. She often deflects grilling on touchy topics, such as the U.S.-backed Saudi air war in Yemen, by calling on reporters she can count on for predictable softball questions.
Reaction among lawmakers, who will have to confirm Nauert in the job, was mixed, largely along party lines. Sen. Lindsey Graham (R-S.C.) said she was a "fine, capable and effective" spokeswoman who enjoys the confidence of Trump and Pompeo.
But Rep. Gregory Meeks (D-N.Y.) sharply criticized the nomination, saying Nauert did not have the "chops" to serve in such a critical diplomatic position.
"We are living in serious times, and with all that is happening across the world, Nauert's experience as a TV personality in no way prepares her for the diplomatically sensitive work that is required of that position," Meeks, who is a member of the House Foreign Affairs Committee, said in a statement.
"The ambassador of the U.N. will have to navigate complicated relationships, many that have only grown increasingly fraught under the Trump administration," Meeks added. "The next U.N. ambassador must be prepared to stand up for our values on the world stage, and appointing someone with Nauert's background sends a poor message to nations around the world about the seriousness with which the U.S. conducts foreign policy. "
Peter Yeo, senior vice president of the U.N. Foundation, an advocacy organization that supports U.N.-U.S. work, said the proposed downgrading of the position will pose a challenge for Nauert. But he said she has the advantage of familiarity with a wide range of issues gained as the department spokeswoman. And because of her closeness to Trump and Pompeo, world diplomats will know she speaks with authority, he said.
She will be an effective communicator defending Trump positions, several experts said, but will not necessarily be skilled in building consensus or marshaling votes for U.N. resolutions.
"She has not done the day-in, day-out policy negotiations; that hasn't been in her wheelhouse," Yeo said. "Time will tell how good she is at those complex negotiations."
He said he hoped Nauert, like Haley, would forge a close working relationship with U.N. Secretary-General Antonio Guterres and avoid a "slash-and-burn" approach to U.N. financing and missions that some in the administration favor.
Haley, a rising Republican star and former South Carolina governor, surprised many in October when she announced she would leave the post at the end of the year.
For more on international affairs, follow @TracyKWilkinson on Twitter
Sign up for Essential California for the L.A. Times biggest news, features and recommendations in your inbox six days a week.
You may occasionally receive promotional content from the Los Angeles Times.