U.S. hosts Middle East peace conference in Poland, but Palestinians are a no-show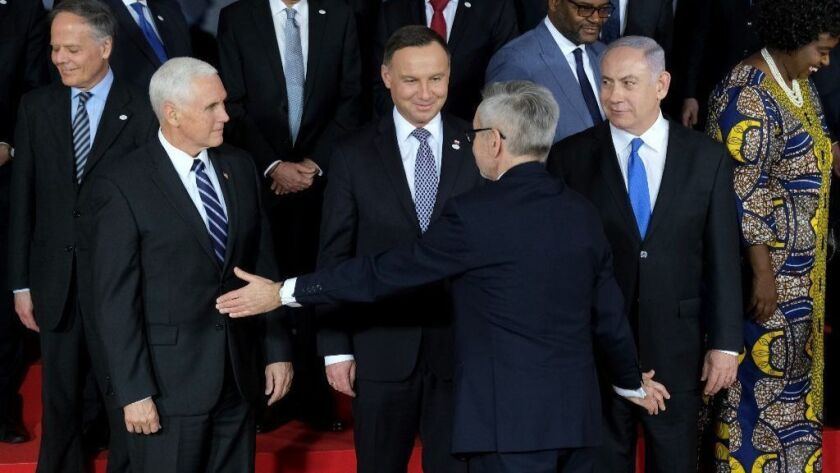 Reporting from Washington —
The United States on Wednesday opened a highly promoted international conference on peace in the Middle East, but some central players, the Palestinians, were a no-show.
Representatives of about 60 countries, including several Arab states, planned to attend, but a number of European nations sent low-level delegations to protest U.S. policy. The conference in Warsaw was to focus not only on dim prospects for Israeli-Palestinian peace but also on Iran, which the Trump administration regards as the primary force for destabilization in the Middle East.
President Trump and his advisors are seen in many parts of the world as being excessively pro-Israel and isolationist, undermining Washington's credibility as a broker of Middle East peace.
Declaring that "Palestine won't play Trump's game, in Warsaw or anywhere," Palestinian Authority official Nabil Shaath said negotiations were impossible given the administration's refusal to embrace the principle of Palestinian nationhood and its decision to move the U.S. Embassy from Tel Aviv to Jerusalem, where Israel and the Palestinians have conflicting claims.
"The Trump Team aims to use this conference as an event to push for their vision for Israel and Palestine, one that, based on the steps they have taken, is certainly not about peacemaking," Shaath wrote in the Israeli newspaper Haaretz on Wednesday.
Palestinian leaders have refused to meet with American negotiators since the embassy move in May.
In Warsaw, the U.S. side was well-represented, reflecting the administration's stake in the event. Vice President Mike Pence and Secretary of State Michael R. Pompeo led a delegation that also included Trump's top advisors on Middle East peace: his son-in-law, Jared Kushner, and special envoy Jason Greenblatt.
Also attending was Israeli Prime Minister Benjamin Netanyahu, who stunned attendees by announcing in a tweet that he was sitting down with leaders of Arab states to discuss their "common interest" in combating Iran. Few Arab leaders can acknowledge sitting down with an Israeli official to discuss anything, much less war on a regional power. Netanyahu's tweet used the phrase "war" with Iran — bellicose language even by his standards — and his office later changed it to "combating."
Netanyahu is hoping conferences like this one will help to burnish his diplomatic credentials ahead of a tough April 9 election battle.
The presence of Kushner and Greenblatt, who are charged with drafting what Trump once said would become the "deal of the century," ending the the Israeli-Palestinian conflict, raised speculation that the team might be prepared to release some details. They were scheduled to brief delegates behind closed doors Thursday. The draft has been kept under wraps, its release repeatedly delayed, though some broad outlines are known.
Kushner failed to win support from Saudi Arabia last year when he began shopping the plan around the Persian Gulf region. The Trump strategy relies on major Arab states, especially in the gulf, relaxing their historical hostility toward Israel and putting pressure on the Palestinians to compromise.
But as Kushner learned, even the friendly Saudis will go only so far; a failure to award the Palestinians with any piece of Jerusalem, as the first draft reportedly did, drew a veto from Saudi King Salman. Since then, Kushner and Greenblatt have been adjusting the plan.
Yousef Munayyer, a political analyst in Washington who heads the U.S. Campaign for Palestinian Rights, said Palestinian skepticism about the Warsaw conference, which is co-hosted by Poland, ran deep.
The conference, he said, "is going to be a show, to send a message to the Palestinians that you have to get with the program or you're going to miss out."
In addition to the Palestinians, Russia and China were not attending the Warsaw conference. Nor, unsurprisingly, was Iran.
Initially, the Trump administration portrayed the conference as a gathering expressly to coordinate against the Islamic Republic in Tehran. Trump's advisors sought to present a show of global solidarity even as most countries have disagreed with U.S. policies toward Iran.
Several European leaders said they would not attend a solely anti-Iran meeting. Washington changed the name to the Ministerial to Promote a Future of Peace and Security in the Middle East, adding to the agenda conflicts from Yemen to Syria.
Still, for the administration, Iran is key. Since pulling out of the multinational Iran nuclear deal last year, the Trump administration has sought to build a coalition to challenge Tehran. Opposing Shiite-dominated Iran is also a goal that unites Israel with the Sunni-led gulf nations.
Greenblatt, who has spent much of the last few days in a Twitter feud with various Palestinian officials, linked the two geopolitical issues.
"Iran is the primary threat to the future of regional peace/security," he tweeted. "That's what Palestinian leaders don't grasp; as a consequence of being detached from new realities, we see Palestinians increasingly left behind/more isolated than ever."
Brian Hook, the State Department's special envoy on Iran, insisted that there was common ground among U.S. allies for holding Iran accountable and containing its regional activities, such as financing of militant groups in Syria and Yemen and exporting of missiles and other weaponry.
"We agreed to disagree with the Europeans on the nuclear deal," Hook said, but agree on other "malign behavior" by Iran.
In fact, three of the most important European powers — Germany, France and the United Kingdom — recently established a mechanism that will help Iran do business with European companies and skirt U.S. sanctions designed to block it.
"When you are investing in Iran's economy, you can never be sure whether you are facilitating commerce or terrorism," Hook, speaking from Warsaw, told NPR.
Special correspondent Noga Tarnopolsky in Jerusalem contributed to this report.
For more on international affairs, follow @TracyKWilkinson on Twitter
---
Must-read stories from the L.A. Times
Get the day's top news with our Today's Headlines newsletter, sent every weekday morning.
You may occasionally receive promotional content from the Los Angeles Times.