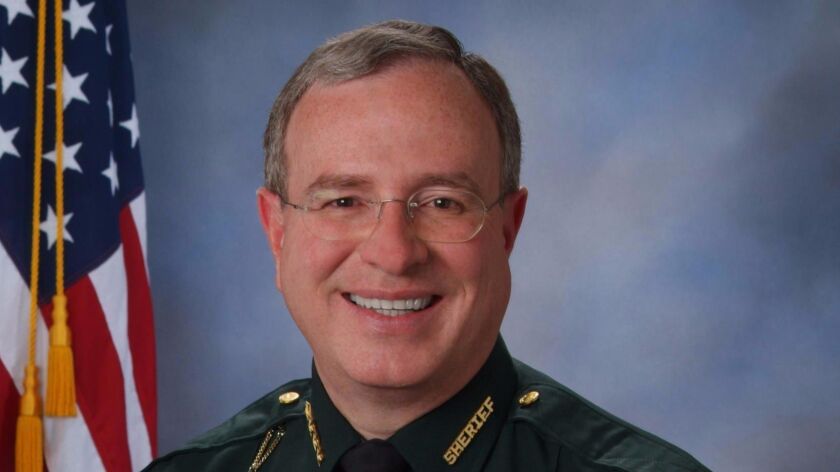 As people in Florida scramble to prepare for Hurricane Irma, one county sheriff is being criticized for saying that those with outstanding warrants won't be allowed in shelters during the monster storm and that law enforcement would be checking IDs.
In a series of tweets Wednesday, Polk County Sheriff Grady Judd at first said sex offenders and predators would not be admitted to evacuation shelters, where identification would be checked.
He later widened his scope and included anyone with an outstanding warrant: "If you go to a shelter for Irma and you have a warrant, we'll gladly escort you to the safe and secure shelter called the Polk County Jail," Judd tweeted. "If you have a warrant, turn yourself in to the jail — it's a secure shelter."
He added: "We cannot and we will not have innocent children in a shelter with sexual offenders and predators. Period."
If you go to a shelter for #Irma, be advised: sworn LEOs will be at every shelter, checking IDs. Sex offenders/predators will not be allowed

— Polk County Sheriff (@PolkCoSheriff) September 6, 2017
By Thursday morning, the sheriff's tweets had gone viral, and thousands of people had responded, included civil rights groups and politicians who condemned the statements.
Judd faced heavy criticism from people who said his threats of arresting people who sought shelter endangered lives and stoked fears among those who are in the country illegally and may not have an ID.
"What about Polk [County's] undocumented farm / grove workers? And do you have a shelter open just for 'undesirables'?" one person commented on Twitter.
The county of roughly 650,000 residents is east of Tampa.
Democratic state Rep. Carlos Smith also denounced Judd's comments.
Civil rights groups pointed out that many of those with arrest warrants are likely low-level offenders.
"Most people with outstanding warrants are dealing with low-level and nonviolent offenses and pose no risk to others in a shelter," the Florida chapter of the American Civil Liberties Union said in a statement posted on Twitter. "Sheriff Judd's threatening tweets send the message that these individuals must choose between facing a natural disaster without aid and shelter or going to jail over things like unpaid traffic tickets."
The Florida Immigrant Coalition also condemned the sheriff's comments and said they incited fear.
"This is a moment where we should be coming together as Floridians to ensure the safety of our loved ones and neighbors," the group said in a statement.
Polk County sheriff's spokeswoman Carrie Eleazer Horstman told local media that the department was giving people a fair warning.
"We see that people are upset, but the bottom line is the shelters are here to protect people and we want people to be safe," Horstman told the Tampa Bay Times. "If you have a warrant, turn yourself into the jail, and if you are a predator, find somewhere to go."
In interviews with the media following the criticism over his tweets, Judd reaffirmed his statements.
"If you show up at a shelter, we're going to shelter you safely, but it's going to be in the county jail because we have a legal obligation to execute the warrant," Judd told Fox 13. "In a time of potential disaster, there needs to be a place that you can run to and absolutely know you're safe."
Judd first started working at the Polk County Sheriff's Office in 1972 as a dispatcher. He was elected sheriff in 2004.
Follow me on Twitter @melissaetehad
---