Police department in Portland, Ore., in disarray as scandals mount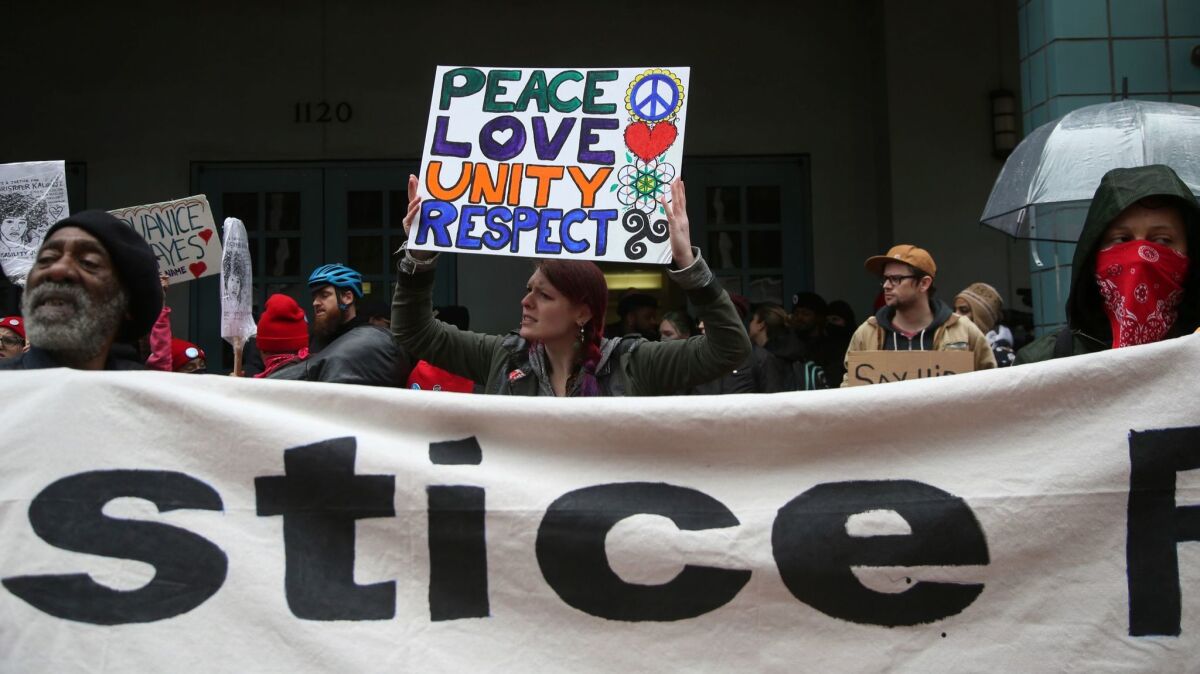 Reporting from SEATTLE —
With yet another police chief under suspicion and on forced leave, Portland, Ore., seems to have taken another step towards becoming a real life "Portlandia," the absurdist TV series.
Just nine months after being appointed to replace a chief who is charged with accidentally shooting a friend during a beer-fueled camping trip, Interim Chief Mike Marshman was put on paid leave March 24 by Mayor Ted Wheeler in connection with an allegedly falsified department attendance log.
Counting Marshman's second-in-command, Lt. Michael Leasure — who also is on leave and being investigated for allegedly signing the chief into a training session Marshman didn't attend in March — 10 Portland officers are currently on paid leave while internal investigations proceed, the Portland Police Bureau says.
The probes are not necessarily connected and include two captains who allegedly failed to report discriminatory remarks made by the bureau's diversity manager. The incident involving the diversity manager was originally reported by the Oregonian, and the department later confirmed it is investigating.
Another officer is being investigated for allegedly telling a man who refused to come out of his trailer, "I'm going to shoot you in your head!" and then breaking into the trailer with two other officers and beating the man, breaking his nose and eye socket. The investigation into that incident was launched after the beaten man filed a complaint.
This comes amid the turmoil of a February police shooting of a black teenage robbery suspect, Quanice Hayes, by a white officer, Andrew Hearst. A county grand jury in March declined to charge Hearst. In a confrontation, the officer shot Hayes, 17, once in the head and twice in the torso with a semiautomatic AR-15 rifle, police said.
Hayes had cocaine and other drugs in his system and was on his knees when killed. The officer claimed Hayes appeared to be going for a gun. A gun replica was found at the scene. Hayes's mother, Venice Hayes, is now seeking a federal investigation of the death, saying she doesn't believe the police account.
Three days after the shooting, a police sergeant made what Mayor Wheeler said were allegedly "blatantly racist, violent comments" overhead by other officers. The sergeant was put on leave with pay and is among the 10 staffers being investigated.
"There is plenty of work to do," mayoral spokesman Michael Cox said.
"When Mayor Wheeler took office, he did so during a time of rapid change in the police bureau — a new police chief, a new union contract, and the DOJ agreement," Cox said, referring to the still-evolving 2014 civil rights agreement between the city and Department of Justice to improve the way Portland police handle cases involving the mentally ill.
Cox added that Wheeler, who took office in January, had campaigned on a reform agenda, emphasizing the need for increased community policing and teaching officers techniques in deescalation. His predecessor, Charlie Hales, named Marshman interim police chief, leaving Wheeler to search for a permanent chief to head the 1,000-member department.
Daryl Turner, head of the Portland Police Assn. union, said in a statement that officers are shocked and disappointed at the "unsettling chain of events," but continue to do their jobs. Officers "understand that the process in place is equally applied from the chief to the newest recruit," he said.
Teressa Raiford, an activist with Don't Shoot Portland, an organization founded in 2014, said the group's protests and demands for police accountability have led to increased force used against them at demonstrations.
Still, the tumult over the shooting, demonstrations and alleged leadership misconduct are "helping people focus on asserting their rights and filing investigations against officers, including the increased filming of interactions," she said. "We want a higher law enforcement agency to investigate our police department. It's been an old boys' network and never had to be accountable."
Pete Simpson, the police bureau spokesman, said that morale had been steadily improving under Marshman and suffered a setback when he was put on leave.
"Chief Marshman is well-liked and well-respected among the rank and file and by members of the community," Simpson said. "Despite the uncertainty, officers are continuing to work closely with the community to solve and prevent crimes."
Marshman promised trust and transparency when he took over as interim chief last year. To show he was serious, Marshman released his personnel file and information on the bureau's 2002 investigation of his own fight with his teen stepson, in which he grabbed the boy by the throat. No charges were filed and the investigation was never publicly reported until now.
Still officially chief, Marshman says he hasn't changed his mind about transparency even though he's now being investigated.
"The day I was sworn in as chief," he said in a statement about the attendance probe, "I made a commitment to establishing internal legitimacy and restoring trust, both within our organization and with the community we serve. Part of that commitment is respecting the investigative processes we have in place to ensure accountability at all levels of the organization. These processes apply to me as much as they do to every member of the bureau. Regardless of rank, everyone should be accountable and it starts with me."
Actually, it started with Chief Larry O'Dea, and his camping trip with buddies last year. Opting to retire last June after he allegedly tried to cover up the shooting of a friend, he now faces a misdemeanor charge of negligent wounding.
O'Dea told a county investigator that the friend had somehow shot himself in the back while they and others, sitting in a row of folding chairs, picked off sage rats running past.
But an Oregon Fish and Wildlife follow-up investigation quoted the friend as saying O'Dea later personally admitted to shooting him. The chief had gone to a nearby beverage cooler and reportedly fired his .22-caliber rifle by accident. The wounded man was released from a hospital after a few days.
O'Dea was replaced by Marshman in June. The new, interim replacement for Marshman, Assistant Chief Chris Davis, is the city's fourth chief or interim leader in two years.
The search for a permanent chief continues, and Mayor Wheeler has said that Marshman remains a possible candidate. Wheeler says he'll likely have completed his nationwide search for a new police leader by this summer.
Anderson is a special correspondent.
ALSO
Hillary Clinton says she won't run for public office again
Senate confirms Neil Gorsuch, Trump's Supreme Court nominee
---
Must-read stories from the L.A. Times
Get the day's top news with our Today's Headlines newsletter, sent every weekday morning.
You may occasionally receive promotional content from the Los Angeles Times.